Pancakes! Some have them for breakfast, some for afternoon coffee break, he he. They actually make a nice lunch box treat too.
Usually I like to throw some mashed banana into my pancakes. These pancakes however are without bananas. This was a request by one of my lovely readers. Since I know what it's like when you have to avoid certain foods, I was more than happy to try a banana-free version.
For sweetening I have used dried apricots. This will also work well with other dried fruits, like dates or even figs. Please be aware that these pancakes are not overly sweet. I served them with a creamy vanilla sauce and it was perfect!
And while I have used raspberries, you can also use strawberries, blueberries or blackberries. As always, this recipe is vegan, gluten-free and once again oil-free 🙂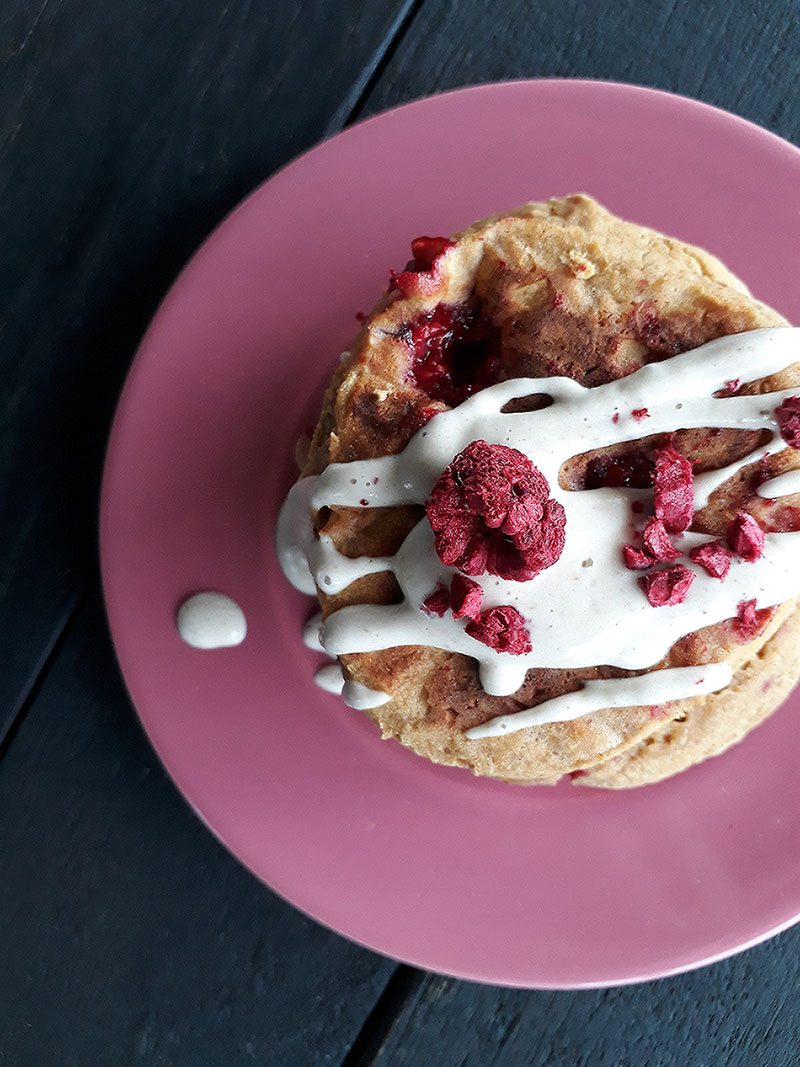 Makes approx. 6 pancakes:
• 150g dried apricots
• 400ml water (or more if needed)
• 1/2 teaspoon vanilla
• 120g white rice flour
• 50g buckwheat flour
• 1 tablespoon psyllium fiber husk
• 1 teaspoon baking powder
• 1 cup raspberries
Method:
1. Blend apricots, vanilla and water in a powerful blender until smooth and creamy.
2. Mix the remaining ingredients (but the raspberries) in a bowl. Preheat a good non-stick frying pan.
3. Then pour the apricot mixture into the bowl with the dry ingredients and stir to combine. The dough should be fairly creamy. Gently fold in the raspberries.
4. Place even scoops into the frying pan and cook on medium/low heat for approx. 10 to 15 minutes. Then flip and cook until the other side turns golden brown. Enjoy!
Please let me know what you think about this recipe, I'd love to hear from you! And if you remake this recipe, please share the picture with me on Pinterest, Instagram or Facebook.
Anzeige / advertise