Well, I have created a few no-bake cake recipes now. This is one that I'm really proud of. It is so creamy and just melts in your mouth! At the same time it doesn't need many fancy ingredients. There is only 8 basic things needed to send your taste-buds to heaven 😉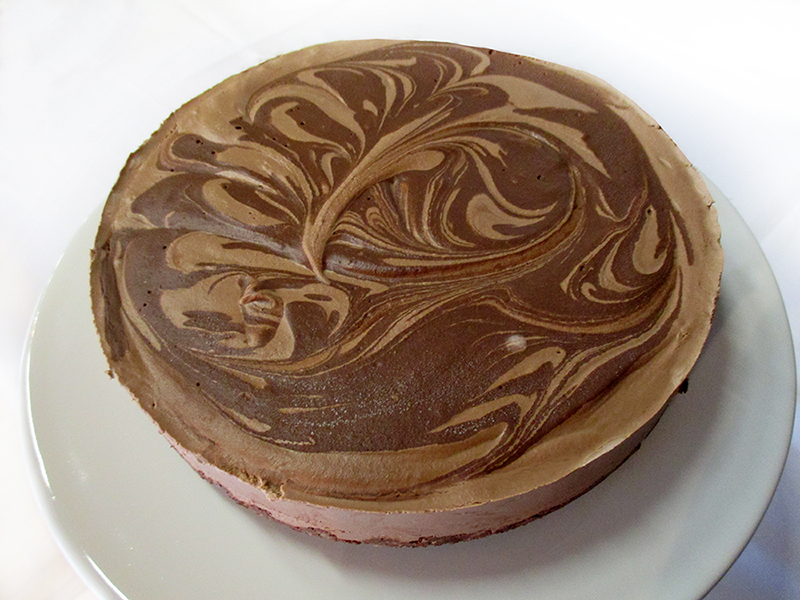 Best results are achieved with a high-speed blender. And don't forget to soak the nuts prior, this way your tummy has a much easier job to do.
I prefer to use cocoa in this dish. So far it has happened only once that I've been satisfied with the raw cacao that I've bought. Somehow the cocoa tastes much better. And, most importantly, it is available fair-trade.
Note: This recipe also works without coconut-oil. You might need to add just a little more water and scrape down the sides when blending the filling to avoid lumpy bits. It will be a bit more dense and dry and not as creamy though.
For a 21cm spring form you'll need:
For the crust:
1 cup (150g) almonds (soaked in filtered water for at least 8 hours, then drained)
3/4 cup (105g) dates
1/3 cup (35g) FAIR-TRADE cocoa or cacao
1 pinch salt
1-2 tablespoons water
For the filling:
1 1/2 cup (280g) cashews (soaked in filtered water for at least 4 hours, then drained)
1 1/2 cup (210g) dates
1 1/2 cup water
1-2 tablespoon coconut-oil (melted)
1/3 cup (35g) FAIR-TRADE cocoa or cacao
1-2 pinches salt
a little bit (fingernail size) of fresh lemon zest if available
For the topping:
1/4 cup (35g) dates
1/2 cup water
1/4 cup (25g) FAIR-TRADE cocoa or cacao
3 tablespoon coconut-oil (melted)
Preparation:
1. Pulse the almonds and dates to fine crumbles and transfer to a medium sized bowl. Sprinkle with salt and sift the cocoa (or cacao) into bowl.
2. Mix well and then pour in the water.  If it is too dry, add some more. It should become moist enough to be able to knead it with your hands.
3. Line a spring form with baking paper. Pour the dough into the spring from and spread it evenly. Place the cake tin in the fridge while preparing the filling.
4. For the filling blend all ingredients to a fine cream. Take the cake tin out of the fridge and pour the filling into it.
5. Then blend the ingredients for the topping to a fine cream. Pour the topping in circles onto the cake. If you hold it up higher it will drop deeper into the main filling.
6. Then use the end of a spoon or fork and make swirls by stirring through it. Place in freezer until set (approx. 3 hours). Cut while still semi-frozen, it makes nice clean edges.
Enjoy! 🙂
Please let me know what you think about this recipe, I'd love to hear from you! And if you remake this recipe, please share the picture with me on Pinterest, Instagram or Facebook.