It's summer and we are getting closer to Christmas! Sounds probably pretty weird to you, if you live in the Northern hemisphere. But, it also still sounds odd to me too 😉
Cinnamon cookies are my favourite Christmas cookies. They also smell sooooo delicious when baking. The glazing in this recipe is completely nut-free. If you prefer a thicker, creamier glazing and are OK with cashews, I can recommend this one here.
As always, this recipe is vegan, gluten-free and without refined sugar. The glazing tends to get a little soft at room temperature. I recommend storing them in the fridge.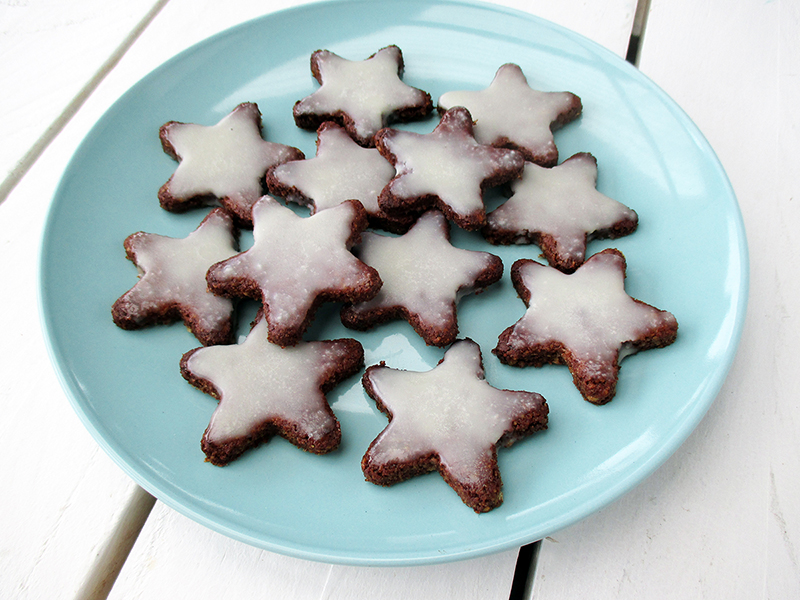 Makes approx. 30 cookies:
1 cup (150g) sunflower seeds
3 tablespoonn psyllium fibre husk
3 tablespoonn coconut sugar
3 teaspoon cinnamon powder
1/2 teaspoon baking powder
3-4 tablespoon water
For the glazing:
25g cacao butter
35g coconut flour
1/2 teaspoon ground coconut sugar
Preparation:
1. Grind the sunflower seeds to a fine flour and transfer to a bowl.
2. Preheat the oven to 190°C (top-/bottom heat). Add the remaining dry ingredients to the bowl and mix well.
3. Pour in just enough water to make a knead-able dough.
4. Roll out the dough between two sheets of baking paper. Then use cookie cutter to shape cookies and place them on baking tray. Repeat until all dough is used.
5. Place in oven and bake for approx. 12 minutes or until the cookies just start to turn golden-brown. Let cool down completely before adding the icing.
6. For the icing, melt the ingredients in a cup that sits in warm water. Let cool down a little before applying.
7. Store in air-tight container and keep chilled.
Enjoy! 🙂
Please let me know what you think about this recipe, I'd love to hear from you! And if you remake this recipe, please share the picture with me on Pinterest, Instagram or Facebook.