I've been thinking about trying a new burger recipe. And now that I've got into making my own sprouts I had a very good reason for starting on this. Because sprouts are sooo wonderful with burgers, so are all the other raw veges that you can have with them. 🙂
Besides mushrooms I've used TVP and olives in this recipe. The olives add a beautiful flavour. And next time I'll chop the mushrooms a little finer so that the patties hold their shape even better.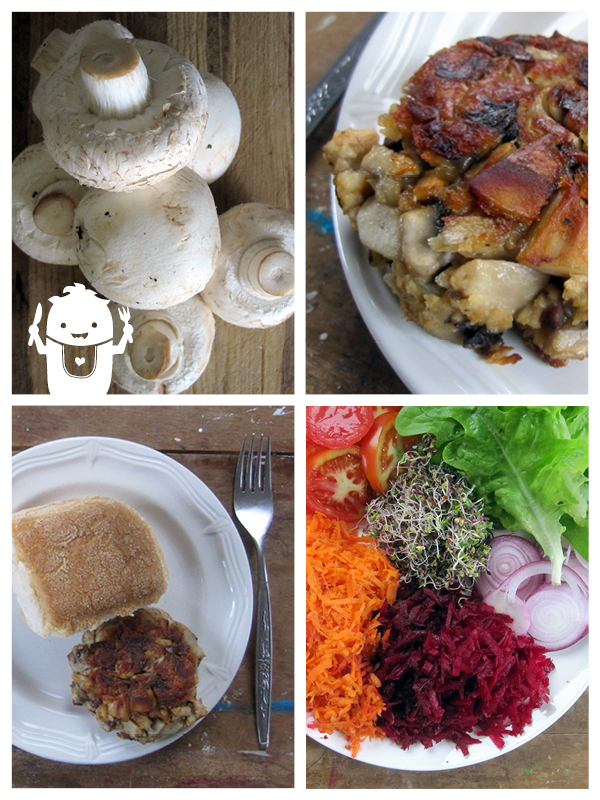 For 4 patties you'll need:
300g mushrooms, finely chopped
1/2 onion, diced
1 teaspoon vege stock powder
1/2 cup hot water
1/2 cup (40g) TVP soy granules
1 tablespoon cooking oil (I prefer coconut-oil)
1 heaped tablespoon rice flour
5 olives (or more), finely chopped
1/2 teaspoon freshly ground black pepper
1 pinch salt
1 pinch chilli powder
Preparation:
1. In a small bowl, mix the hot water with the vege stock. Add the TVP and stir well until it soaked up the fluid. Place aside.
2. Cook the mushrooms and onions with the olive oil in a medium sized pan until soft.
3. Take off the heat and sprinkle with the rice flour, stirring it in well. Add the TVP, olives and spices and mix well. Let cool down a little.
4. With cold hands form four patties. If the mix is too sticky you can dip your hands in cold water. Fry the patties with a little oil from both sides until golden brown.
Enjoy with a LOAD of fresh and raw veges, such as grated carrot, grated beet root, red onion slices, salad, tomato slices, sprouts etc. 🙂