It's been a while since I have tried a new vegan burger recipe. Lately, I've been playing around with mushrooms for new recipes. And why not in a burger recipe, me thought…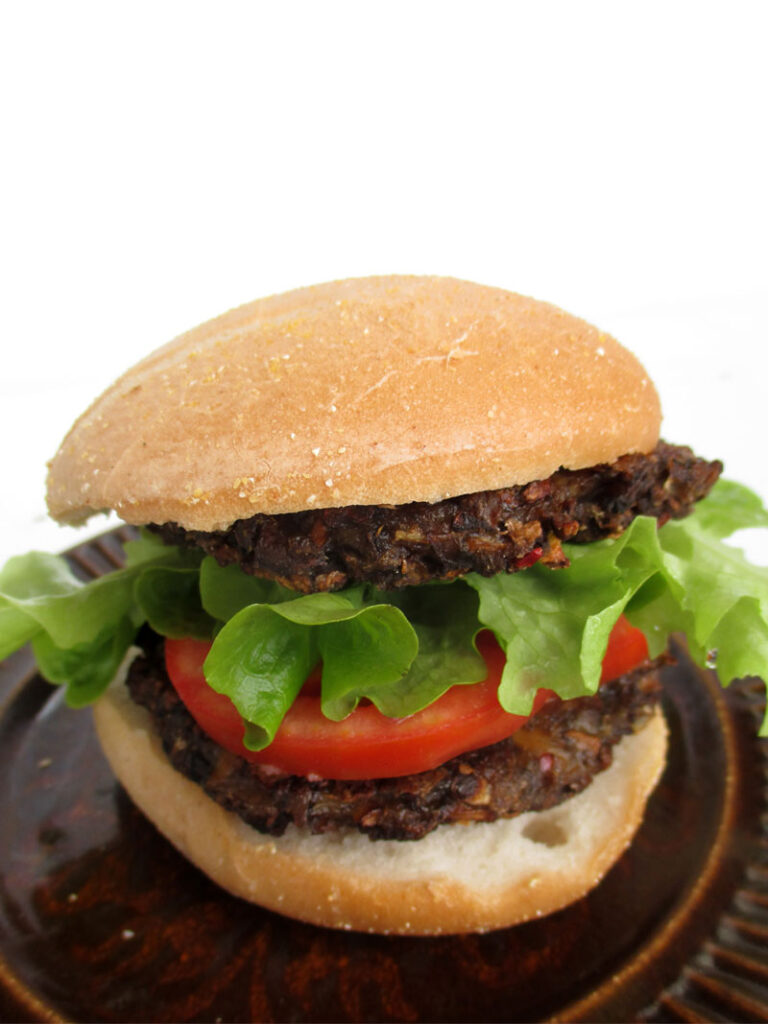 Well, I love the flavour of mushrooms! And they make a great ingredient for burgers….if you like the soft and juicy consistency of cooked mushrooms. Because these vegan burgers are crisp on the outside and juicy on the inside! At the same time they won't fall apart or squish out of your burger buns 🙂
I highly recommend to cook them in a high quality frying pan. I've had it for years and it still works very well. Not a single drop of oil was needed and I think it was worth the investment 🙂
For best results, cook them on a low-medium heat for at least 20 minutes on each side.
Mushroom Burger (Vegan, Gluten-free, Low-Fat, Oil-Free)
Well, I love the flavour of mushrooms! And they make a great ingredient for burgers….if you like the soft and juicy consistency of cooked mushrooms. Because these vegan burgers are crisp on the outside and juicy on the inside! At the same time they won't fall apart or squish out of your burger buns. 🙂
Ingredients
400

g

mushrooms

1

tablespoon

lemon juice or water

1/4

teaspoon

salt

optional

1

chilli

finely chopped (optional)

1

teaspoon

dried oregano or thyme

35

g

rice flour

1/2

small onion

finely chopped

1

tablespoon

psyllium fiber husk
Instructions
Chop the mushrooms super fine and place in a bowl.

Sprinkle with lemon juice, salt, chopped chilli and oregano. Mix well. Then let sit for at least one hour or place covered in the fridge overnight.

The mushrooms should become fairly juicy. If not, add just a tiny little bit(!) of water. Stir in the rice flour, psyllium fiber husk and chopped onion until it becomes a sticky dough. If it is too moist, add a little more flour.

Form patties and place aside. Heat high quality frying pan and cook for at least 20 minutes on each side on low-medium heat.
Please let me know what you think about this recipe, I'd love to hear from you! And if you remake this recipe, please share the picture with me on Pinterest, Instagram or Facebook.