It's time for another pantry challenge! That means, I'm using ingredients that I have in the pantry, before I buy any new. And so I found these tigernuts, that I had avoided for a while ever since I made vegan tigernut mylk, dairy-free tigernut ice cream and these super soft and yummy gluten-free tigernut brownies with them.
The other challenge was not to use dates as a sweetener for a change. So good old coconut sugar it was instead. But dates allow for such a creamy consistency and act as a natural thickener, especially in dairy-free ice creams. Coconut sugar doesn't offer this option. With cocoa powder and some guar gum (another pantry challenge participant), you can achieve a super creamy consistency.
And yes, coconut sugar is a sugar still. But you won't find recipes on this blog that contain chemical sweeteners that put a knot in your tongue while trying to pronounce them. Instead, I advocate to enjoy your sweet treats responsibly and occasionally while eating a well balanced whole food diet.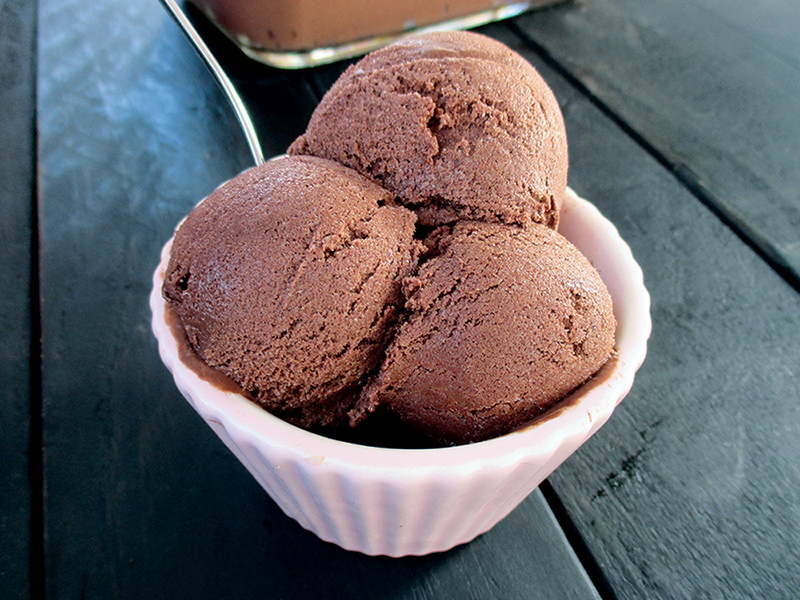 But I was talking about the consistency. I really couldn't believe how creamy, smooth and silky this ice cream came out. It was super easy to scoop (with my latest second hand shop score, the stainless steel ice cream spoon, yay!) and melted on the tongue. And all that while being vegan and nut-free and gluten-free and without refined sugar
Note: This vegan tigernut ice cream is not very sweet. Better taste and adapt if needed, before you pour it into the ice cream maker. Also, to make tigernut mylk, you have to plan some extra time, because it takes a while to prepare it properly.
While most of my ice cream recipes work with an ice-cream maker as well with a high-speed blender, I haven't tried the high-speed blender option with this recipe yet.


Makes approx. 1 liter:

tigernut mylk made from 1 1/4 cups tigernuts (180g) and 3 cups of water (see instructions here)
3/4 cup (75g) FAIR-TRADE cocoa powder
1/4 cup + 1 tablespoon (55g) coconut sugar, please see note above
2 teaspoon guar gum (or 2 heaped tablespoon psyllium fiber husk)
1/4 teaspoon ground vanilla
1 pinch salt
Instructions:

1. Blend all ingredients in a powerful blender until smooth.
2. Pour into ice cream maker and churn until it is finished. You may want to store it in the freezer for a little while to make it firm up some more.
3. If you leave the ice cream in the freezer for longer, let the ice cream thaw for at least 1/2 hour before serving.
Enjoy! 
Please let me know what you think about this recipe, I'd love to hear from you! And if you remake this recipe, please share the picture with me on Pinterest, Instagram or Facebook.