The other day I got to enjoy a delicious meal that my lovely friend Lucinda had made. She is vegan and gluten-free recipe goddess! Seemingly effortlessly she comes up with recipes that pretty much always work, and they always taste delicious. She even shared one of her recipes for No Bake Caramel Slice on my blog.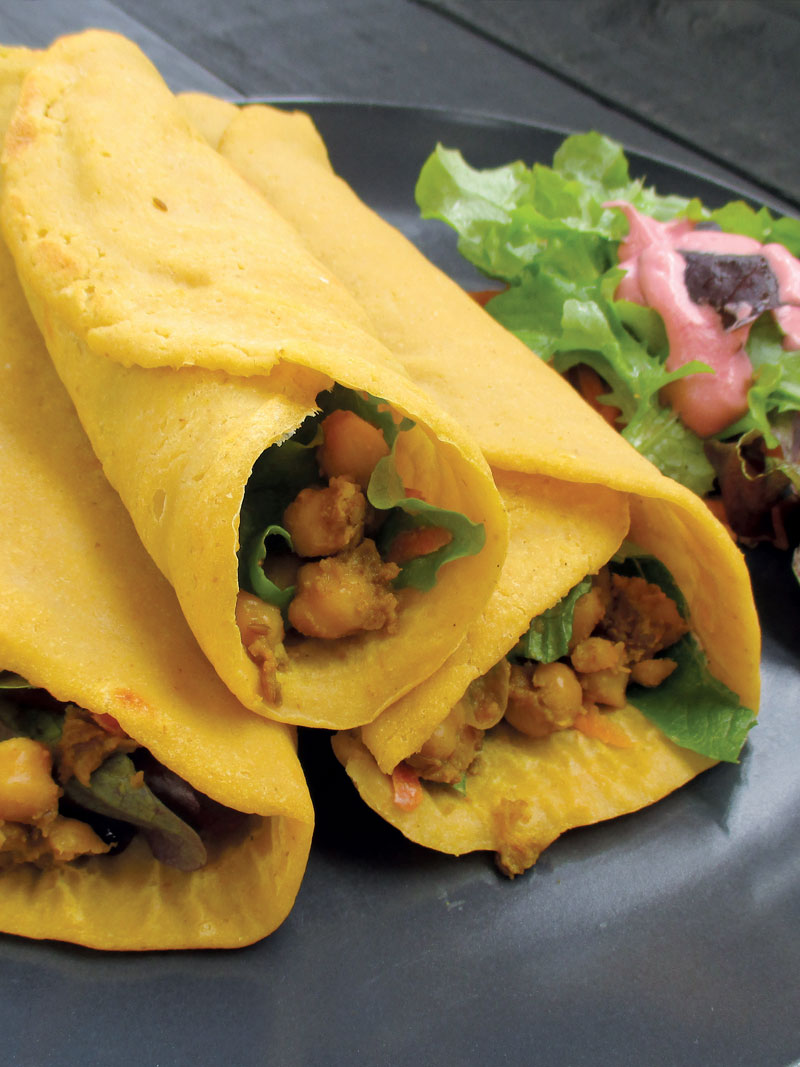 The meal that we had that night came with these yummy vegan and gluten-free wraps. She had made them with kumara (sweet potato) and some gluten-free flours. It sounded soooo easy. So I thought, I will try and make these too. Turns out it wasn't that easy. It actually wasn't so much the mix of ingredients, it was the method of cooking, that proofed to be challenging.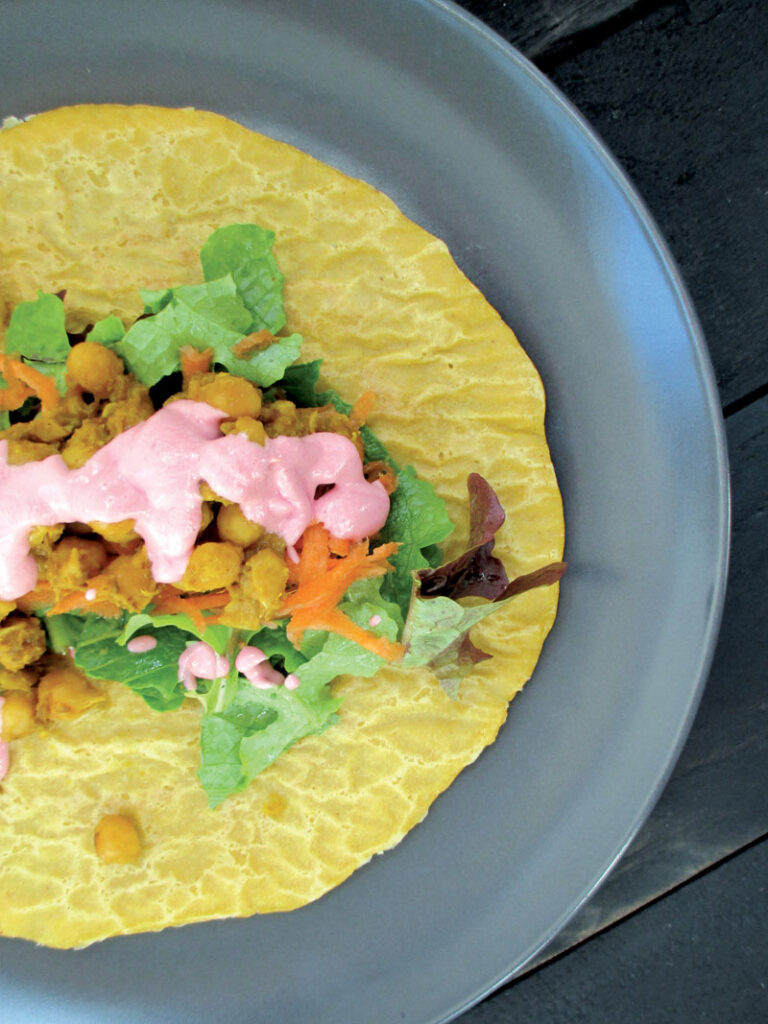 Let's say it took me a while to figure out how to cook these wraps without using oil. And yes, there was a small amount of swearing involved.
But I got there in the end. The solution might sound a little odd at first, but it worked very well. I used baking paper. In the frying pan. Cut to size. And it worked a charm. No oil needed. And it creates a super soft, slightly spongy but moist and flexible wrap.
It's important to let them cool down first. It takes a little while to make these. A perfect meal to make together with friends and or loved ones.
So yeah, I am pleased to say that this recipe for pumpkin wraps turned out to be as always vegan, gluten-free and without added oil.
Makes approx. 4 portions:
For the wraps:
150g cooked pumpkin
1 1/2 cups (375ml) water
3/4 cup (110g) rice flour
1/4 cup (35g) buckwheat flour
1 tablespoon psyllium fiber husk
1/2 teaspoon salt
1/2 teaspoon cumin seeds
For the chickpeas:
1 small onion, finely diced
some cooking oil or water for oil-free option
1 teaspoon cumin seeds
150g sprouted chickpeas
1/2 teaspoon ground ginger
1/2 teaspoon ground coriander
1/2 teaspoon turmeric
chili powder to taste
1-2 cups water
salt to taste
Instructions:
1. For the wraps, blend water and cooked pumpkin in a blender. Add remaining ingredients and blend smooth. Let sit for approx. 20 minutes. The mixture should thicken quite well.
2. In the meantime, start preparing the chickpeas. Heat a small pot with some oil or water. Add onions and cumin seeds and cook until golden.
3. Add remaining spices, chickpeas and water. Cook on low heat with a lid on. I use sprouted chickpeas. They tend to soak quite a bit of fluid. I recommend to start wit one cup of water and add more as needed. I cook these for quite a while so that they can soak up the flavours of the spices.
4. When the mixture for the wraps has thickened up, preheat a frying pan on low-medium heat. Place a piece of baking paper inside the pan. Pour a portion of dough onto the baking paper and spread it out thinly.
5. Cook it until the top part has become dry to touch. Then scoop the wrap out of the pan, paper and all. Place another piece of baking paper into the frying pan, then flip the wrap onto it. Cook until the wrap is browning up and the top baking paper peels off easy. Let cool down on a cooling rack.
6. Repeat this step until al the wraps have been cooked (the baking paper can be re-used for this). In the meantime the chickpeas should be ready to be served with the wraps. Some fresh greens and chopped veges go very well with these wraps.
Enjoy! 
Please let me know what you think about this recipe, I'd love to hear from you! And if you remake this recipe, please share the picture with me on Pinterest, Instagram or Facebook.