Autumn is here in New Zealand! While it is still quite warm, I got into cooking soups again. They are such an easy and amazingly delicious meal, winter or summer.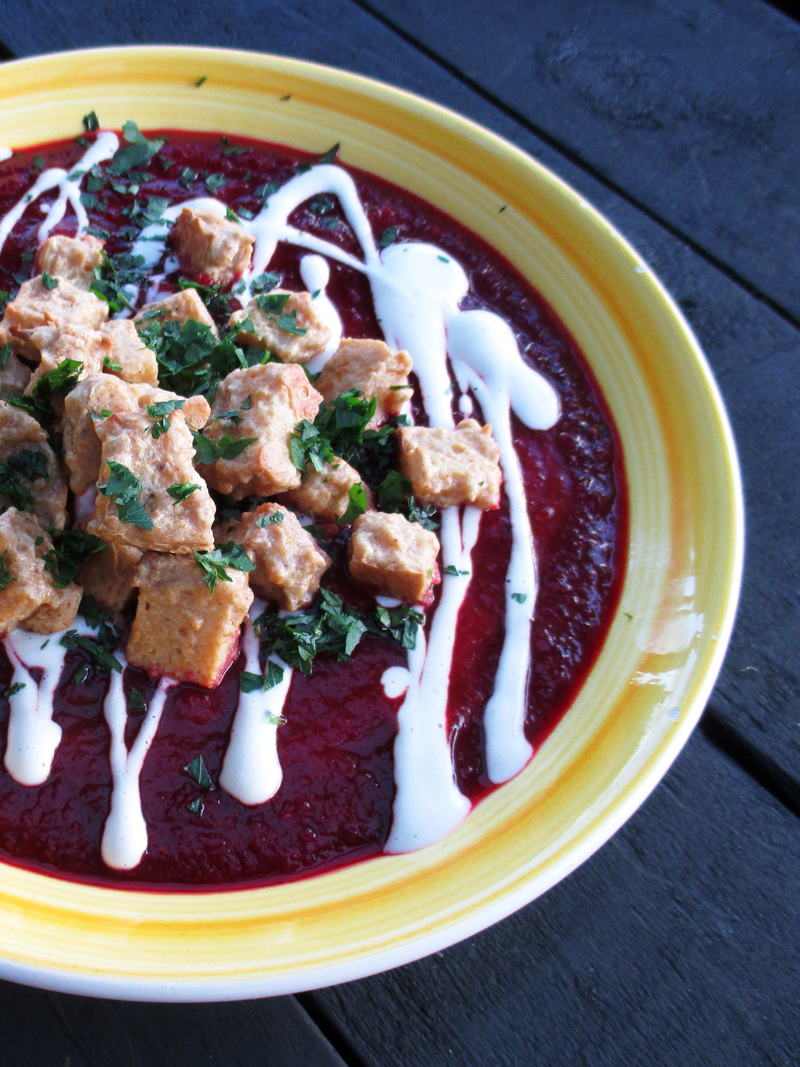 In this recipe I used some of my favourite roasted veges: pumpkin, beetroot and onion.
But something makes it really special: the super yummy "cheesy" croutons. Try them and you'll see what I mean 🙂
Makes two portions:
For the soup:
1/2 small pumpkin
2-3 small beetroots
1/2 large onion
1/2 bay leaf
salt to taste
1.5 to 2 cups (375 to 500ml) water
For the croutons & drizzle:
2 slices bread
1/2 cup cashews (alternatively macadamias), soak them in water for 4-6 hours, then rinse and drain
1/3 cup (90ml) water
2 tablespoons nutritional yeast
1/3 teaspoon smoked paprika
1-2 pinches salt
fresh, chopped cilantro for garnish (optional)
Instructions:
For the soup:
1. Preheat oven to 200°C (top-/bottom heat).
2. Peel and cut pumpkin into smaller chunks. Halve the beetroots. Peel onion and cut into thirds.
3. Line baking tray with baking paper. Place pumpkin chunks, beetroot pieces and onion thirds on to it.
4. Bake until golden brown and soft (approx. 30 minutes).
5. In the meantime, in a pot bring 1.5 cups water to the boil. Add roasted pumpkin and onion to the water and bring to the boil once more. Then take off the heat.
6. Remove the bay leaf. Blend smooth with a stick blender. Add a little more water until the consistency is to your liking.
For the croutons:
1. Preheat oven to 200°C (top-/bottom heat).
2. Cut the bread into cubes. Place on baking tray, lined with baking paper.
3. Bake just long enough until the bread becomes firm (not golden).
4. Blend cashews and water until smooth (a powerful mini-blender is recommended). Take a few teaspoons of cashew cream aside to drizzle over soup later.
5. Pour remaining cashew cream into a bowl. Add remaining ingredients and mix.
6. Toss in the bread crumbs and stir until well coated.
7. Place bread crumbs on lined baking tray again and bake for another 5 to 10 minutes or until golden.
8. Place soup in plates, drizzle with cashew cream, then add croutons and chopped cilantro on top.
Enjoy! 🙂
Please let me know what you think about this recipe, I'd love to hear from you! And if you remake this recipe, please share the picture with me on Pinterest, Instagram or Facebook.