Here in New Zealand it's that time of the year again where you can find heaps of blackberries (until there is a tropical rain storm that lasts 4 days that is…).
And passion fruit, don't forget passion fruit! 🙂 Before I lived in New Zealand, I only knew that flavour from childhood fizzy drinks. Once you have tasted the real thing, you won't forget that amazing flavour! If you don't have passion fruit you can also use some mashed mango.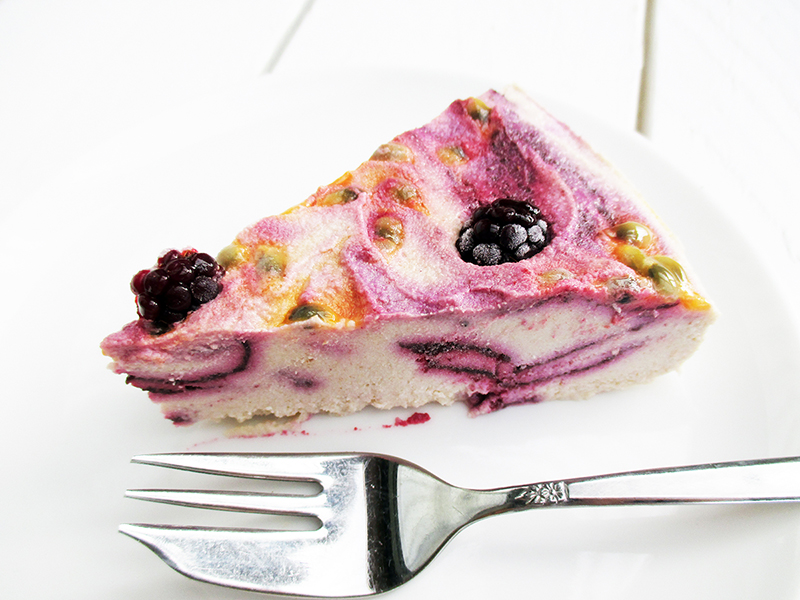 I decided to make some kind of ice cream cake with these flavours. Completely vegan, gluten-free and without refined sugar as always. This time also without cashews. But of course it would work with cashews as well. It would actually even be a bit creamier, because macadamias tend to be a tiny tad grainy.
Those colours! And those flavours! I absolutely loved the result 🙂
For a 18cm springform you'll need:
For the filling:
1 1/2 cups (180g) macadamias (soak them in water for at least 4 hours, then rinse and drain)
1 cup (140g) dates
1 cup (250ml) water
1 teaspoon vanilla essence or paste
For the topping:
1/4 cup blackberries
a few dates
1-2 tablespoon water if needed
1 passion fruit (alternatively some mashed mango)
some extra blackberries
Preparation:
1. For the filling, blend all ingredients until smooth. A high-speed blender with tamper is recommended for this step. Place aside.
2. For the berry sauce, blend the berries in a powerful mini-blender until smooth. Then add dates and blend once more until smooth. If needed add a little water if needed.
3. Line the base of the springform with baking paper. Pour enough macadamia filling into the springform until the base is covered.
4. Drizzle some blackberry sauce drops over the macadamia cream and gently stir it in slightly. Also drizzle some of the passion fruit onto it.
5. Cover this layer with some more macadamia cream and repeat step 4 until finished. Then top with some extra blackberries and passion fruit.
6. Place in freezer until set. Let defrost a little before cutting slices and serving.
Enjoy! 🙂
Please let me know what you think about this recipe, I'd love to hear from you! And if you remake this recipe, please share the picture with me on Pinterest, Instagram or Facebook.