This recipe is another creation for meat-free Monday's. Even though for me everyday is meat-free, we all start somewhere when we want to reduce our impact on other beings, our planet and our health. 


When it comes to pasta, I love a yummy no-meat ball sauce with it. It adds extra flavour, protein and texture. It doesn't have to be meat to play that role. With a few plant-based ingredients and lots of yummy herbs and spices, you will make your taste buds happy too 🙂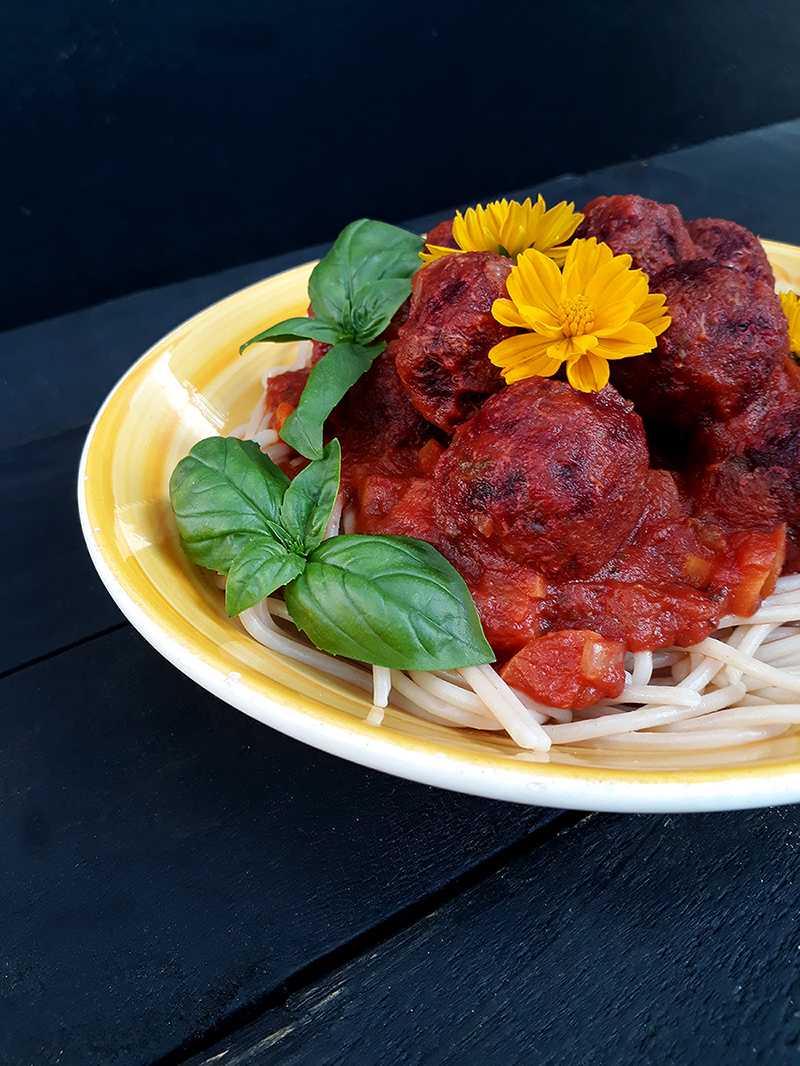 There are a few recipes for no-meat balls on the blog already. For example the Lentil No-Meat Balls and the Beetroot Buckwheat Balls. I felt like creating another version that contains a little more protein than buckwheat. And as it turns out, quinoa works perfectly fine! Yay!
These quinoa no-meat balls are vegan, gluten-free and oil-free. They go very well with a pasta sauce or as a side dish.

Ingredients:
• 165g quinoa
• 375ml water
• 170g grated beetroot, raw
• 1 tbsp psyllium fiber
• 1 tsp marjoram
• 1 tsp smoked paprika
• 1/2 tsp ground allspice
• 1/2 tsp ground cumin seeds
• 1/2 tsp coconut sugar
• salt to taste
Instructions:
1. First wash the quinoa, rinse and drain. Place in a pot with the water and bring to the boil. Let simmer on low heat until the water is gone (approx. 15 minutes).
2. Preheat oven to 180°C (top-/bottom heat). Mash the cooked quinoa with a potato masher. Add grated beetroot, psyllium fiber, herbs and spices. Stir to combine.
3. Form small balls with wet, cold hands. Place on lined baking tray. Bake for appprox. 15 minutes before flipping them over. Then bake for another 10 minutes. Serve with pasta sauce.
Enjoy! 🙂
Please let me know what you think about this recipe, I'd love to hear from you! And if you remake this recipe, please share the picture with me on Pinterest, Instagram or Facebook.