Winter is coming to an end and now the brassica season is in full swing. Oooh, how I love broccoli, cauliflower, cabbage and co! And they are sooo healthy too! 🙂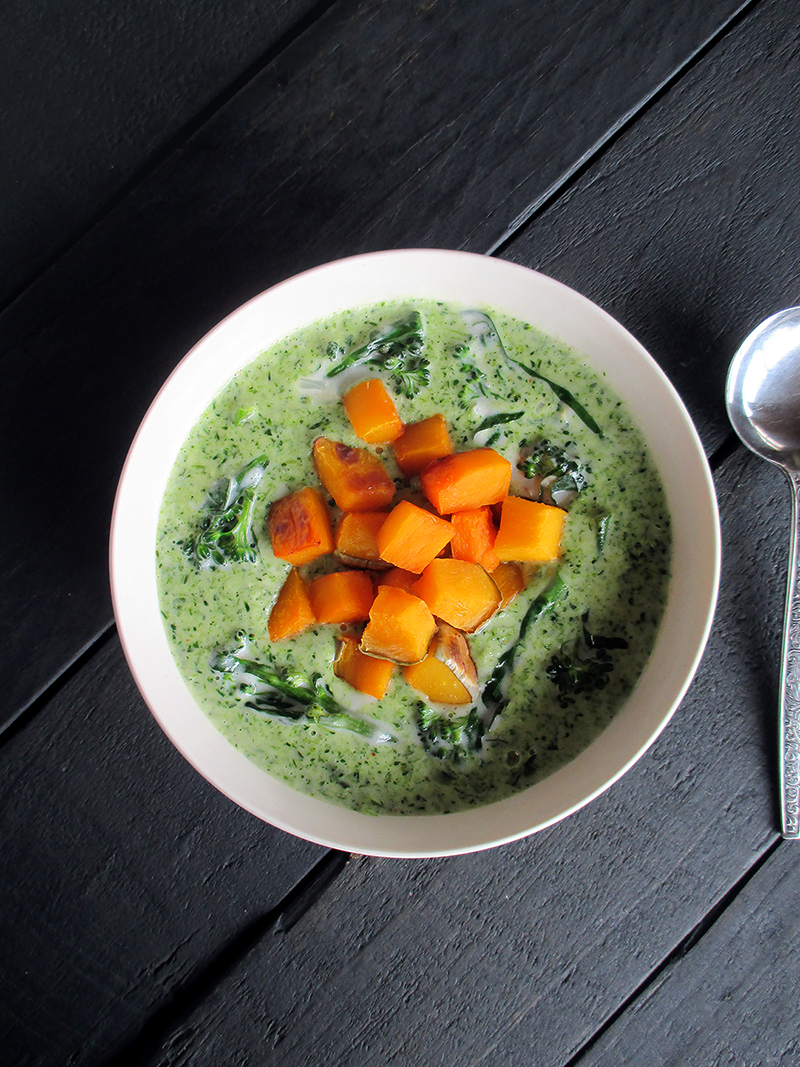 With temperatures rising I also seem to be getting into the mood for soups. As weird as that may seem. They are such an easy dish to make, perfect for an evening where not much time is at hand to cook dinner.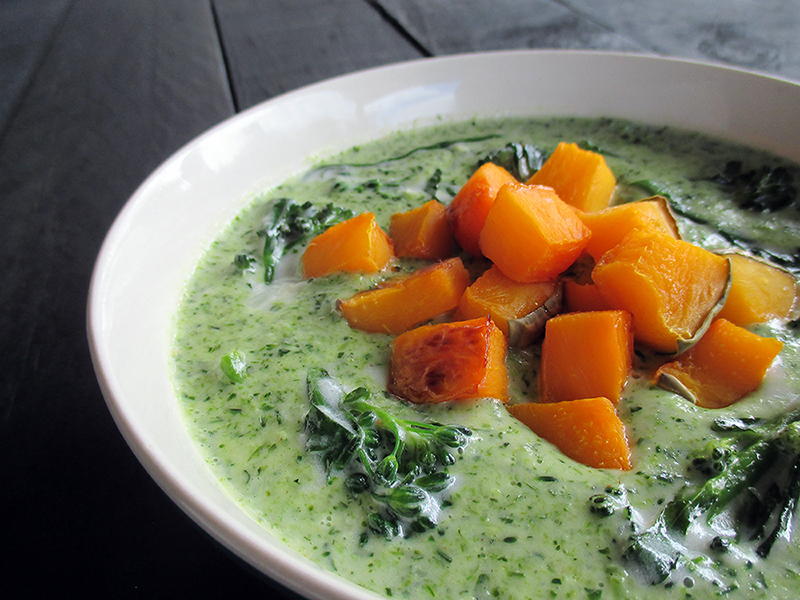 Do you cook dinner every night? I'm putting a real effort into having regular home-cooked meals. Combined with a bowl of fresh salad from the garden. It just feels so good to nourish my body and soul with fresh vegetables. Even though sometimes it's a bit of a burden, having to prepare yet another meal. But once I sit there and enjoy the delicious and nutritious flavours, I am glad that I made the effort.
This soup is one of those recipes that can be easily and quickly made. And you can view it as a base for other vegetables. Once you get into the habit, it's easy as to cook it up. I love how it is vegan and gluten-free but also nut-free, which makes it light and not too filling 🙂
Creamy Broccoli Soup with Roasted Pumpkin (Vegan, Gluten-free, Nut-free)
This vegan broccoli soup is one of those recipes that can be easily and quickly made. And you can view it as a base for other vegetables.
Ingredients
400

g

pumpkin

1

small onion

finely diced

1 to 2

garlic cloves

minced

1 1/2

tablespoon

rice flour

400

ml

coconut cream

1/2

cup

water

300

g

broccoli

or more if you like

1/2

teaspoon

ground nutmeg

1/4

teaspoon

chili powder

or more if you like

salt to taste
Instructions
Preheat oven to 190° (top-/bottom heat). Chop pumpkin into little cubes.

Place pumpkin cubes on lined baking tray. Sprinkle with a few pinches of salt. Bake until soft and slightly browning (approx. 30 minutes).

In the meantime, saute the onion in a medium sized pot, either using cooking oil or a small amount of water.

When the onion has softened and turns slightly golden, add minced garlic and let cook for another minute.

Sprinkle with rice flour and quickly stir to combine. Pour in the coconut cream and 1/2 cup water. Add ground nutmeg, salt and chili. Bring to the boil.

Once it simmers, add the broccoli and let cook on low heat until it softens a little (I prefer not to overcook it). Blend it with a stick blender. Serve with the roasted pumpkin.
Please let me know what you think about this recipe, I'd love to hear from you! And if you remake this recipe, please share the picture with me on Pinterest, Instagram or Facebook.