One thing that I hardly ever eat, now that I am avoiding gluten, is muesli. Especially the crunchy kinda version, basically because I can't find anything decent in the shops. Most are loaded with refined sugar, or they are simply not chocolaty enough..
But you can make your own! Costs much less and you can choose the ingredients, so that is isn't only vegan and gluten-free but also low-fat and without refined sugar. And it makes a nice edible gift (hint, hint, Christmas is close…) 🙂
Please view this recipe only as the base for crispy chocolate buckwheat muesli. You can add so many more ingredients (eg seeds, chopped nuts, dried fruit, dried coconut etc.)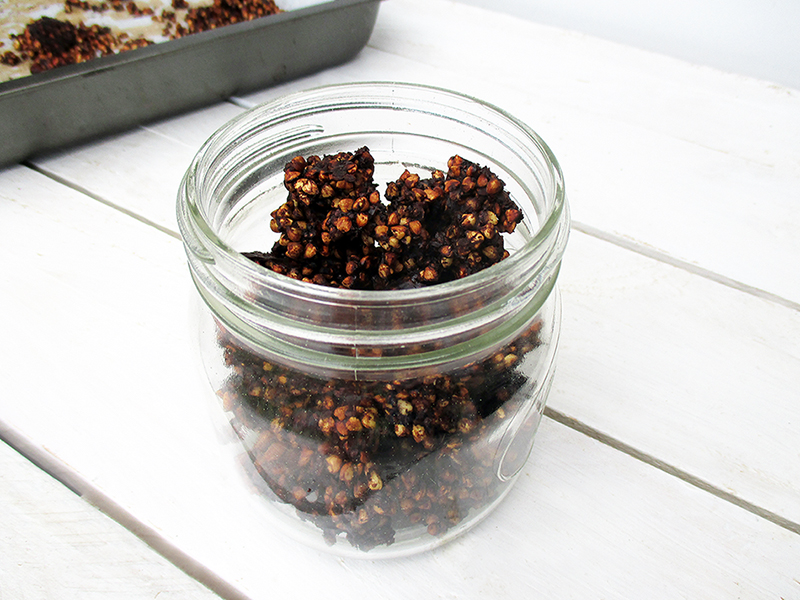 For approx. 5 cups you'll need:
1 1/2 cups (210g) buckwheat groats (soak them in water for at least 8 hours, rinse and drain them)
1/2 cup coconut nectar syrup (or other thick liquid sweetener)
1/3 cup (30g) FAIR-TRADE cacao or cocoa powder
2 tablespoons chia seed
2 pinches salt
Preparation:
1. Mix all ingredients in a medium sized bowl and let soak for at least half an hour or longer. This way the chia seeds will bind it better.
2. Preheat oven to approx. 50°C (you can also use a dehydrator). Line baking tray with baking paper.
3. Scoop mixture onto baking tray. Allow little clusters to form. Place in oven for approx. 45 minutes (or until the clusters are quite firm and easy to flip).
4. When clusters are almost completely dry and easy to scoop around, flip them over and leave in the oven for another 15 minutes. Let cool down properly on baking tray.
5. Transfer to an air-tight container and store in a cool and dry place.
Enjoy! 🙂
Please let me know what you think about this recipe, I'd love to hear from you! And if you remake this recipe, please share the picture with me on Pinterest, Instagram or Facebook.