In May I received a HUGE load of apples from a friend. After a large amount has been dehydrated I also stewed some of them – there simply were too many apples to be shared and eaten in time.
Now I've been thinking about a way of using the stewed apple in baking. And this is what happened: Mini tarts filled with cinnamon stewed apple and crumbles on top. Vegan, gluten-free and absolutely delicious with some vanilla cashew cream! 🙂
The home-made stewed apple has some chunks in it and adds a rustic character to the cakes. It probably works with store-bought stewed apple as well – but the real flavour comes with home-made food 🙂
For 4 mini tarts you'll need:
For the crust:
1/2 cup (70g) buckwheat flour
1/2 cup (70g) sweet sorghum flour
1/2 cup (65g) tapioca starch
1 tablespoon fiber husk powder
1 teaspoon baking powder
1 pinch salt
1 banana (very ripe)
6 tablespoon (50g) coconut oil (soft)
For the filling:
2 cups (500g) stewed apple
1-2 teaspoon cinnamon
For the crumbles:
2/3 cup (85g) sweet sorghum flour
4 heaped tablespoon (40g) coconut sugar
6 tablespoon (50g) coconut oil (soft)
Preparation:
For the crust, mix all dry ingredients in a medium sized bowl.
In a small bowl, mash the banana to a fine cream.
Add mashed banana and coconut oil to the dry ingredients and mix well.
Form a ball out of the dough and place in the fridge while preparing the filling and crumbles.
Preheat the oven to 190°C.
For the filling mix the stewed apple with the cinnamon.
For the crumbles, mix the ingredients in a small bowl and place aside.
Take the dough out of the fridge and make four portions.
It might appear a little dry but once you start forming it into the tart tins (with your clean hands) it will become quite smooth.
Once the dough has been spread in the tart tins, add the filling.
Then, using your (clean) hands, sprinkle the crumbles on top.
Place in the oven and bake for approx. 15 minutes (depending on oven type). It is best to cover the tarts with a loosely placed sheet of aluminum foil for the first 10 minutes. This way they won't burn on top.
Let cool down for a few minutes before taking them out of the tins. Serve warm with a splash of vanilla cashew cream or vanilla ice cream or enjoy on its own.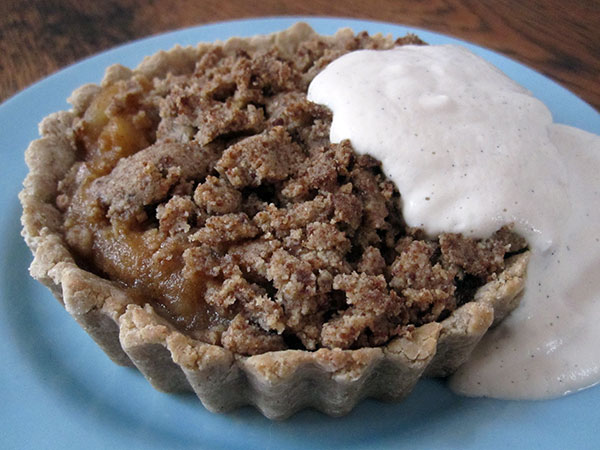 Enjoy! 🙂