This used to be one of my favourite vegan cakes. Now, after numerous tries, I've found a way of re-creating it into a gluten-free version. It is quite rich and very filling. It is also proof that vegan baking can be soooo yummy! 🙂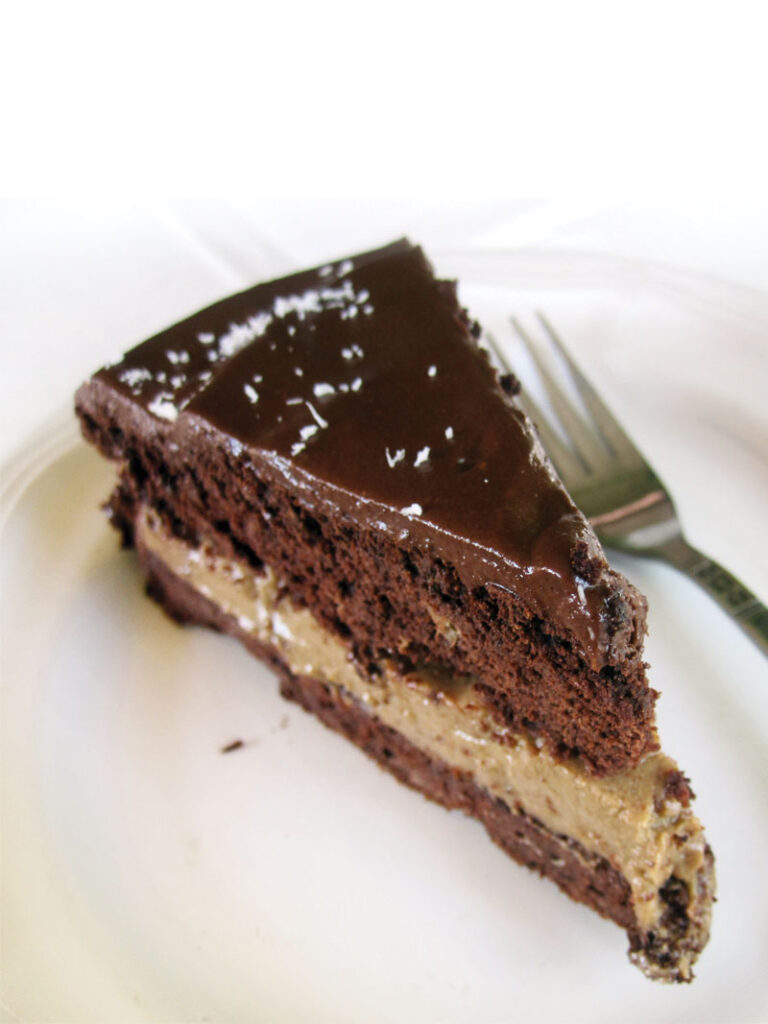 The dough is sweetened with banana and the filling as well as the glazing is sweetened with dates. the recipe for this chocolate mocca cake is vegan and gluten-free.
For a 23cm spring form you'll need:
For the cake:
1 cup (120g) sorghum flour
1 cup (130g) brown rice flour
1/2 cup (60) buckwheat flour
1/2 cup (70g) FAIR TRADE cocoa powder
2 teaspoon baking powder
1 pinch salt
2 very ripe FAIR-TRADE bananas
1 3/4 cup water
For the filling:
1/2 cup (60g) cashews that have been soaked with filtered water for at least 6 hours
3/4 cup (120g) dates
3/4 cup very strong FAIR TRADE coffee
1/2 cup water
3 tablespoon corn starch
1 cup water
For the icing:
1 cup (140g) dates
2/3 cup water
3 heaped tablespoon FAIR TRADE cocoa powder
20g cacao butter, melted
Preparation:
1. Preheat the oven to 190°C. Prepare the spring form. For the cake, mix all dry ingredients in a bowl.
2. Mash up the banana in a small bowl. Transfer the banana and water to the dry ingredients and mix through well but quickly (too much stirring makes the dough not rise as good).
3. Transfer to the spring form, spread it well and bake at 190° for approx. 40 minutes (depending on oven, make a test with knife or needle). Let the cake cool down properly.
4. Remove the ring and use a large knife to cut horizontally through the cake. Take the top off. Put the ring back on for the next steps to follow.
5. For the cream filling, blend the ingredients until smooth. Pour the mixture into a pot and bring to the boil, stirring constantly. Once it boils, take it off the heat. Let cool down for a few minutes and pour the mixture then into the spring form.
6. Wait another few minutes but make sure no skin is building on top of the cream. Carefully place the top part of the cake back on. Let cool down properly. It's best to chill before adding the icing. After it's cooled down and the filling has set, take the ring off. If there is excess cream spilling out, remove it with a scraper.
7. For the icing, blend all ingredients to a fine paste. Spread the icing all over the top and sides. Let set properly, best in the fridge. Be patient. Or you'll have a messy version like me 😉
Enjoy! 🙂