I believe in second chances. Or more if needed. And it was time to give that carob a second chance that has been in my pantry for while. I find its flavour quite powerful and think it is most suitable for dishes where it doesn't play the major role of ingredients.
I've been playing around with hazelnut dishes for a while now. My most beloved hazelnut dish is Chocolate Hazelnut Parfait
But I haven't tried a combination with coffee yet. And here we go, carob, you get your chance! And yes, in this creation it can shine in all its glory 🙂 The mild nutty flavour of the mousse gets a real lift with the nutty, slightly bitter carob sauce!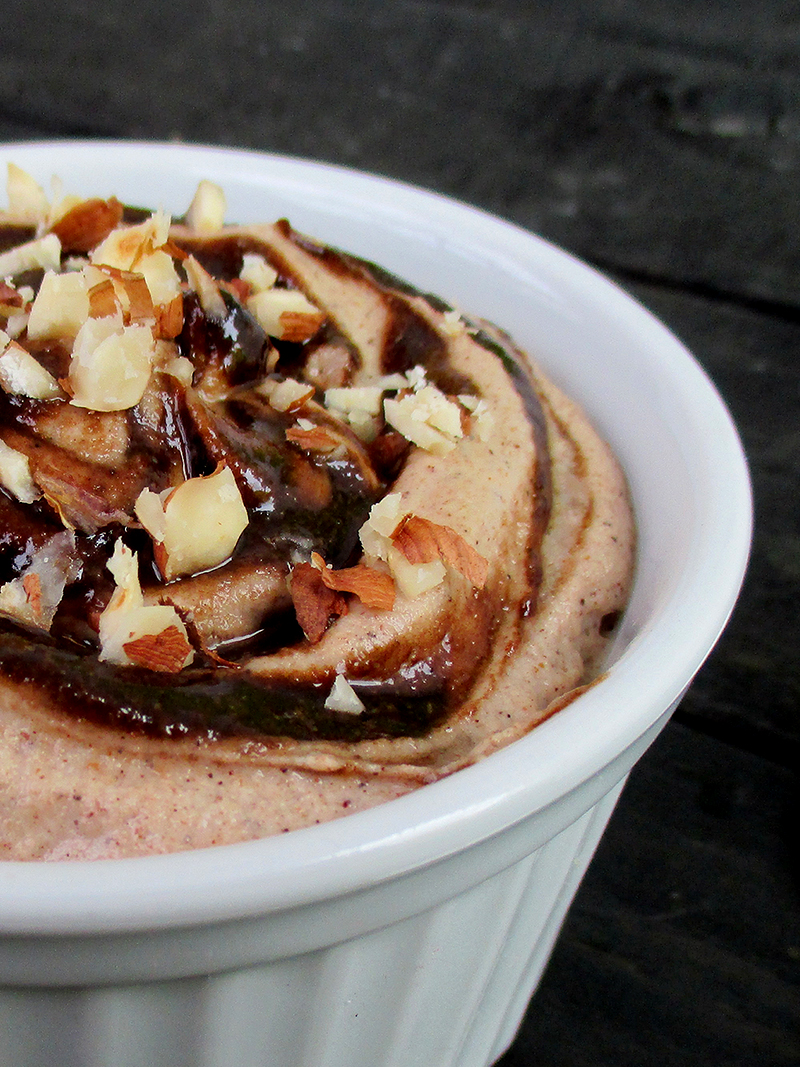 This mousse is made with a high-speed blender. And really, it has to be a high-speed blender to achieve this creamy consistency. I use an Optimum 9400 and have heard that a Vitamix might not be able to achieve the same texture. Apparently is was too grainy. While it does have a very subtle grainy texture, I don't mind that at all. If you happen to own a Vitamix blender and make this recipe, please let me know how it turned out.
Ah, and by the way, you only need 8 ingredients! 🙂
For 2 large or 4 small portions you'll need:
For the hazelnut mousse:
1 cup (150g) hazelnuts (soaked in filtered water for at least 8 hours, then drained)
3/4 cup (100g) dates, soaked in 3/4 cup water
1 1/4 cup water
1 tablespoon whole FAIR-TRADE coffee beans (for a stronger flavour, use more)
1 pinch salt
For the carob tahini sauce:
1 teaspoon carob
1 teaspoon tahini (alternatively almond or other nut butter)
2 teaspoon maple syrup (or other liquid sweetener of your choice)
Preparation:
1. For the hazelnut mousse, blend all ingredients to a fine cream. If it seems a little too thick, add some extra water.
2. Fill into dessert cups.
3. For the carob tahini sauce, place ingredients in a small container and stir until well combined.
4. I like to swirl the sauce into the mouse by gently pulling the spoon through the mousse. Refrigerate before serving.
Enjoy! 🙂
Please let me know what you think about this recipe, I'd love to hear from you! And if you remake this recipe, please share the picture with me on Pinterest, Instagram or Facebook.