I'm really into fruity desserts lately. And I'm also having a closer look in my pantry. As you probably also have experienced from the to time, there are a few ingredients that one doesn't use that often. In my pantry this includes chia seeds. But they are so good for you! So I figured they might make the perfect ingredient in a raw version of berry gelly, or as we call it in Germany: Rote Grutze.
I've used only fresh berries, some water and chia seeds and this is all you need to make this 'gelly'. Isn't that great? Also you combine two super foods in one! Berries are loaded with antioxidants, vitamins and other healthy stuff. So why not combine them to the ultimate healthy super food treat? 😉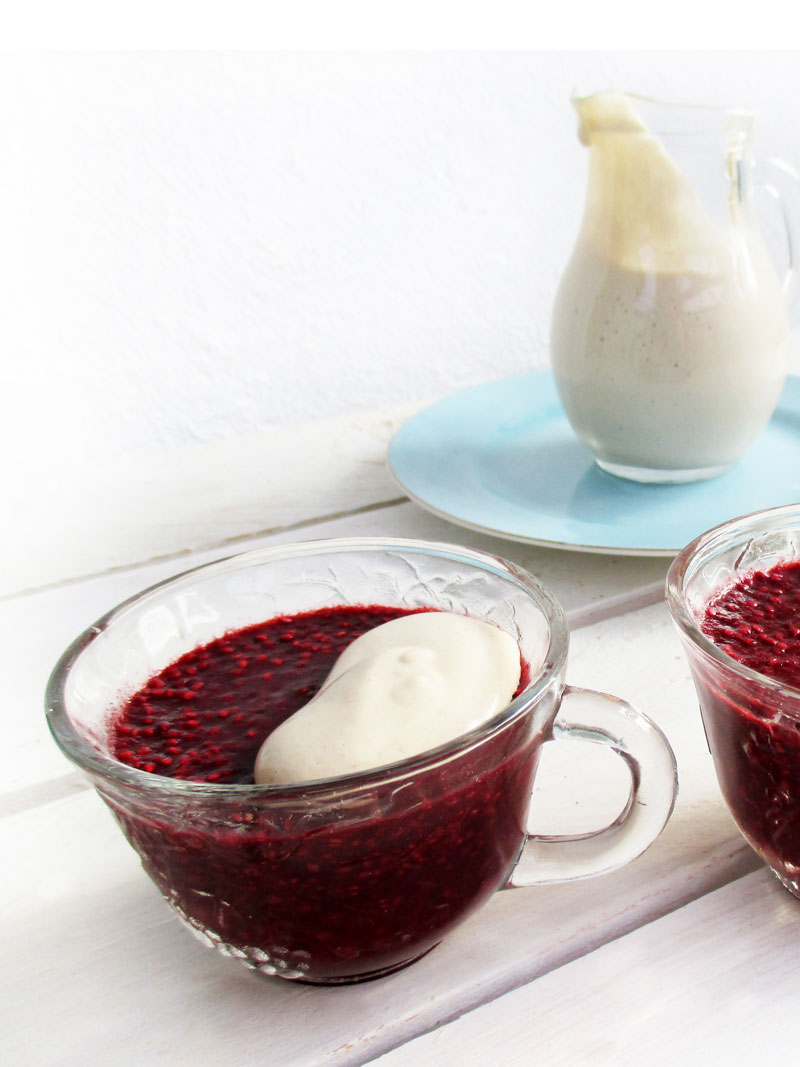 Combined with vanilla cashew cream, this dessert is amazing! And I will definitely make it again. And again… 🙂
For 4 small or 2 large portions you'll need:
For the jelly:
1 1/2 cup (approx. 250g) berries (I used mixed berries)
1/2 cup water
3 tablespoon chia seeds
For the vanilla cashew sauce:
1/2 cup (70g) cashews (soaked in filtered water for at least 4 hours, then drained)
1/2 cup water
2 teaspoon vanilla essence
1/4 cup (35g) dates, pitted and diced
1 pinch salt
Preparation:
1. For the jelly, blend the berries with the water to a fine cream. Pour it into a small bowl.
2. Add chia seeds and stir well. Transfer to dessert bowls. Place in fridge for a few hours or overnight until set.
3. For the vanilla cashew sauce, blend all ingredients to a fine cream. Serve with the chilled chia berry jelly. Enjoy! 🙂
…and if you have any questions or comments, I'd love to hear from you 😉