The Christmas mood is happening early for me this year. Usually I end up baking Christmas cookies in a hurried haze, about two days away from Christmas 😉
But not this year, no! I am well prepared! he he, at least I like to imagine that. Behind the scenes there are some crazy preparations happening for a project that I'm working on together with a food blogging friend. More soon! 🙂


Back to those vegan, gluten-free ginger bread figures. It's a recipe that has been missing on my blog. And somehow I was a little scared to wade into the waters of vegan, gluten-free Christmas cookie making. But now that I have made the first batch, which actually worked out fine at the very first try, I'm ready to share this beauty with you.
The icing was a bit of challenge. Because I don't like to sue too much sugar. Whenever I do some research on vegan, gluten-free icing sugar recipes, I see some that require 6 cups (!!!) of icing sugar. I don't know…


So the icing ended up to be more of a white chocolate. Somehow I feel more comfortable with that. But of course, get that sugary icing out if that's what tickles you fancy 🙂 Please be aware that the white chocolate icing does get a little soft, if it's warm.
These cookies are more of the traditional ginger bread cookie texture, which means more like a hard, snappy cookie. Perfect for a gingerbread house 🙂 If you are looking for a soft version, check out this recipe here.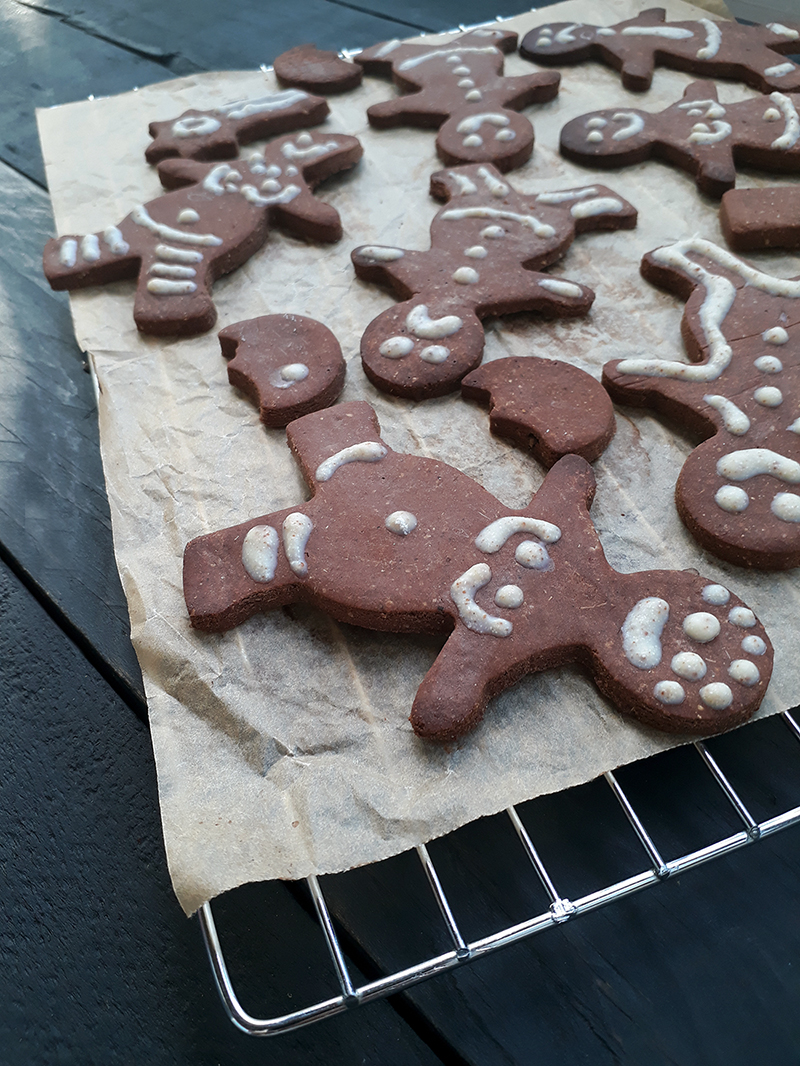 Makes one tray of ginger bread cookies:
For the cookies:
80g dates, pitted and finely diced
75ml hot water
100g rice flour
100g buckwheat flour
1 tablespoon FAIR-TRADE cocoa powder
1 tablespoon freshly ground flax-seed
2 – 3 teaspoon ginger bread spice
1/2 teaspoon baking powder
1 tablespoon tahini (or any other nut or seed butter, or 1/2 tablespoon coconut oil)
For the icing:
25g cacao butter
35g coconut flour
1/2 teaspoon ground coconut sugar
Instructions:
1. Place dates in a small bowl and cover with hot water. Cover the bowl and let soak for at least half an hour. Then blend until smooth, ideally using a a power bullet blender. (If you only have a large blender jug, I recommend making twice or more and store the extra date paste in the fridge or freezer for the next batch)
2. Preheat oven to 175°C (top/bottom heat). Mix all the dry ingredients in a bowl. Add date paste and tahini and mix well. Use your hands to knead the dough until it is thick and sticky. Should it be too crumbly, add a tiny bit of water (start with 1/2 tablespoon, it doesn't take much).
3. Roll out the dough between two sheets of baking paper. Cut out the the ginger figures and place them on a lined baking tray. Repeat until the dough is used up.
4. Place in oven and bake for approx 15 minutes. Keep a close eye, they burn easily.
5.Let cool down on a cooling rack while preparing the icing.
6. For the icing, melt the cacao butter, suing the double boiler method. Then add coconut flour and ground coconut sugar. Mix to combine.
7. Place the icing into an icing bottle and let cool down a little before piping it onto the ginger bread figures.
Enjoy! 🙂
Please let me know what you think about this recipe, I'd love to hear from you! And if you remake this recipe, please share the picture with me on Pinterest, Instagram or Facebook.