For years and years I've been fascinated by the concept of combining pumpkin with pumpkin spice. I've also been a little confused, it just didn't sound right to me. I kept telling myself to give the whole thing a chance and see what it tastes like. And yes, this year it finally happened!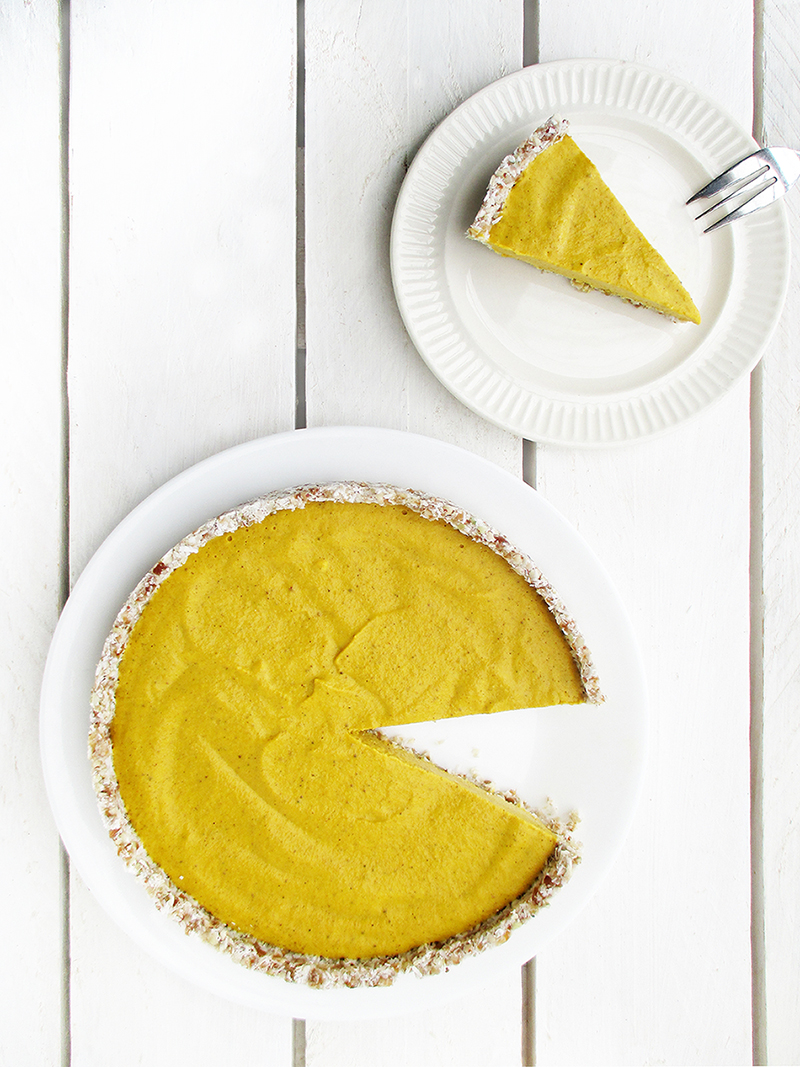 I didn't bother to try and bake a pumpkin pie. I prefer it uncooked. So I bravely tried a no-bake version that is not only gluten-free but also free of nuts.
It turned out really well and full of flavour. And I admit, pumpkin and pumpkin spice does taste gooood 🙂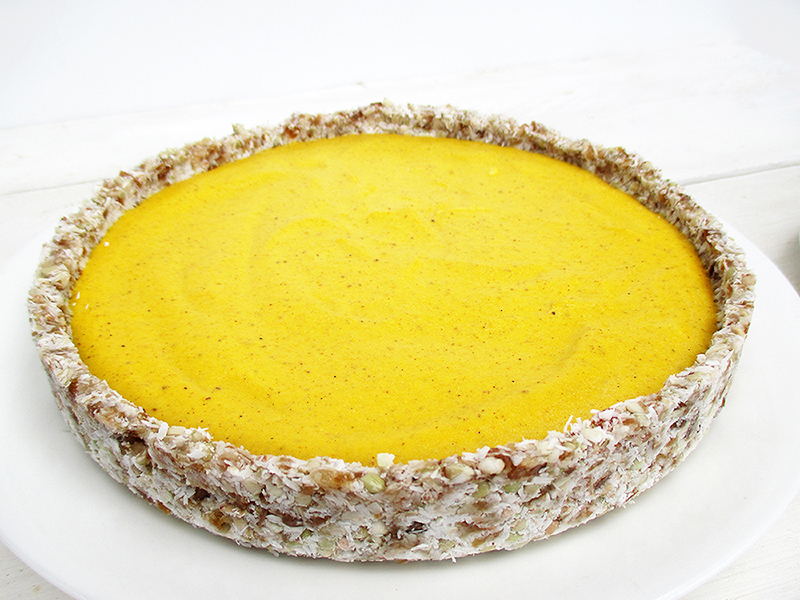 Please note: being nut-free you will have a different texture than with a classic pumpkin pie. It is best to keep it chilled until serving. If you would like to try a version with nuts, please feel free to replace the buckwheat groats and desiccated coconut in the crust with 1 cup soaked and pulsed almonds. Also, add 1/2 cup of cashews to the filling, it will give it some more body and extra creaminess 🙂
For a 21cm spring-form you'll need:
For the crust:
1/2 cup (100g) raw buckwheat groats (soaked in filtered water for at least 4 hours, then rinsed and drained)
3/4 cup (105g) dates, pitted & diced
1/3 cup (30g) desiccated coconut
For the filling:
250g raw butternut squash
1 can coconut milk (only the solid high-fat part)
3/4 cup dates, pitted
2 teaspoon pumpkin spice (cinnamon, nutmeg, allspice, ground ginger)
Preparation:
1. For the crust, pulse the dates to fine crumbles and transfer to a medium sized bowl. Dry dates will work best as they easily turn into crumbles.
2. After you rinsed and drained the soaked buckwheat groats, mash them fine. Add to the bowl with desiccated coconut and stir well until combined.
3. Line the cake tin with some baking paper and transfer the dough into the cake tin. Press it evenly and pull it up the sides, about one inch high. Place in freezer while preparing the filling.
4. For the filling, blend all ingredients to a fine cream. Take the tin out of the freezer and pour the filling in.
5. Freeze until set the cut slices and store in fridge until serving.
Enjoy!
Please let me know what you think about this recipe, I'd love to hear from you! And if you remake this recipe, please share the picture with me on Pinterest, Instagram or Facebook.