If you love chocolate with a healthier twist, you might want to try my newest recipe. Many no-bake recipes include nuts, which makes them quite rich and filling. So I decided to try a nut-free version.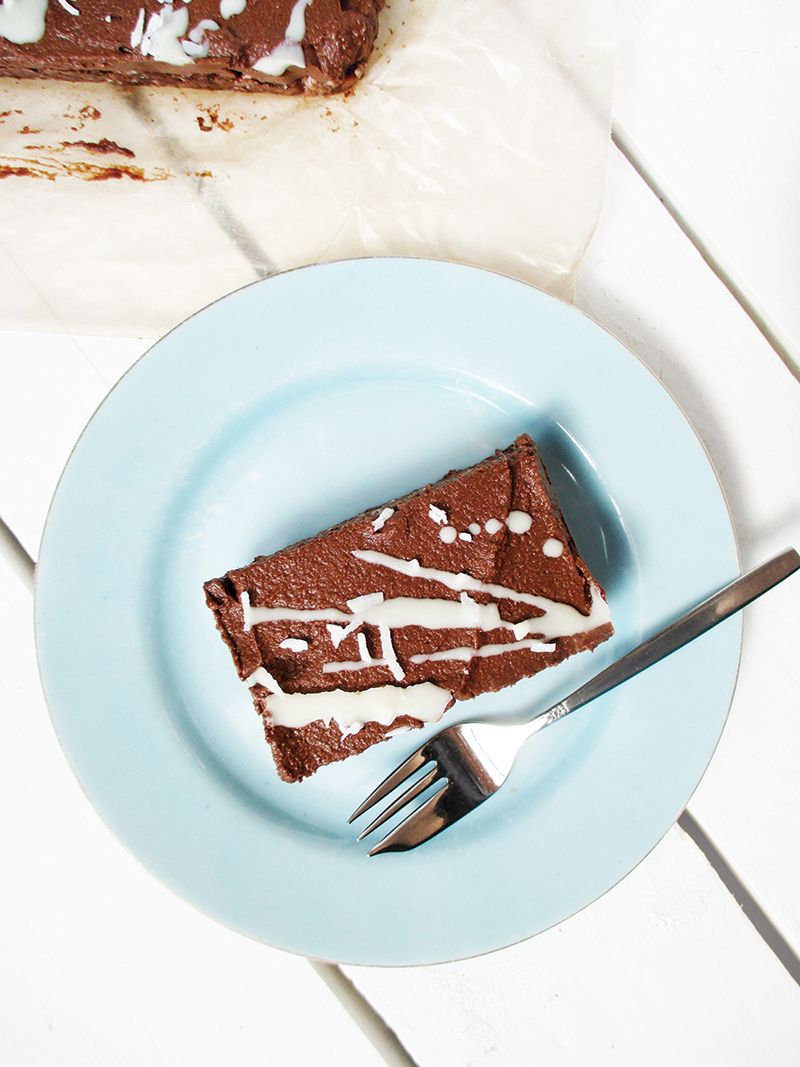 While I have used soaked buckwheat groats and desiccated coconut, you can also add all sorts of other things, like soaked pumpkin seeds, sunflower seeds, flax seed, you name it 🙂
This brownie slice is not only vegan and gluten-free but also free of nuts and relatively low in fat when compared to the standard nut laden raw brownie slice.
For a 17 x 28cm cake tin you'll need:
For the base:
1 cup (200g) buckwheat groats, soak them in filtered water for at least 8 hours, then rinse and drain
2 cups (280g) dates, pitted and diced
1/2 cup (50g) desiccated coconut
1/2 cup (50g) FAIR-TRADE cacao or cocoa powder
1/4 cup filtered water
For the frosting:
1 1/2 cup (200g) dates, pitted
1 1/4 cup filtered water
1/2 cup (50g) desiccated coconut
1/2 cup (50g) FAIR-TRADE cacao or cocoa powder
For the drizzle:
2 teaspoon creamed coconut, melted
2 teaspoon cacao butter, melted
Preparation:
1. For the base, blitz the buckwheat groats in a blender or food processor to finer crumbles. Or mash with a potato masher. Add to a medium sized bowl.
2. Pulse dates to fine crumbles and add to bowl. Mix well.
3. Add desiccated coconut, cacao or cocoa powder and water and stir until well combined.
4. Line cake tin with baking paper, scoop dough into tin and spread evenly, gently pressing it down. Place in freezer while preparing the frosting.
5. For the chocolate frosting, let the dates soak in the water for a while. Then blend until smooth, preferably using a high-speed blender.
6. Add desiccated coconut and cacao or cocoa powder and blend until smooth, using a tamper to keep the mixture moving. If it is too thick, add a little more water.
7. Take cake tin out of freezer and spread frosting evenly on top.
8. For the drizzle, mix melted creamed coconut and melted cacao butter. I used a small icing bottle but you can also use a teaspoon to drizzle the mix over the brownie.
9. Place in freezer until set (approx. 2 to 3 hours) and cut when still firm. You can store the brownie slice in the freezer and cut off pieces when desired. 🙂
Enjoy! 🙂
Please let me know what you think about this recipe, I'd love to hear from you! And if you remake this recipe, please share the picture with me on Pinterest, Instagram or Facebook.