This recipe is based on a crust that I have created for a completely nut-free, raw cake (stay tuned!). I realized that it also makes for delicious energy bars.
Perfect for a snack or in the lunch box, these chocolate energy bars are vegan, gluten-free and nut-free. I have added some vanilla chocolate on top. But you can also make all sorts of variations.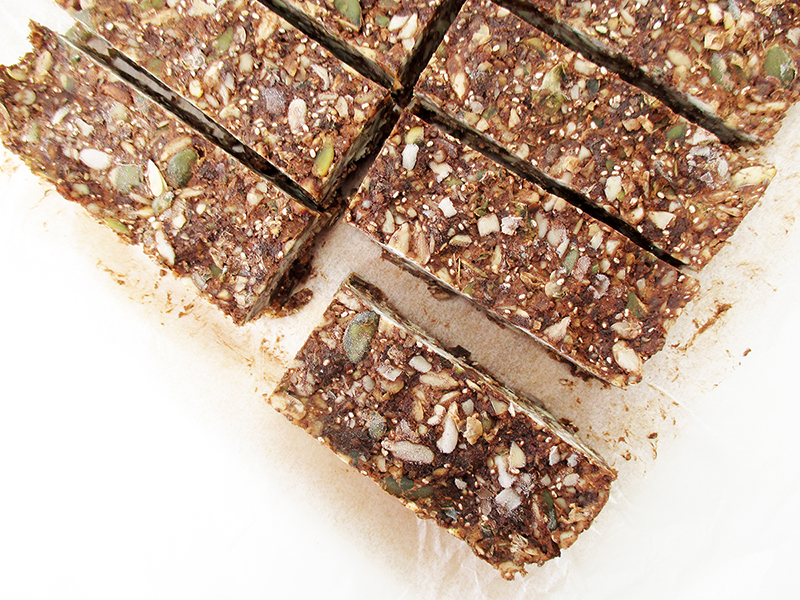 Ideas for variations:
add nut butter or coconut butter
use different seeds or nuts
add spices like cinnamon, allspice and nut-meg
try different dried fruits
etc.
Makes 16 energy bars (made in a 17 x 28cm form)
For the bars
1 cup (140g) pumpkin seeds (soak them in filtered water for at least 8 hours, then rinse and drain)
1 cup (150g) sunflower seeds (soak them in filtered water for at least 8 hours, then rinse and drain)
2 cups (280g) dates, pitted
1/2 cup (50g) FAIR-TRADE cacao or cocoa powder
1/4 cup (50g) chia seeds
1-2 tablespoon filtered water (if needed)
For the white chocolate
45g cacao butter, melted
15g coconut butter, melted
1 tablespoon finely ground coconut sugar
1 tablespoon tapioca starch (or cacao or cocoa powder for a chocolate flavour)
1/2 teaspoon vanilla essence
some cacao nibs for garnish (optional)
Preparation:
1. In a high-speed blender, pulse the pumpkin seeds and sunflower seeds to fine crumbles. Transfer to a medium sized bowl.
2. Pulse dates to fine crumbles and add to the bowl. Sift in cacao or cocoa powder. Then add chia seeds and stir well. It should turn into a thick and sticky dough. Add a little water if needed.
3. Line cake tin with baking paper. Scoop dough into form and spread evenly. Place in freezer until set (approx. 4 hours).
4. Once set, take it out of the form and cut into bars. Place in freezer while preparing the white chocolate.
5. For the chocolate mix all ingredients in a cup that sits in a bowl with hot water and stir until melted. Use teaspoon to drizzle chocolate onto the bars. Garnish if you like.
6. Store in fridge in an air-tight container for up to one week.
Enjoy! 🙂
Please let me know what you think about this recipe, I'd love to hear from you! And if you remake this recipe, please share the picture with me on Pinterest, Instagram or Facebook.