It's another meat-free Monday. A good day to avoid meat, like any day really, he he…
This recipe for vegan and gluten-free no meat balls is actually based on my Buckwheat Beetroot Burger recipe. It is just sooo delicious. And it is also easily made without soy or nuts. The other day I decided to try them as a meatball substitute and it turned out soooo well.
The texture is a little chewy on the outside. But they burst with flavour and have a moist center. I really love them. I actually prefer them over the buckwheat beetroot burgers. But they still have a special place in heart for those burger craving moments 😉
And what I really like about this recipe is that you can make it without any oil, by baking the meatballs in the oven. They also have a fairly firm consistency so that they don't fall apart so easy. Add the flavoursome spices and herbs – what are you waiting for? 😉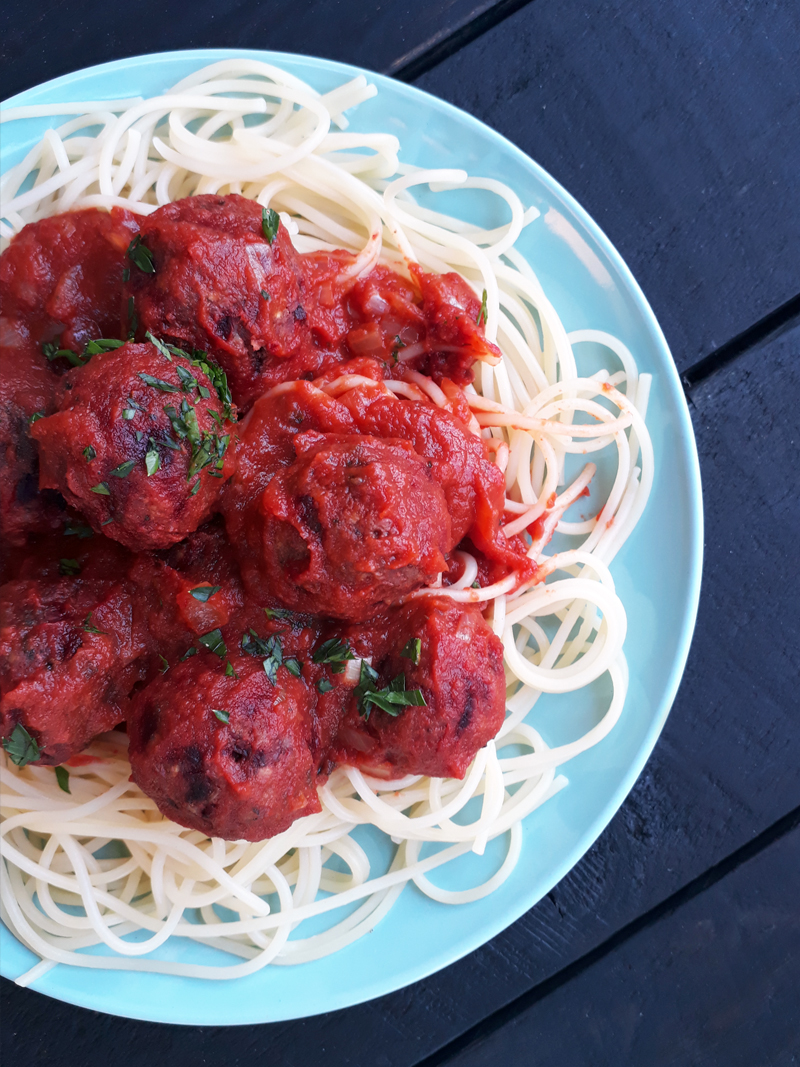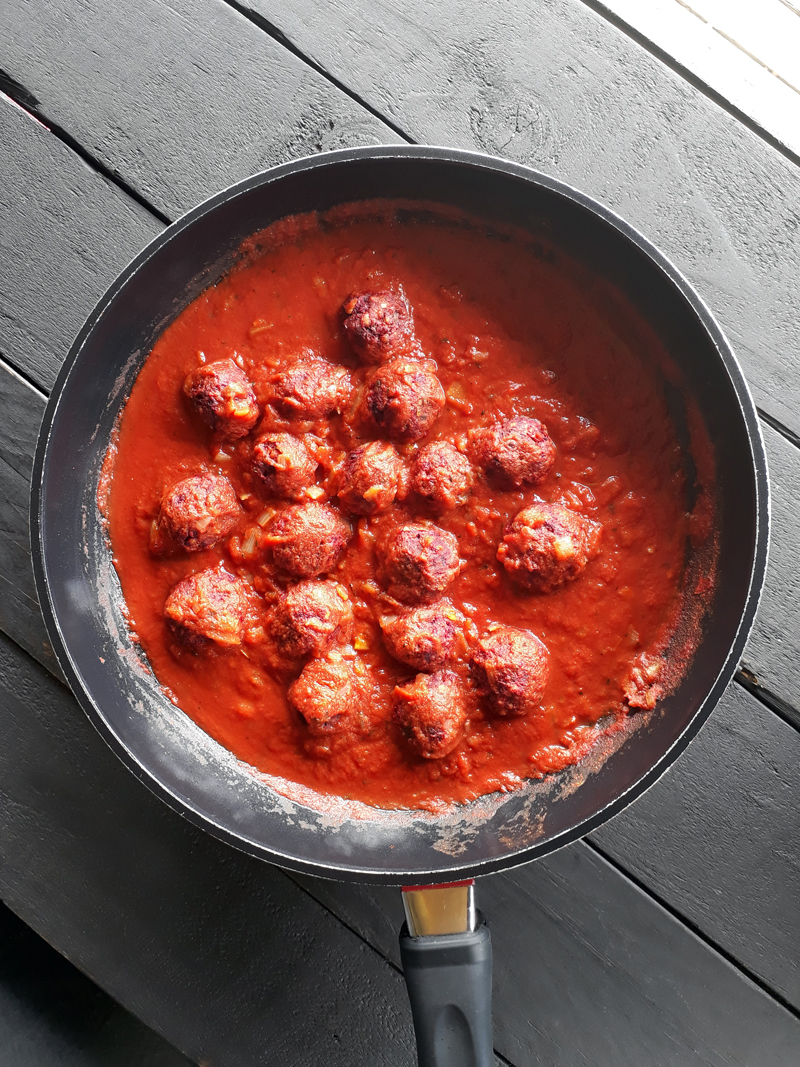 Makes approx. 18 balls (depending on size):
For the balls:
1/2 cup (100g) whole buckwheat groats
1 cup (250ml) water
100g grated beetroot (raw)
1-2 pinches salt
1/2 teaspoon of each:
– ground coriander
– ground allspice
– thyme
– marjoram
– oregano
2 tablespoon tahini (or any other nut or seed butter)
1/2 tablespoon soy sauce (or coconut aminos)
10 drops liquid smoke (alternatively 1/3 teaspoon smoked paprika)
1 tablespoon psyllium fiber husk
1 to 2 tablespoon rice flour
1 to garlic cloves, minced
For the sauce:
1 small onion, finely diced
some cooking oil or a 1 tablespoon water
2 teaspoon ground paprika
1 teaspoon dried oregano and/or thyme
500ml passata
salt to taste
additional water as desired
Note: Of course you can add heaps of veges to this sauce if you like 🙂
Instructions:
1. Wash the buckwheat groats in a sieve and drain. Place in small pot, cover with water and cook on medium heat until it starts boiling. Simmer on low heat with closed lid until water has evaporated.
2. Preheat oven to 200°C (top/-bottom heat). Transfer cooked buckwheat to a bowl. Mash with a potato masher.
3. Add remaining ingredients and mix to combine. A wooden spoon works well for this step.
4. Form small buckwheat balls and place on a lined baking tray.
5. Bake in the oven for approx. 15 minutes before turning the balls over and baking them for another approx. 15 minutes.
6. In the meantime saute the onions in a frying pan. Sprinkle with ground paprika and dried herbs and stir well.
7. Add about half of the passata, stir and let cook for a while until it thickens up. The add the remaining passata, rinsing the bottle with some water and adding it to the pan as well.
8. Add salt to taste and if it is too thick for your taste, add as much water as needed.
9. Once the no meat balls are ready, gently add them to the sauce and serve. Tastes great with pasta or rice 🙂
Enjoy! 🙂
Please let me know what you think about this recipe, I'd love to hear from you! And if you remake this recipe, please share the picture with me on Pinterest, Instagram or Facebook.