Winter time always brings an abundance of root vegetables. And it just happens that carrots and beetroots are one of favourite kitchen staples. Yay!
You may have noticed my little beetroot craze that happened on the blog not long ago. There was the Pink Ranch Salad Dressing, the Pink Probiotic Cream Cheese  and I even snuck some beetroot into this yummy vegan Raspberry Ice Cream recipe.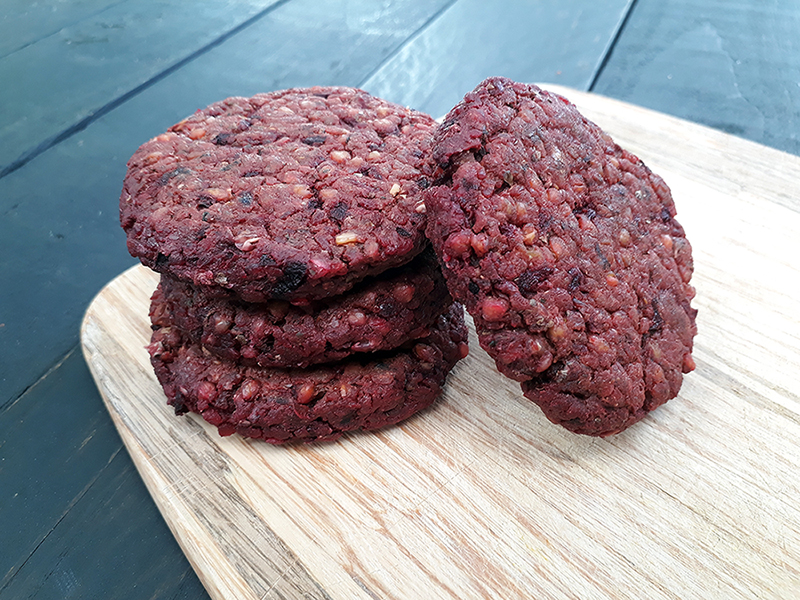 Thank You For The Inspiration
While I've tried beetroot burgers before, I have never used cooked whole buckwheat. The inspiration came from lovely Barbara, from the Austrian based blog Glueck Isst (German language only). She inspired me to try this stuffed pepper recipe that turned into this wonderful dish, which I shared on my Instagram:
https://www.instagram.com/p/BzXThADJlLs
Inspired by Barbara, I was sooo generous with herbs and spices. And I think that is what made this beetroot burger extra delicious! I couldn't believe the flavour! Until this day I thought that my Quinoa Burger was the best creation that I had managed in regards of vegan burgers. But no, move over Quinoa Burger, there is a new flavoursome kid in town!
Without Oil – It's Possible!
I cooked these burgers without using oil. Once upon a time I had a very good non-stick frying pan. But after 6 years of pretty much daily use, it is not that non-stick anymore. So while I'm saving up for a proper iron cast pan, I'm using baking paper that I cut to fit the frying pan. It works really well and can be reused for a few times.
Oil-soaked burger patties are just not really my thing, and be assured, they taste just as good without being cooked in oil. As always, this recipe Buckwheat Beetroot Burger is vegan and gluten-free.
Tip: You can precook the burger lightly in the pan and then store them in the fridge or freezer until you want to throw them onto the BBQ.