Yes, yes, it is still plum season here in New Zealand and I'm still working on ways to make use of these buckets and buckets of plums that I got from friends. After I've made plum walnut cake and plum slice it was time for a raw recipe.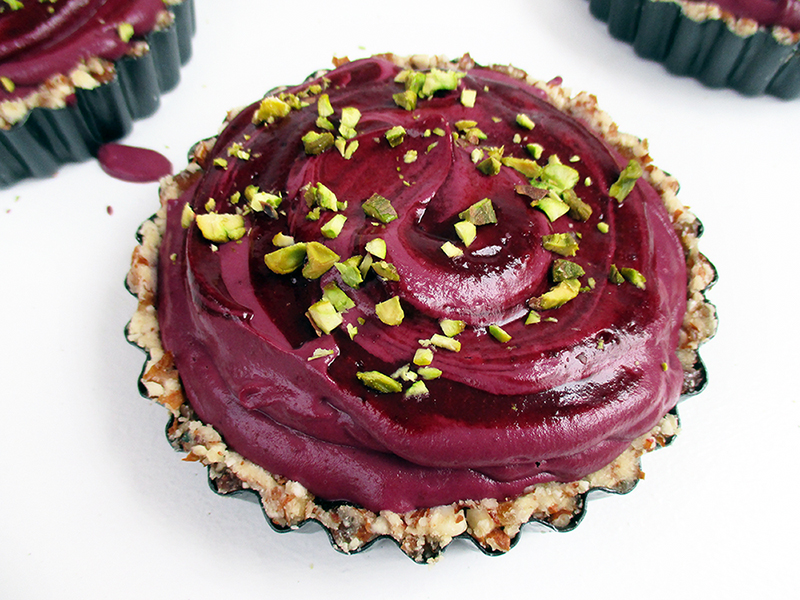 Well, what shall I say…plum and fig get along very well 😉
I have used four mini tart forms but am pretty sure that you can use the amount for one large tart form (about 25cm in diameter).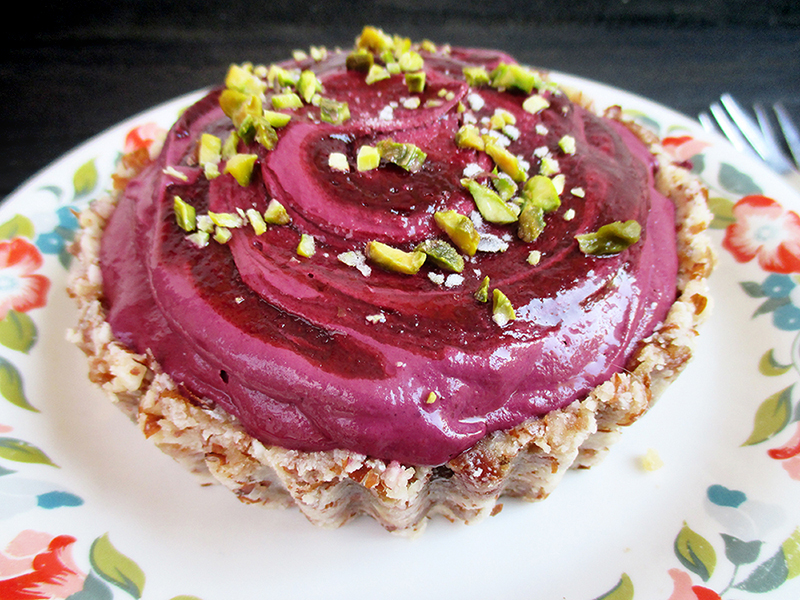 Note: Best results are achieved with a high-speed blender.
For 4 mini-tarts you'll need:
For the crust:
1 cup (140g) almonds (soaked in filtered water for at least 8 hours then drained)
3/4 cup (105g) dates, pitted and diced
For the filling:
1 1/2 cup (210g) cashews (soaked in filtered water for at least 4 hours then drained)
10 plums
10 dried figs
1/8 to 1/4 cup water
3 tablespoon cup coconut oil or cacao butter
For garnish:
I've used a few chopped pistachios.
Preparation:
1. For the crust, pulse the almonds to fine crumbles and add to a medium sized bowl. Pulse the dates to fine crumbles and add to the bowl. Mix well.
2. Scoop even portions into the tart forms and press them evenly up to the borders of the forms. Place the forms in the fridge while preparing the filling.
3. For the filling, blend the (pitted) plums and water to a juice. Start with 1/8 cup water and add more later if needed. Remove the stalk of the figs, chop them into little cubes and add to the blender. If your blender isn't very strong you can let them soak a little first.
4. Blend the plums and figs to a fine cream. Take a few tablespoons out of the blender and put aside for later decoration of the cake. Then add the cashews and coconut oil (and more water if needed). Blend to a fine cream.
5. Take the tart forms out of the fridge and pour even portions of the filling into them. Use a spoon to drizzle with the plum fig cream that you've put aside earlier. You can pull the spoon in circles through the filling. This will create a nice color effect.
6. Add garnish if desired, sprinkle with chopped pistachios. Then place in the freezer until set (approx. 3 hours). Take out 1 hour before serving. Let defrost a little before taking out of the form.
Enjoy! 🙂
Please let me know what you think about this recipe, I'd love to hear from you! And if you remake this recipe, please share the picture with me on Pinterest, Instagram or Facebook.