This is the result of one of those recipe ideas that I just couldn't let go. I knew that it would be amazing once I had it right. Because pink chai and chocolate are such a heavenly match 🙂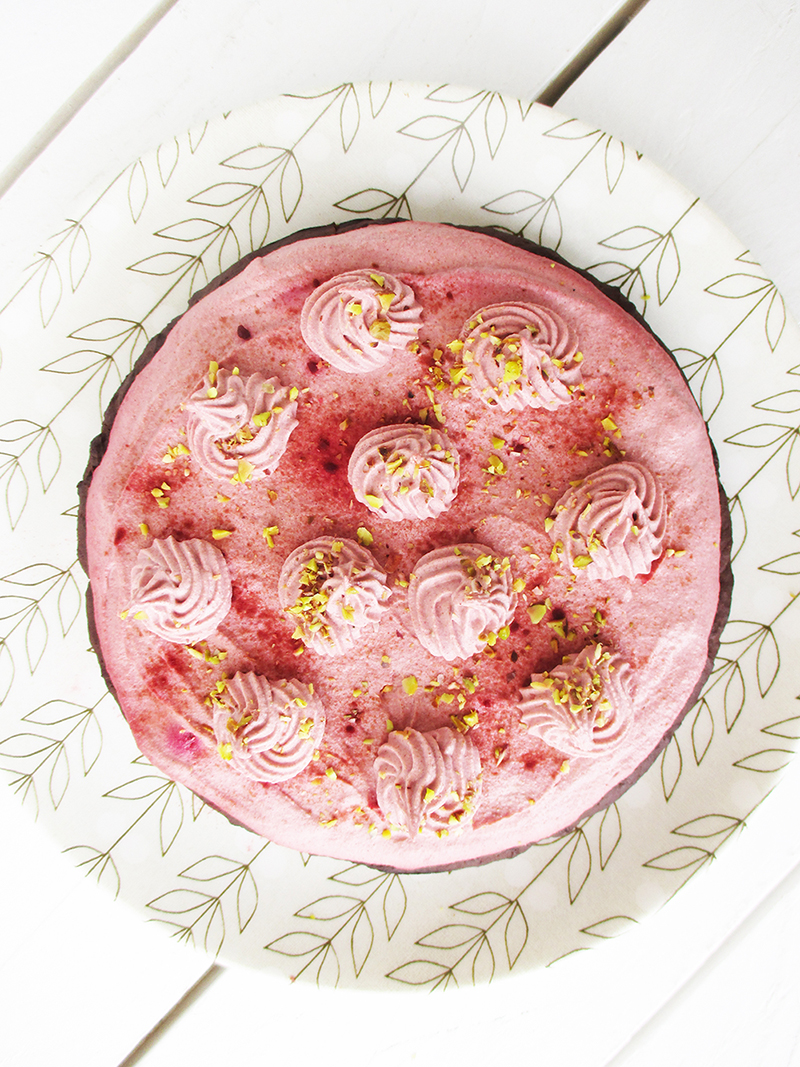 While the pink chai frosting was quickly created, it took me quite some time to get the texture of the chocolate cake right. Like a loong time. In other words, I don't think I ever had that much chocolate cake in my life 😉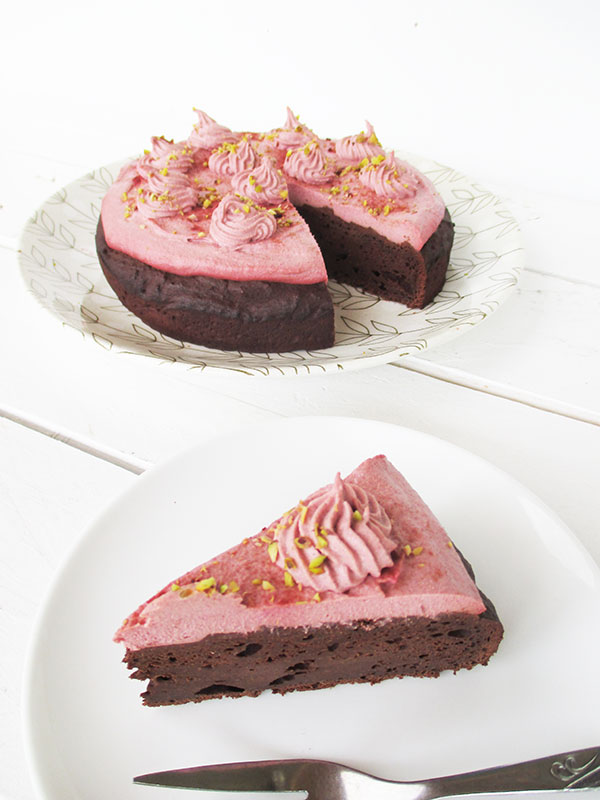 In the end it was just a slight tweak of the ingredients to create this amazingly moist and chocolaty cake. All vegan, gluten-free, without refined sugars and oil-free. This time I also without dates 🙂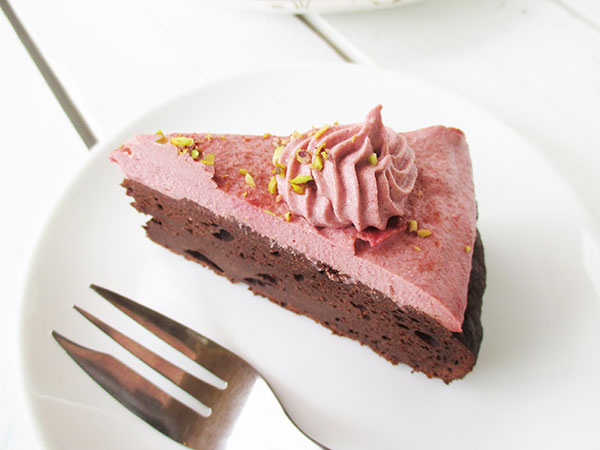 Pink Chai Chocolate Cake (Vegan, Gluten-free, No Dates)
This is the result of one of those recipe ideas that I just couldn't let go. I knew that it would be amazing once I had it right. Because pink chai and chocolate are such a heavenly match. All vegan, gluten-free, without refined sugars and oil-free. This time I also without dates. 🙂
Ingredients
For the chocolate cake:
200

ml

coconut milk

preferably with high-fat content

125

ml

water

1

tablespoon

psyllium fiber husk

90

g

coconut sugar

110

g

rice flour

75

g

FAIR-TRADE cocoa powder

1 1/4

teaspoon

baking powder
For the pink chai frosting:
140

g

cashews

soak them in water for at least 3 hours, then rinse and drain

1

heaped tablespoon

coconut sugar

or more if you like it sweet

30

g

cacao butter

melted

1/4

cup

warm water

1

teaspoon

beetroot powder

1

teaspoon

ground cinnamon

2-3

tablespoon

water if needed

Some extra beetroot powder and chopped pistachios for garnish if desired.
Instructions
First blend the coconut milk, water, psyllium fiber husk and coconut sugar in a blender. Set aside.

Preheat oven to 200°C (top-/bottom heat). Line bottom of spring-form with baking paper and grease the sides lightly (I used coconut oil for this step).

Sift rice flour, cocoa powder and baking powder into a bowl and mix it. Add the coconut cream mixture and quickly stir to combine. Don't over stir.

Scoop the dough into the spring-form and spread it evenly.

Bake in oven covered* for approx. 35 to 45 minutes, or until an inserted wooden skewer comes out of the dough just slightly sticky. Let cool down a little before taking it out of the form. Then let cool down completely before applying the frosting.

For the frosting, blend all ingredients but the beetroot powder and cinnamon in a powerful mini-blender. It helps if the ingredients are at room temperature to stop the cacao butter from setting too early. Add a few tablespoons of water if necessary.

Once the mixture is blended to a smooth, creamy texture, add the beetroot powder and ground cinnamon and blend once more. If it is too hard to blend it, mix it manually instead of adding more water. Let cool down a little until the mixture gets a little thick.

If you'd like to make some decorative frosting dollops, take a few tablespoons of it aside. Spread the frosting evenly over the cake. Garnish with a little more beetroot powder if you wish. Transfer the remaining frosting into an icing bag to add dollops. Garnish with chopped pistachios if desired.

Chill for 1 to 2 hours until the frosting is set. Then keep covered until serving (the frosting tends to dry out after a while).
Notes
Enjoy! 🙂
*I insert an empty baking tray in the rack above the cake to shield it from direct heat.
Please let me know what you think about this recipe, I'd love to hear from you! And if you remake this recipe, please share the picture with me on Pinterest, Instagram or Facebook.