Say it with a cookie! 🙂 That's my motto with these delicious vegan cookies, perfect for valentine's day. The combination of pink chai creme and soft chocolate cookies is a dream ?


And these heart shaped cookies make the perfect edible gift for your loved one(s). You can also glaze them with chocolate. And there are so many options to garnish, like chopped nuts and cacao nibs and freeze dried fruits. Yum!
The pink chai glaze is sweetened with fruit. The lovely pink colour comes from cooked beetroot. You can also use beetroot powder or raw beetroot. I made the chai spice mix myself by blending ginger, cinnamon, cardamom, cloves and allspice.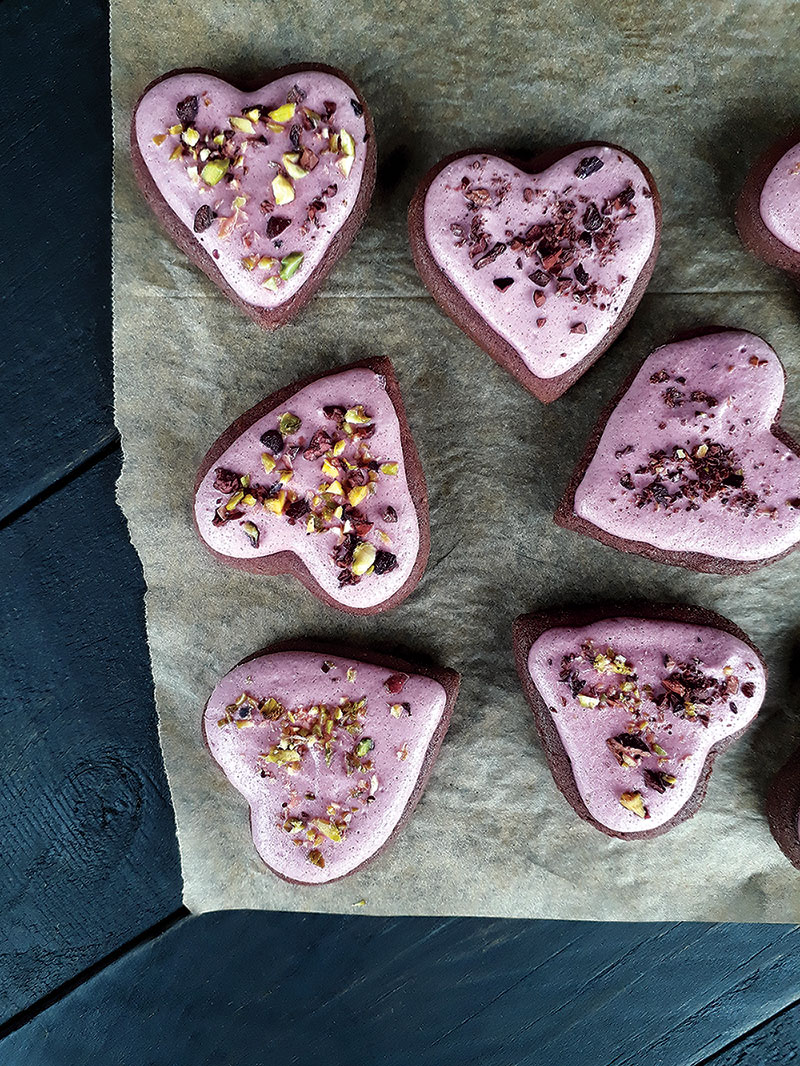 The cookies are also sweetened with dates. They make for a lovely, soft texture. And as always this recipe for pink chai chocolate cookies is vegan, gluten-free and without oil.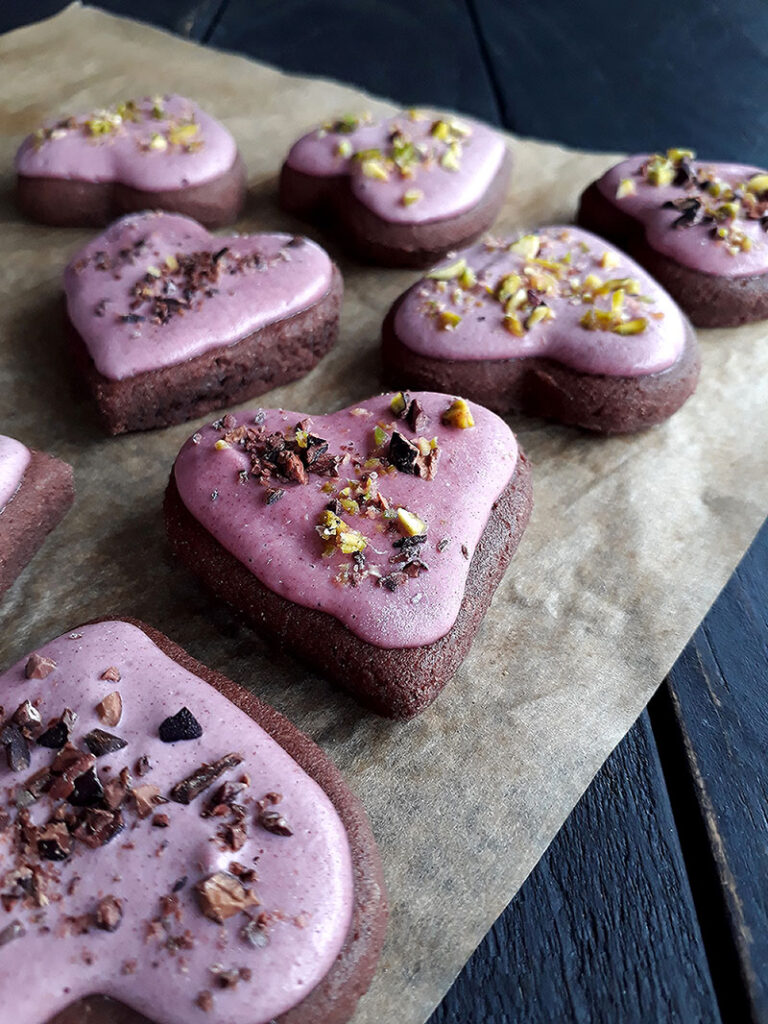 Makes about 12 Cookies:
For the cookies:
• 100g dates, pitted and chopped
• 170ml water
• 50g almond butter (or other nut/seed butter)
• 130g rice flour
• 50g buckwheat flour
• 3 tbsp FAIR-TRADE cacao
• 1 tbsp ground psyllium fiber
• 1/2 tsp baking powder
• some FAIR-TRADE chocolate for glazing
For the pink glazing:
• 30g cooked beetroot
• 3 dates, pitted & chopped
• 50 bis 60ml water
• 20g cacao butter, melted
• 60g cashews or blanched almonds
• 1/2 tsp chai spice
Method:
Preheat the oven to 170°C (top/bottom heat). Blend dates, water and almond butter with a stick blender until smooth.
Mix the remaining ingredients in a bowl. Add the dates mixture and stir to combine.
Roll out the dough between sheets of baking paper. Cut out cookies and place them on a baking tray (sprinkle with some flour if the dough is too sticky). Repeat until the dough is used up.
Bake for approx. 12 to 15 minutes. Let cool down properly.
For the glaze blend all ingredients in a powerful mini blender. Spread evenly over the cookies. Place in an air-tight container and store in the fridge.
Note: The glaze doesn't turn completely firm. It is best used as a filling between two cookies.
Enjoy 🙂

Please let me know what you think about this recipe, I'd love to hear from you! And if you remake this recipe, please share the picture with me on Pinterest, Instagram or Facebook.