Lately I have had a big craving for burgers. Especially since I visited
Logan MacLean in Waipū and ate their amazing Beyond Burger. Tanya, the owner of the cafe, is vegan herself and has a huge vegan menu to offer.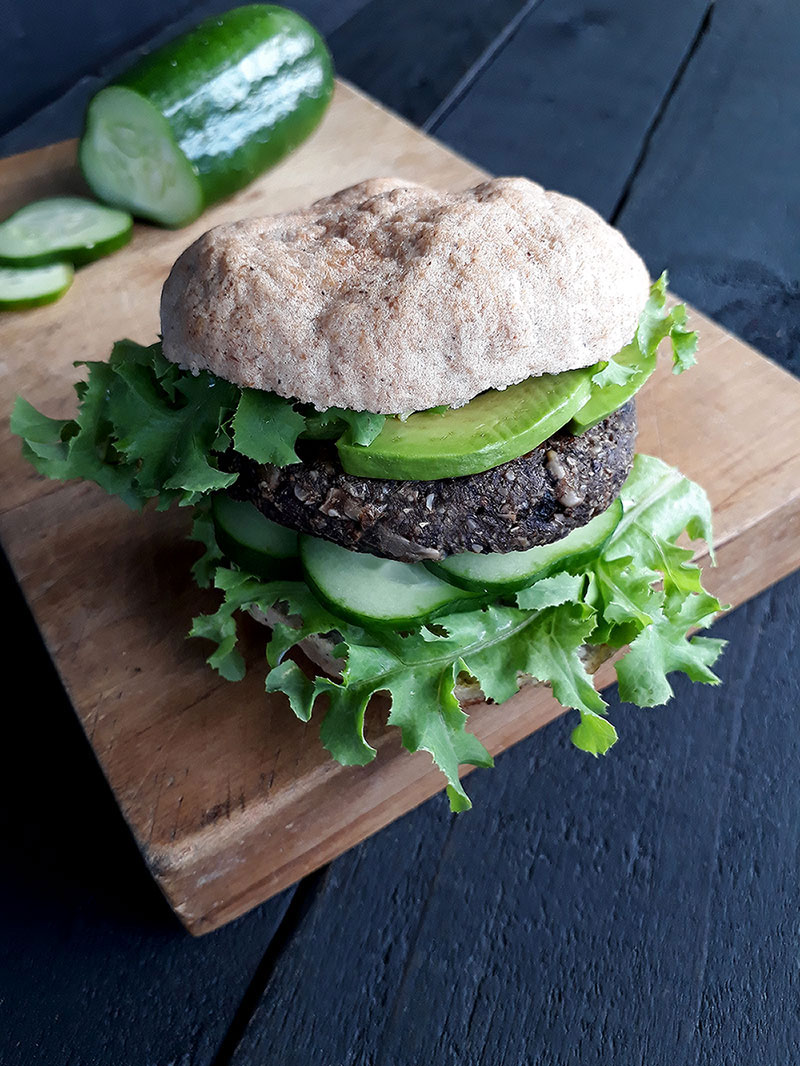 So, with burgers in my mind, I decided to try a new recipes. It worked out so well that I have to share the recipe with you 
The main ingredients are sunflower seeds and mushrooms. With a hearty mix of spices it creates a flavoursome burger patty that also has quite a firm texture. That also makes it suitable for the bbq.
The recipe is vegan, gluten-free and doesn't require oil. For the burger buns I used my recipe for bread rolls without yeast. Instead of dusting them with flour, I brushed them with plant milk. A perfect combo 
Makes approx. 6 to 8 mushroom burgers:
• 100g sunflower seeds (soak in water for approx. 4 hours, then rinse and drain)
• 200g mushrooms, finely chopped
• 1/3 tsp salt
• 1/2 tsp ground coriander
• 1/2 tsp onion powder
• 1-2 pinches ground chili
• 1 tbsp soy sauce
• 50g chickpea flour
• 50g rice flour (or other gluten-free flour)
• 2 tbsp psyllium fiber husk
Method mushroom burgers:
1. After rinsing the sunflower seeds, let them drain thoroughly in a sieve.
2. In the meantime mix the chopped mushrooms with salt in a bowl. Let soak until the mushrooms have shrunk noticeably and have become watery (approx. 30 minutes).
3. Now ad the sunflower seeds to the mushroom and blend them roughly with a stick blender. Add the spices and mix roughly.
4. Add the remaining ingredients, stir to combine and let rest for a few more minutes.
5. Form burger patties with wet hands and cook them either from both sides in a frying pan on low heat. Or bake them in the oven at 190°C for approx. 25 minutes (flip them in
between).
Please let me know what you think about this recipe, I'd love to hear from you! And if you remake this recipe, please share the picture with me on Pinterest, Instagram or Facebook.