I really like cauliflower. And potatoes. So why not combine the two into something yummy? These cakes are really flavourful and are superb when combined with a mushroom sauce.
I also really love mushrooms – there is no week where they don't find a place on my plate. They also can be called a super food – ecosia it! 🙂
The potato-cauli-cakes I like to cook are quite chunky – this way you reduce the amount of fried surface. But of course you can make them thinner and have them your favourite way 😉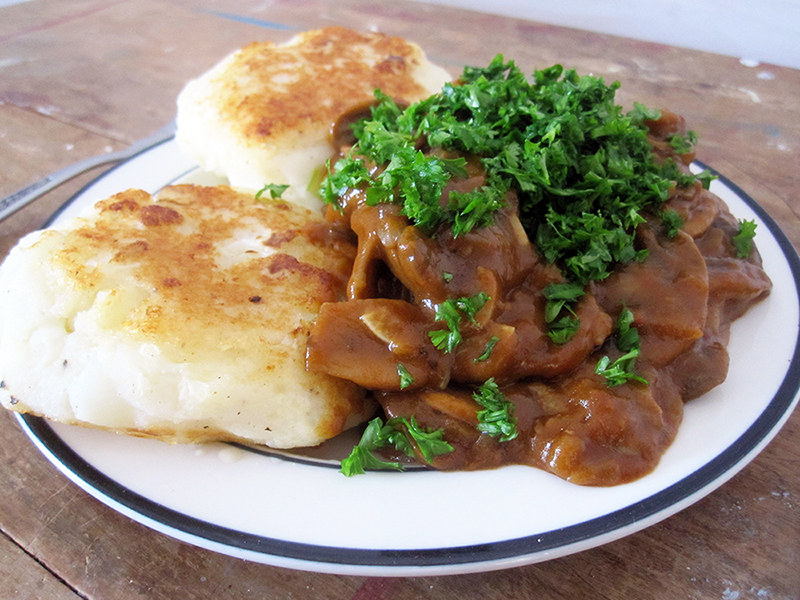 Four 2 big portions you'll need:
For the cakes:
550g potatoes
300g cauliflower
1/2 onion (finely chopped)
2 tablespoon rice flour
salt & pepper to taste
1/2 teaspoon ground nutmeg
some cooking oil (I prefer coconut-oil)
For the mushroom sauce:
500g mushrooms
1/2 onion (finely chopped)
2-3 garlic cloves
1-2 tablespoon cooking oil (I prefer coconut-oil)
1 heaped tablespoon rice flour
3 heaped teaspoon ground paprika
1/3 teaspoon chili flakes (optional)
salt & pepper to taste
1 1/4 cup water
Some fresh parsley
Preparation:
1. Peel the potato, chop it in rough cubes. Place in a small pot, cover with water, add a lid and bring to boil. Cook until soft (approx. 25minutes).
2. In the meantime chop and pluck the cauliflower into relatively small pieces. Steam the cauli until soft with some bite left.
3. Once the potatoes are soft, rinse them and transfer to a medium sized bowl, then mash. Add the steamed cauliflower pieces and mix with onion, rice flour, salt, pepper, chili flakes and ground nutmeg. Let cool down.
4. In the meantime prepare the mushrooms, cut them into thin slices. Peel and chop the onion and garlic.
5. Heat some cooking oil in a medium sized frying pan and then add onions and mushrooms. Stir constantly and cook until the mushrooms are soft and have shrunk in size. When the last of fluid has gone from the mushrooms and it starts sizzling again, add the garlic, stir well and cook for another minute.
6. Then sprinkle with rice flour, ground paprika, salt, pepper and chili flakes. Stir well to mix it. Then add 1 1/4 cup water and stir well to dissolve. Bring to boil again and let simmer for 5-10 minutes.
7. The potato-cauli 'dough' should be cold enough now – with your (clean hands) shape potato cakes into the size that you like.
8. Heat some cooking oil in a non-stick frying pan and cook both sides until golden-brown. Wash and chop the parsley, to sprinkle on top of the mushrooms just before serving up.
Enjoy! 🙂
Bitte lass mich wissen, was du von dem Rezept hältst, ich freue mich drauf von dir zu hören! Und wenn das Rezept nachmachst, würde ich deine Kreation gern auf Pinterest, Instagram und Facebook sehen ?