After I went on a gluten-free diet I soon stopped having pizza since there didn't seem to be any good gluten-free options. Ready-made dough-mixes are full of starches and other useless stuff.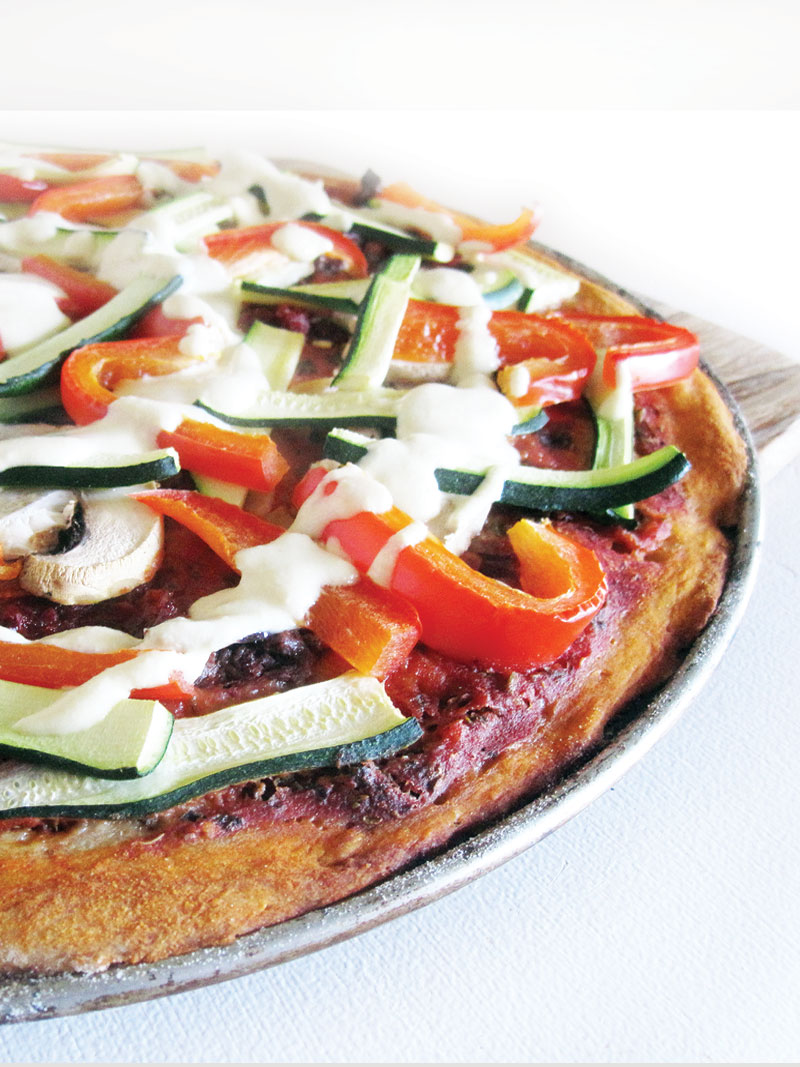 At last I decided to try my own recipe. I knew I wanted to try it with some roughly ground up sunflower-seeds. And that really was a great idea!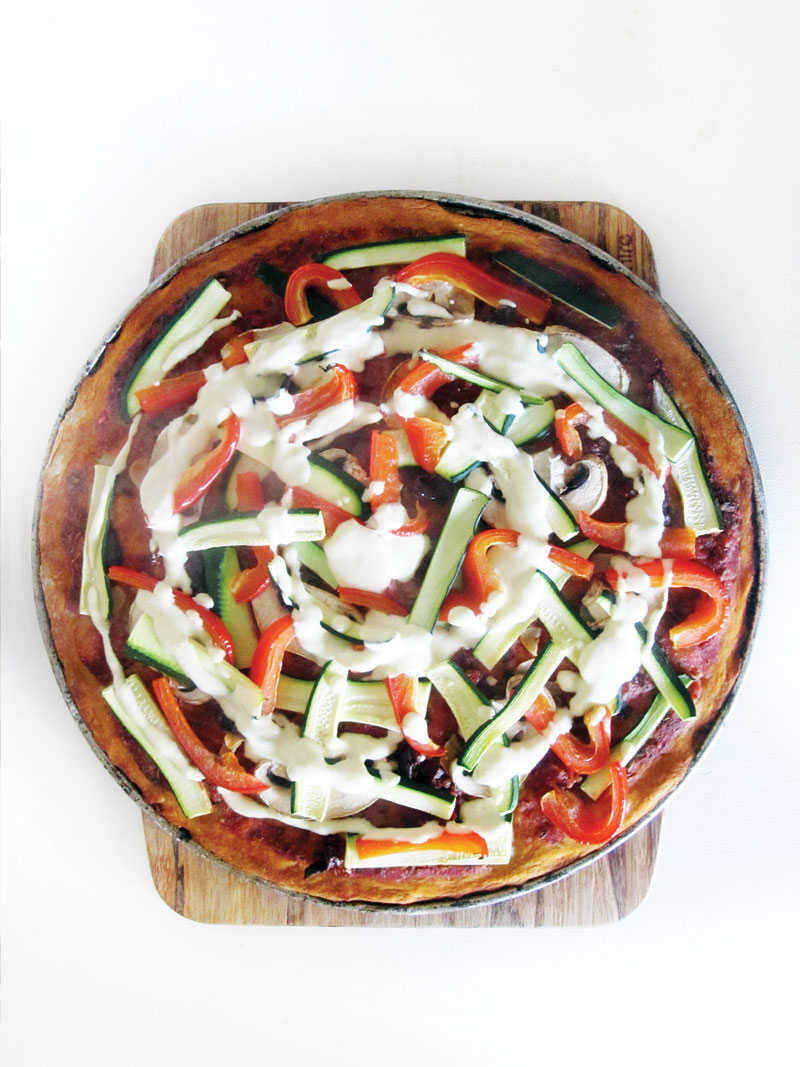 It doesn't only reduce the usual gluten-free flour but also adds a nice flavour and texture 🙂
I've made the pizza with some seasonal veges and cheesy cashew cream.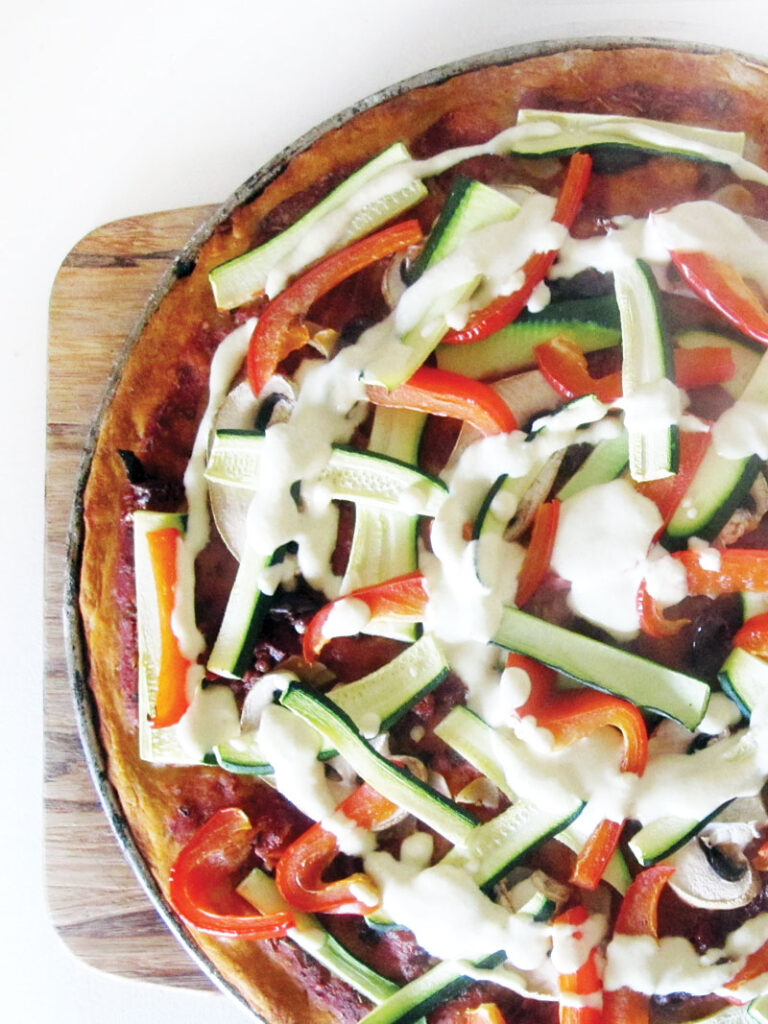 For 2 pizzas you'll need:
For the dough:
/4 cup (100g) sunflower seeds (soaked in filtered water for a few hours and then rinsed)
1 cup (140g) buckwheat flour
1 heaped tablespoon fiber husk
1/3 teaspoon salt
2 tablespoon olive oil
1 tablespoon apple cider vinegar
1 cup warm water
3 teaspoon dried active yeast
some extra flour for 'finalizing' the dough
Tomato pizza sauce:
1 cup passata
1 teaspoon thyme
1 teaspoon basil
1 teaspoon oregano
2 garlic cloves (minced)
salt & pepper to taste
For the topping:
2 big mushrooms
1 red capsicum
2 courgettes
5-6 dried tomatoes (in oil)
approx. 7-8 olives (pitted)
2-3 garlic cloves
Cheesy cashew cream:
1/2 cup (70g) cashews (soaked in filtered water for at least 6 hours and then rinsed)
1/2 cup water
4 tablespoon olive oil
3 heaped tablespoon nutritional yeast flakes
1/3 teaspoon ground nutmeg
Preparation:
Mix the yeast with one cup warm water. Stir well to dissolve and place aside for approx. 10 minutes.
In the meantime mix the buckwheat flour with the fiber husk and salt in a medium-sized bowl.
Blitz the sunflower-seeds until they are relatively fine – don't worry if some seeds stay whole.Add ground sunflower-seeds to the flour-mixture. Pour in the the yeast mixture as well as the olive oil and vinegar. If it is too dry, add a little more warm water. Mix well for a few minutes.
Place a damp (clean) dish towel on top and place in a warm place for approx. 1 hour to let the dough rise.
In the meantime you can prepare the tomato pizza sauce by mixing all ingredients in a small bowl.
For the cheesy cashew cream blend the cashew nuts with the water to a fine cream. Then add olive oil, yeast flakes and nutmeg. Stir well.
When the dough has risen enough, sprinkle the table with some flour and drop the dough onto it. Sprinkle some flour on top until it is dry enough so it won't stick to your fingers.Knead the dough for a few minutes. If it gets too sticky add some more flour.
Split the dough into two parts, roll a ball, press it a little flat before placing on the pizza tray. Spread the dough evenly to the border.
Let then rise in a warm spot for another 15 minutes.In the meantime preheat the oven to the highest temperature it can go 🙂
Also prepare the veges: peel and chop the garlic. Clean out the capsicum and cut into very thin slices. Also cut the courgettes and the mushrooms into fine slices. Pip the olives and chop into rough pieces. Also chop the dried tomatoes.
After 15 minutes, use a fork to make some indentations into the dough so that the sauce will stick better. Scoop the pizza sauce onto the risen pizza dough and spread evenly. Sprinkle with garlic, olives and dried tomatoes. Then add mushrooms, courgettes and capsicum.
Place in the oven and bake for approx. 10-15 minutes. Sprinkle with the cashew cream before dishing up.
Enjoy! 🙂