Another project that has taught me many things about vegan and gluten-free baking.
As it happened, my most favourite gluten-free flour, teff, was out of stock at my local bulk food supplier. So I (reluctantly) started to try things with buckwheat flour instead. Buckwheat has different characteristics and behaves differently than teff flour.
But when I tried my burger bun recipe with buckwheat flour, it turned out GREAT 🙂
I've used mini-pie tins which hold and shape the buns nicely.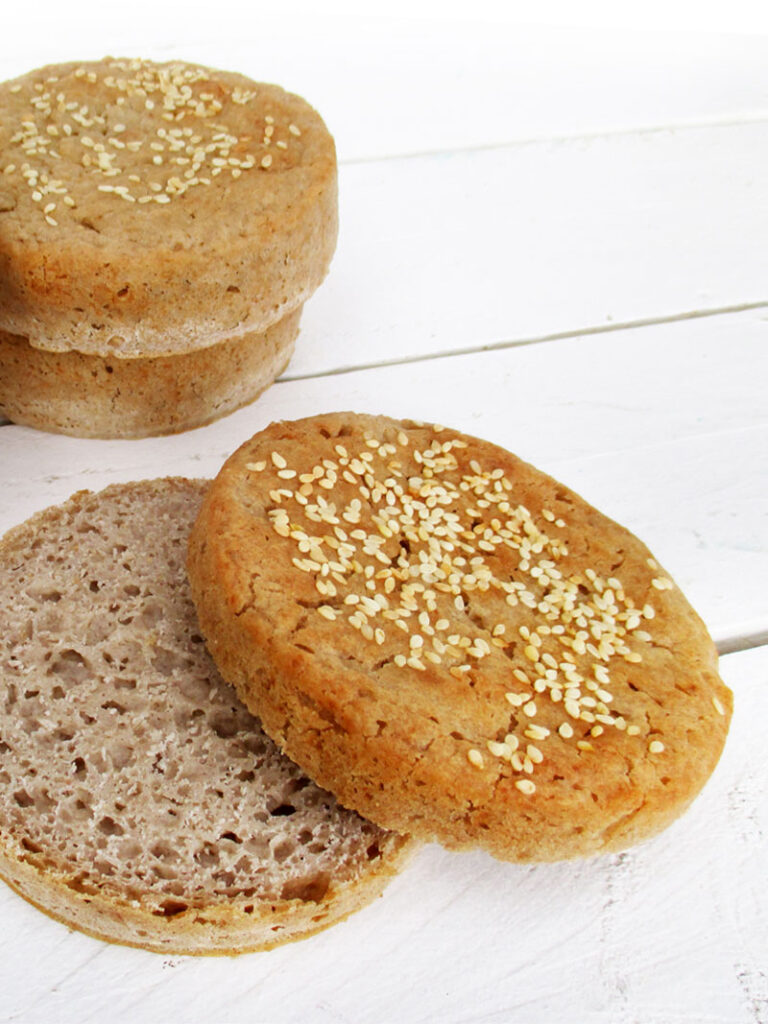 The last time I had these buns I toasted them lightly before adding burger and veges – that was very good 😉
For 4 burgers you'll need:
1/2 cup (70g) buckwheat flour
1/2 cup (40g) tapioca starch
1/2 cup (70g) brown rice flour
1 tablespoon fiber husk
2 pinches salt
1 cup (250ml) warm water
1 1/2 teaspoon dried active yeast
1/2 tablespoon apple cider vinegar
1 tablespoon olive oil
1-2 tablespoon water
some sesame seeds (optional)
Preparation:
1. Mix the yeast with 1 cup warm water. Stir well to dissolve and let then rest for approx. 10 minutes.
2. Mix buckwheat flour, tapioca starch, rice flour, fiber husk and salt in a medium sized bowl.
3. Add yeast mixture, olive oil and vinegar to the flour mix, stir well for a few minutes until the dough gets thicker. Scoop even portions into the pie tins.
4. Place pie tins in a warm spot for approx 1 hour (or until the dough has risen twice its size).
5. Switch on oven to 190°C (top-/botom heat). Sprinkle the top of the buns with sesame seeds and then very gently brush with a mixture of 1 tablespoon olive oil and 1-2 tablespoon water.
6. Bake in the oven for approx. 15, covered with a sheet of baking paper or aluminum foul (which you can reuse). The bake another 5 minutes uncovered or until the top is golden-brown.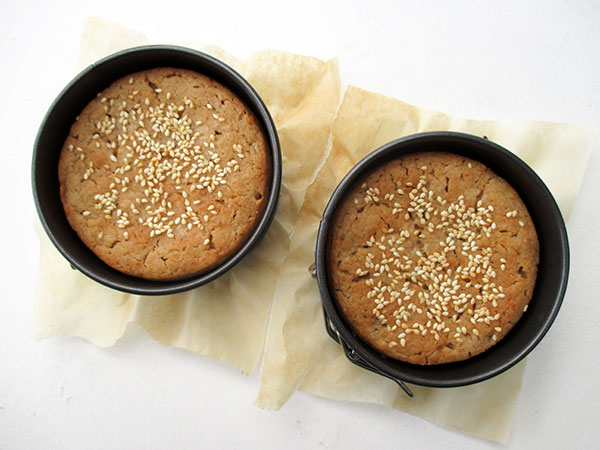 Enjoy! 🙂