Today I gonna take you into the skies and clouds. Well, edible clouds so to speak, he he. After I made the No Bake Dreamy Blue Cake I also wanted to make an ice cream in this kind of style.
And it turned out heavenly 🙂 I would love to dive into this dreamy colour. And since I just came up with these super yummy and soft chocolate cookies, I made some ice cream sandwiches.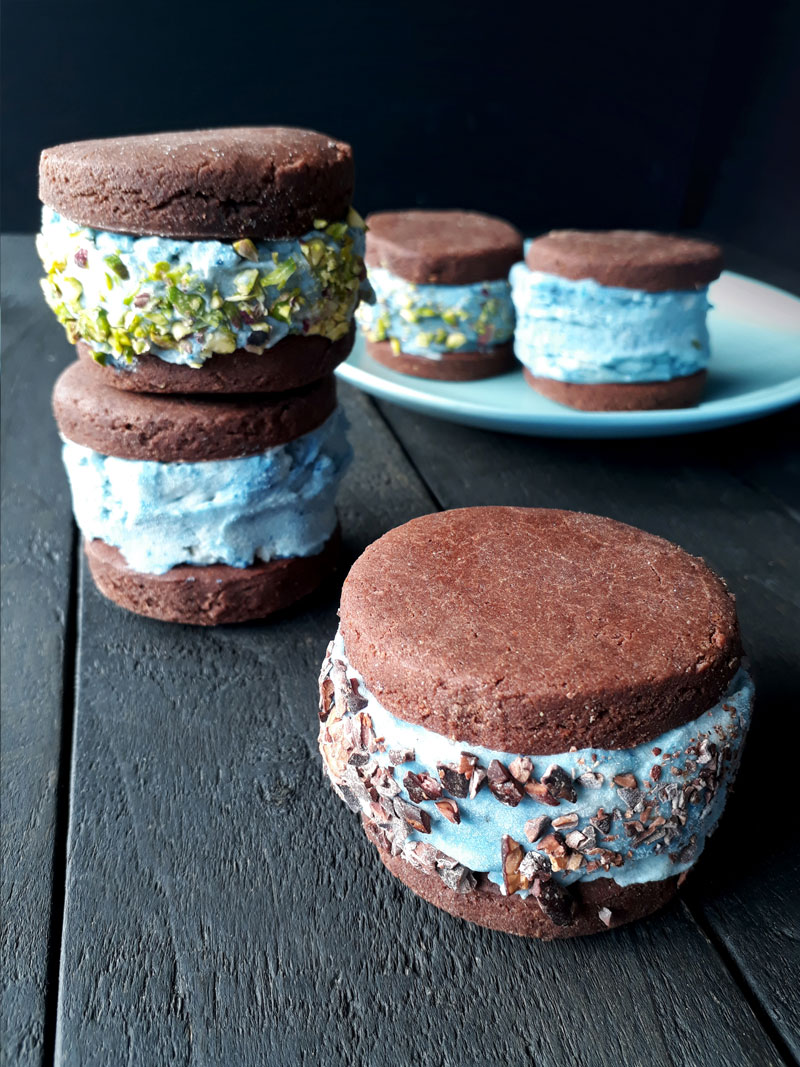 After assembling the ice cream sandwiches, I rolled them in chopped pistachios and cacao nibs. So yummy and also so lovely to look at 🙂 The ice cream is really yummy without cookies:
And as always this recipe is vegan, gluten-free and sweetened with fruits. Until now I only made it with an ice cream maker. Soon I will try to make it without an ice cream maker. I will let you know how it goes 🙂
Ingredients for approx. 1 liter:
• 100g cashews (or blanched almonds, or macadamias)
• 80g dates, pitted and diced
• 400ml water
• 200ml coconut cream (or plant mylk)
• 1/2 teaspoon guar gum
• 2-3 teaspoon blue spirulina (depending on how blue you like it)
Instructions:
1. In a powerful blender, blend all ingredients but the spirulina until creamy.
2. Pour the mixture into the ice cream maker and let it run until the ice cream is ready.
3. Transfer the ice cream to a freezer safe container and stir in as much spirulina as you like.
4. If desired, place the ice cream in the freezer until it is firmer. Should you leave the ice cream in the freezer for longer, let a thaw a little before serving.
Enjoy 🙂
Please let me know what you think about this recipe, I'd love to hear from you! And if you remake this recipe, please share the picture with me on Pinterest, Instagram or Facebook.