This is one of those recipes that I think of when strawberry season is in full swing. It's the kind of cake that is a classic dish in Germany. There are several layers: a sponge cake base, a layer of vanilla custard (sometimes without it), strawberries and some form of clear jelly, which makes the cake last longer.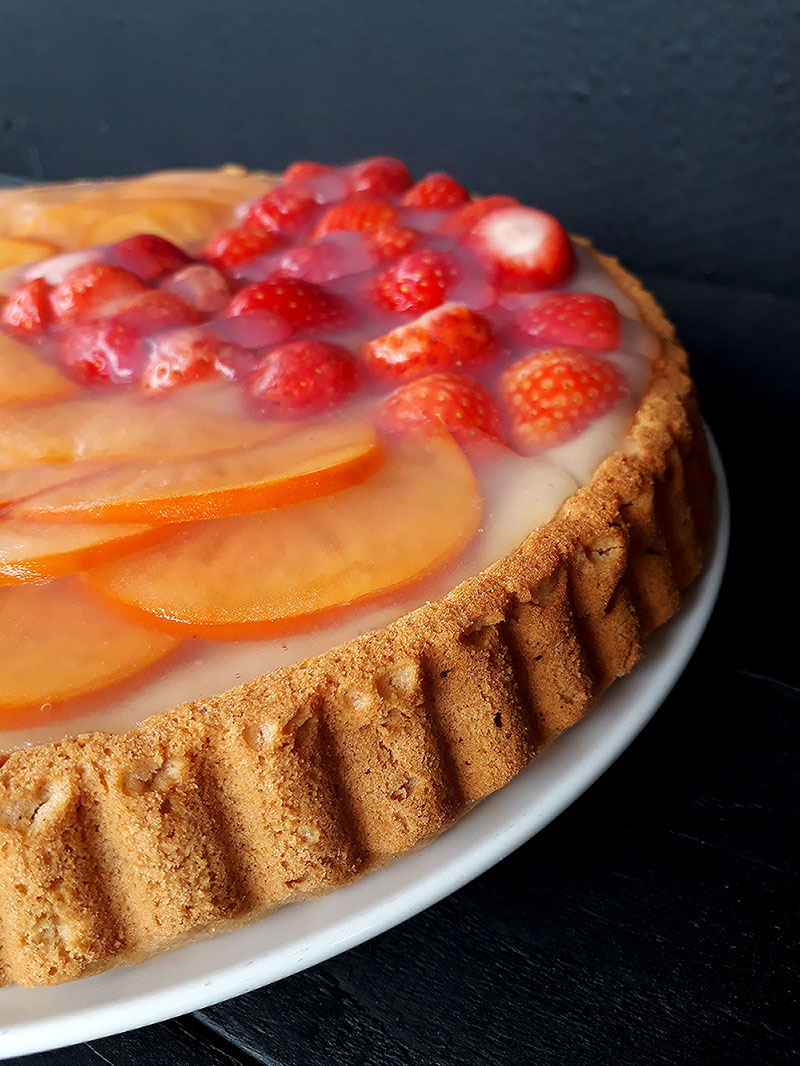 This cake is absoulutly delicious! And ever since I went gluten-free I have been trying to come up with a recipe for the sponge cake that is at least mostly fruit sweetened and has the same kind of texture and golden colour. I had many fails…and the more fails I had, the longer it took me to give it another go.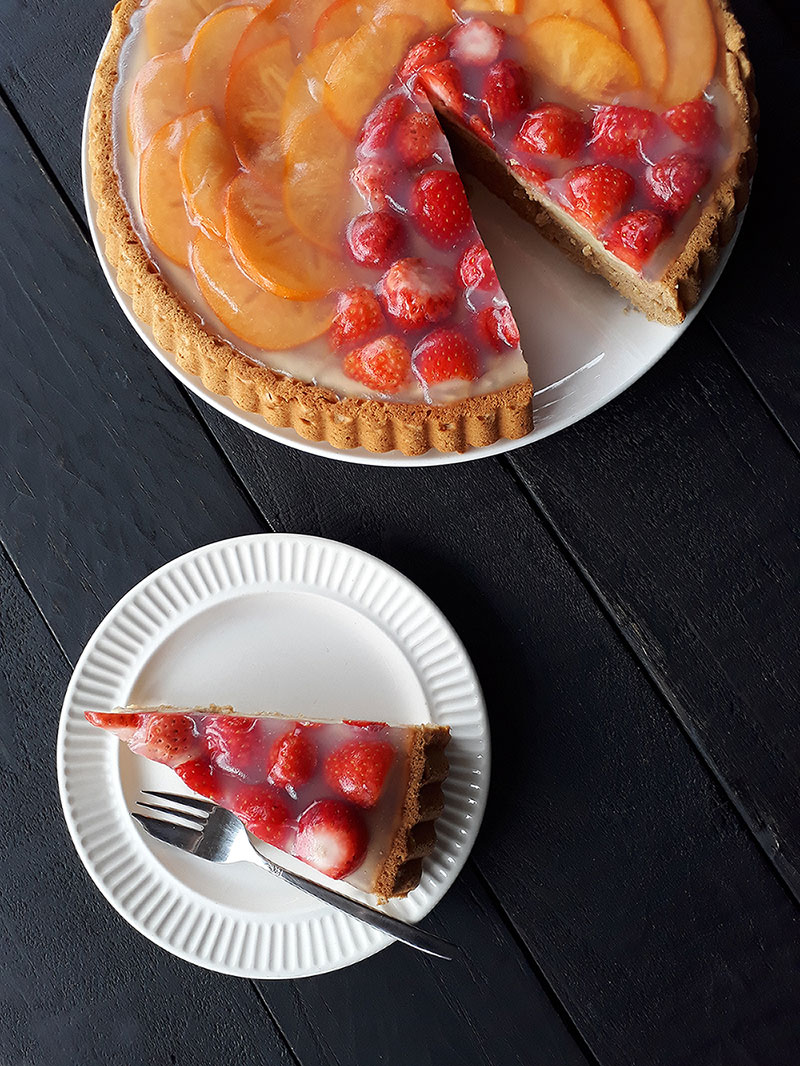 Then these yeast-free bread rolls happened and I was inspired to use a similar concept for the sponge cake. Cooked pumpkin or kumara (sweet potato) was the secret ingredient! Yay! 🙂
So, yes, this cake is vegan, gluten-free and without oil! I still can't quite believe it. I used a classic flan / tart pan but you can also use a standard tart form or spring form too.
For a 28cm flan pan:
For the dough:
130g rice flour
130g buckwheat flour
2 teaspoon baking powder
400ml water
100g dates,pitted and diced
100g cooked pumpkin or orange sweet potato
2 teaspoon psyllium fiber husk
1/2 teaspoon ground vanilla
For the vanilla custard layer:
250ml plant mylk (I used homemade almond mylk)
40g dates, pitted and diced
2 tablespoon corn starch (or potato starch)
1 teaspoon agar agar powder
1/4 teaspoon vanilla
1 pinch ground turmeric
For the jelly:
200ml water
1 teaspoon agar agar powder
1 teaspoon corn starch (or potato starch)
Fruit for topping (strawberries or other berries, kiwi fruit, sweet persimmon or other fruits)
Instructions:
1. Preheat the oven to 180°C (top-/bottom heat). Mix the rice flour, buckwheat flour and baking powder for the dough in a bowl.
2. Blend the remaining ingredients for the dough in a high-speed blender. Pour into the bowl and stir to combine. Spread the dough evenly in the flan pan.
3. Place in oven and bake for approx. 20 minutes or until an inserted wooden skewer comes out clean. Let cool down before taking it out of the pan. It can be a bit tricky, the wooden skewer can be helpful in removing the cake from the pan. Let cool down a little before the next step.
4. For the custard layer, blend all ingredients in a powerful blender until smooth. Pour the mixture into a sauce pan and gently bring to the boil, stirring constantly.
5. Once the custard starts to thicken up considerably, spread it evenly over the cake. Let cool down in the fridge until it is set.
6. Prepare your topping of choice and spread it evenly onto the custard.
7. For the jelly, whisk the ingredients in a small pot and gently bring to the boil. Once it thickens up, let cool down a little bit for a few minutes (make sure it doesn't set too early). Then, starting from the center of the cake, drizzle it over the fruits.*
8. Store in fridge for a little longer until the jelly has set. Enjoy! 🙂
* The jelly has a preserving effect and lets the fruits topping stay fresh longer. You don't have to add it if the cake will be eating all at once.
Please let me know what you think about this recipe, I'd love to hear from you! And if you remake this recipe, please share the picture with me on Pinterest, Instagram or Facebook.