Schupfnudeln (fried potato dumplings) are a classic dish in the southern parts of Germany. This is my vegan and gluten-free version of this delicious meal.
The original recipe for Schupfnudeln contains egg. This is easily replaced with psyllium husk fiber to make the dish vegan as well as gluten-free.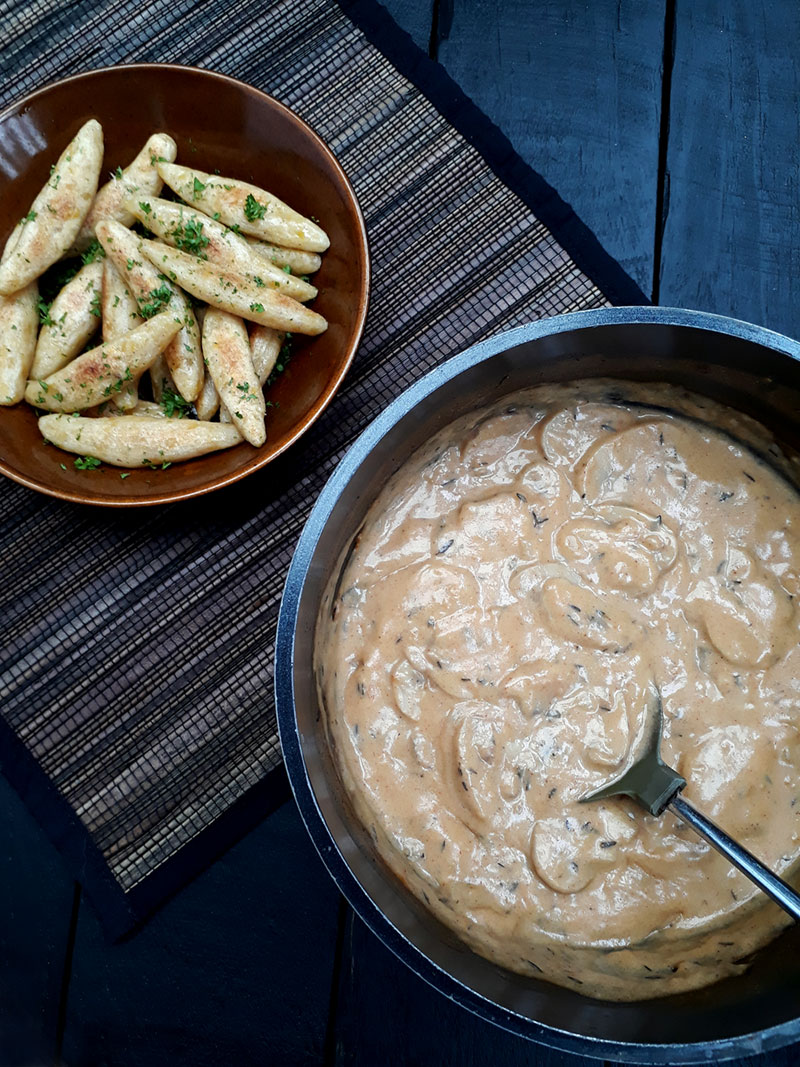 The main ingredients are potatoes. These should be cooked and cooled down for at least a few hours if not the day prior. The potatoes are then mashed and mixed to a dough with the other ingredients.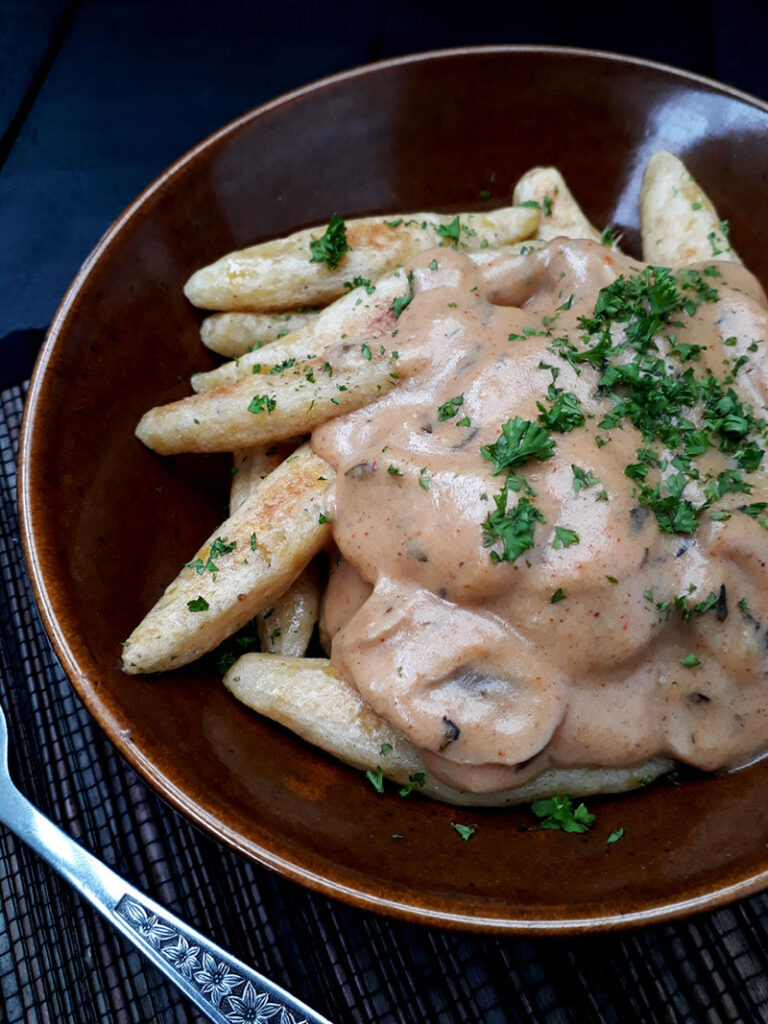 After cooking the Schupfnudeln, they will be fried. That's why they are also called German Fried Potato Dumplings. So yummy! I love to serve them with a creamy mushroom sauce. You can find the recipe here.
Schupfnudeln – German Fried Dumplings (Vegan, Gluten-free)
Schupfnudeln are a classic dish in the southern parts of Germany. After cooking they are fried in a pan. This my vegan and gluten-free version.
Ingredients
500

g

potatoes

(approx. 5 medium sized)

100

g

rice flour

50

g

potato starch

1

tbsp

psylllium husk

ground

½

tsp

salt

some water if needed
Instructions
Cook the potatoes in the jacket until they are soft (approx. 45 minutes – depending on size). Let them cool down a little before peeling them. If you can, let them cool down for several hours or overnight.

Press the cooked potatoes through a potato press or mash them as fine as possible with a potato masher.

Add the remaining ingredients and stir until it forms a fluffy dough that is easily shaped. If needed, add water by the tablespoon until the texture is right.

Form the dumplings into the shape seen on the photos and place them on a surface dusted with flour. In the meantime bring a large pot of water to the boil.

When the water is boiling, place the dumplings in the pot. Cover the pot with a lid and turn off the heat. The finished Schupfnudeln will swim on the surface.

Scoop the cooked dumplings out of the water and place them directly in a lightly greased frying pan. Fry them from both sides and serve. Enjoy 🙂
Please let me know what you think about this recipe, I'd love to hear from you! And if you remake this recipe, please share the picture with me on Pinterest, Instagram or Facebook.