Strange things are happening in my garden! Autumn is settling in but I have a massive cherry tomato plant in the garden. It planted itself thanks to the compost that I spread around in spring. And it grew into this massive bush! Unbelievable!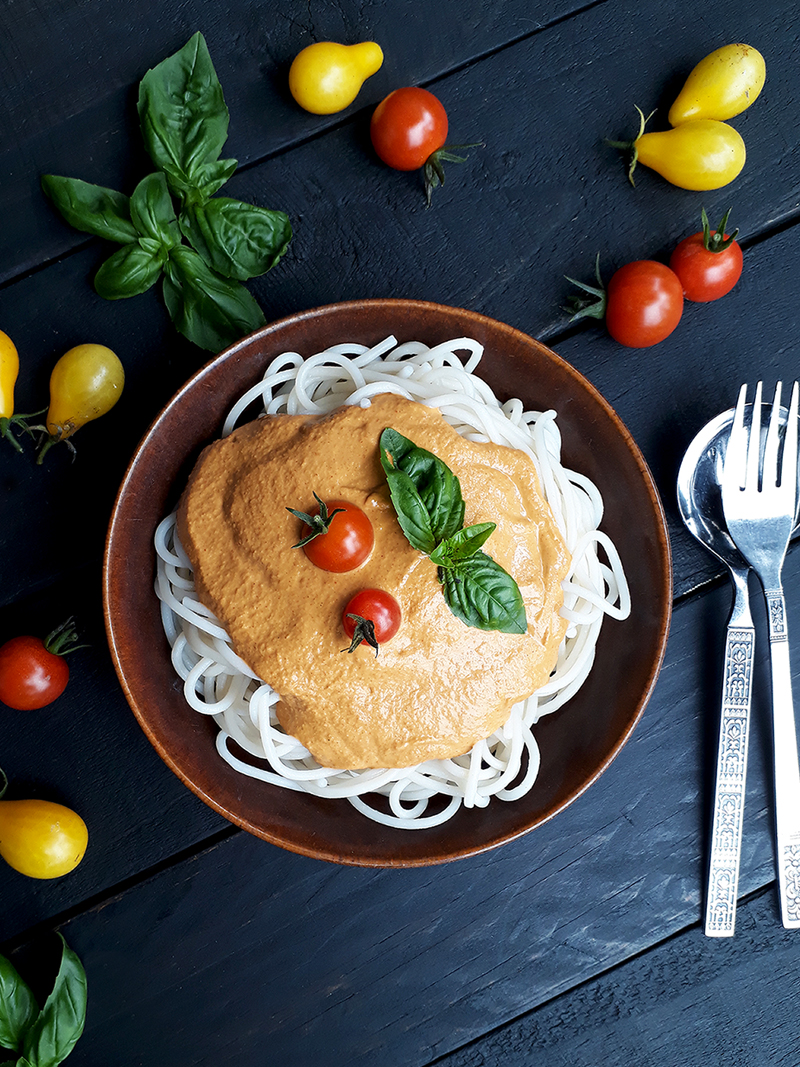 Tomatoes always make me think of pasta. And so it happened that I saw this recipe by The Pesky Vegan. It sounded so yummy and oh yeah, it is! He uses lemon peel and lemon juice. What a flavor explosion that was! You can find the recipe, called Easy Cheesy Pasta Sauce here.


After that amazing flavour experience, I kept thinking about this sauce. And when I made it again, I decided to add a few of my favourite ingredients for pasta sauce: vegetables! Oh my! It was very yummy too 🙂


And it's super easy to make! You can mix it with the freshly boiled, hot pasta or heat it up in a separate little pot. But you can also have it raw as a dip. I'm so excited about this! And of course it vegan, gluten-free and once again oil-free. A big Thank You to The Pesky Vegan for this inspiration! 🙂

For 2 big portions:
• 100g cashews (or sunflower seeds – these need soaking in water for approx. 6 hours though)
• 150ml water
• 150g zucchini
• 100g carrot
• 20g celery (or more if you like)
• zest & juice of 1/2 lemon
• 1 garlic clove
• 3 tbsp nutritional yeast flakes
• 2-3 tbsp ground paprika
• 1 tsp coconut sugar
• a few pinches ground chili
• salt to taste
Instructions:
1. In a blender, simply blend all ingredients until smooth.
2. You can either mix it with the freshly cooked, still hot pasta. Or heat it up up in a small pot.
3. Tastes very well with roasted veges or as a dip.
Enjoy! 🙂
Please let me know what you think about this recipe, I'd love to hear from you! And if you remake this recipe, please share the picture with me on Pinterest, Instagram or Facebook.