I have worked on a classic recipes that takes me back to my childhood. And as it turns out, savoury dishes like these Konigsberger Klopse, also called boiled meatballs, are easily made vegan, completely without meat.
Once again I used one of my favourite meat alternatives: sunflower seeds. They are so versatile and can be used in all sorts of vegan dishes – sweet and savoury. This time I added some kidney beans. This helps to add some further plant-based protein to the meal. The sunflower seeds and kidney beans combined add up to 40g of protein, which is about 10g per portion.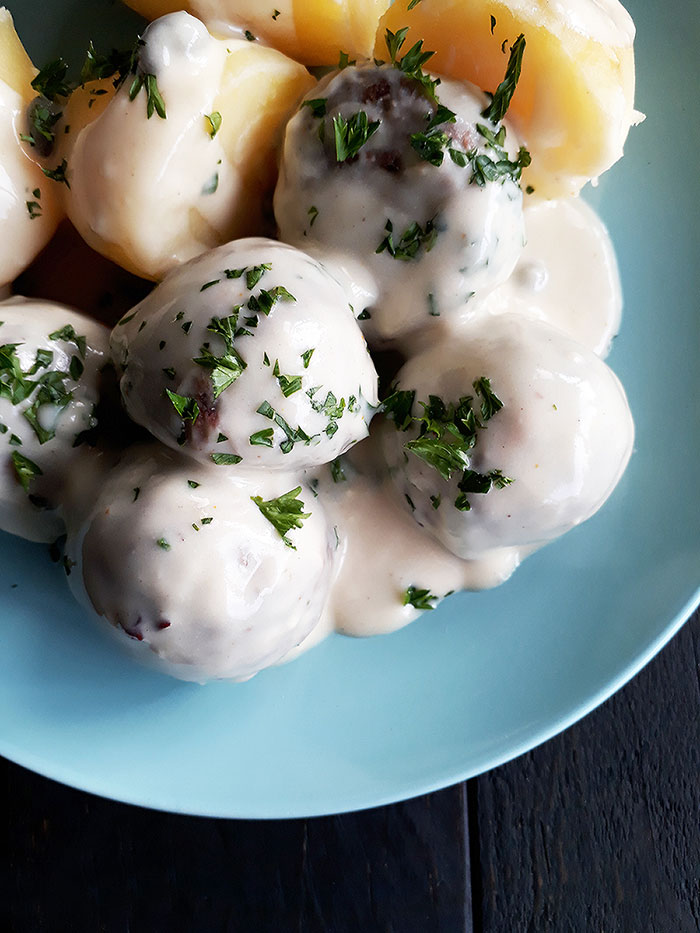 And the texture? Super deilious and almost a bit scary, because it reminds me of the meat version. The classic way to prpare these balls is boiling. I have used a different method by baking them instead. This allows for a better texture.
In the sauce I used the classic ingredient capers and bay leaves. And thaks to the chsews (or amcadamias or blanched almonds) it has alovely creamy texture, without any dairy products.
As always, this recipe for Konigsberger Klopse (German Meatballs) is vegan, gluten-free and also oil-free. It goes very well with boiled potatoes or rice.