Baking without yeast? Yes, it is possible! I am super happy to be able to share this recipe with you! ‍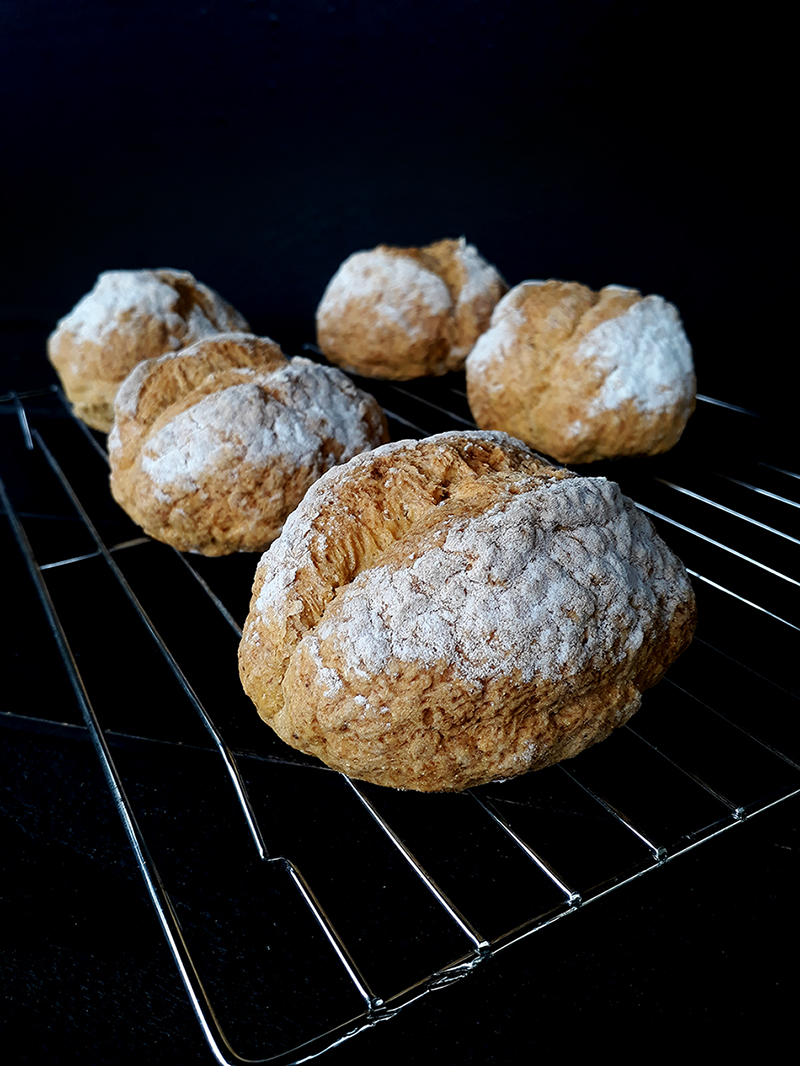 Quite some time ago I saw this recipe for a yeast-free bread from German blogger Freiknuspern. I didn't have most of the required ingredients, so I never made it. But I remembered how she used lots of psyllium fiber husk and baking powder.
Now, ever since I've baked the very good prototype of this a few weeks back, I've been trying variations. I am very happy with it now. And I still can't quite believe how this is possibly vegan, gluten-free, oil-free AND yeast-free.
The texture is amazing! Soft, fluffy and moist. Just perfect! And you can bake them as pictured, dusted with some flour to create a rustic look. Or skip the flour to have a little more smooth surface, ideal for burger buns.
Bread Rolls Without Yeast (Vegan, Gluten-free, Oil-free)
Super easy bread rolls, that are not only vegan and gluten-free, but also without yeast.
Ingredients
70

g

cooked pumpkin or kumara

sweet potato, preferably orange

350

ml

water

4

tbsp

psyllium fiber husk

100

g

rice flour

100

g

buckwheat flour

30

g

corn

maize flour

1

tsp

baking powder

1/2

tsp

salt

or to taste
Instructions
Preheat oven to 220°C top-/bottom heat.*

Shortly blend pumpkin with water. Then add psyllium fiber husk and blend again until smooth. Set aside.

Mix the remaining ingredients in a bowl. Stir in the pumpkin mixture and knead until it forms a dough.

Form the buns with cold, wet hands and place on baking tray. If you like, sprinkle with rice flour and lightly cut in length.

Bake for 25 to 30 minutes or until they brown up lightly.
Notes
*I use a fairly old electric stove. Once I place the tray in the oven, the temperature drops down to 170°C and then slowly goes up to 200°C. I recommend an oven thermometer.
Please let me know what you think about this recipe, I'd love to hear from you! And if you remake this recipe, please share the picture with me on Pinterest, Instagram or Facebook.