It's summer here in New Zealand and this year I have been super successful with growing my own raspberries. It's such an amazing feeling to got out into the garden and to pick a whole bowl of fresh raspberries! 🙂
These berries had to be used for something special. With Christmas just around the corner, I opted for a festive No Bake Raspberry Chocolate Cake. I absolutely loved how it turned out! 🙂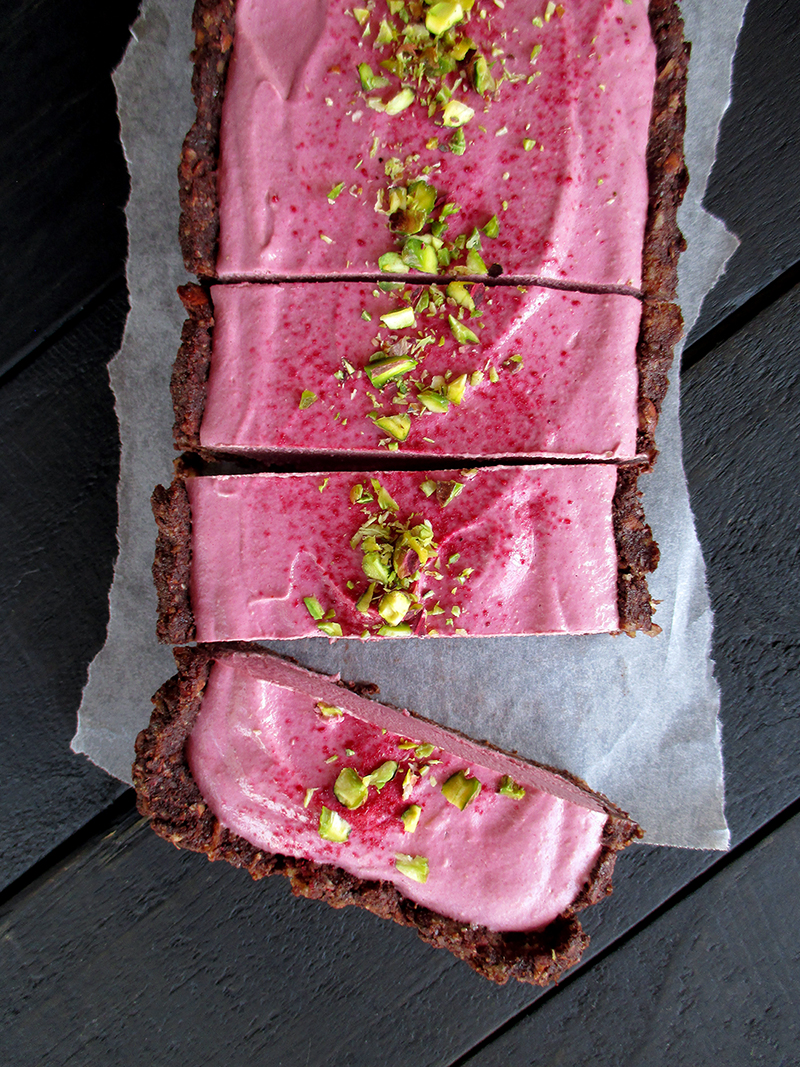 This cake will work with other berries, or a delicious berry mix. And if you are not a fan of combing fruit with chocolate, you can omit the cocoa powder in the crust. It'll still tastes amazing, if not better (deepening on your favourite taste).
When I listed the ingredients, I was surprised to see that it is actually only 7 ingredients that you need! So simple and easy – I love it! Of course it is vegan, gluten-free and without refined sugar. The perfect dessert for Christmas, I like to keep pre-cut slices in the freezer to have a dessert ready even with short notice 😉
Ingredients for a 35 x 10cm cake tin:
For the crust:
1 cup (140g) hazelnuts (soak in water, the rinse and drain)
3/4 cup (100g) dates, pitted and diced
3 tablespoon FAIR-TRADE cocoa powder
1 tablespoon water
For the filling:
250g raspberries
3/3 cup (100g) dates, pitted and diced
100ml water
40g cacao butter, melted
2 cups (280g) cashews (soak in water for a few hours, then rinse and drain)
Instructions:
1. Line cake tin with baking paper. For the crust, place soaked hazelnuts and dates in high-speed blender and pulse until crumbly.
2. Transfer crumbles into a bowl, add cocoa powder and stir to combine. Should it be too dry, add one tablespoon of water. Spread evenly into cake tin and press firm.
3. For the filling, blend all ingredients in a strong high-speed blender until smooth. You may need to use the tamper to keep the mixture turning inside the jug.
4. Pour the filling over the crust and spread evenly.
5. Garnish if you like (I use freeze dried raspberry powder and chopped pistachios). Place in freezer until set (approx. 3 to 5 hours). Cut slices when it's still semi frozen, then store covered until serving.
Enjoy! 🙂
Please let me know what you think about this recipe, I'd love to hear from you! And if you remake this recipe, please share the picture with me on Pinterest, Instagram or Facebook.