Holiday season is on! And I'm still madly into baking Christmas cookies. But I'm not playing the Sinatra Christmas collection yet, he he he… 😉
Vanilla crescent cookies are some of my favourite Christmas cookies. I just love the vanilla smell, the vanilla flavour and that soft, chewy texture. You guess it, I'm not a cookie dunking kinda girl…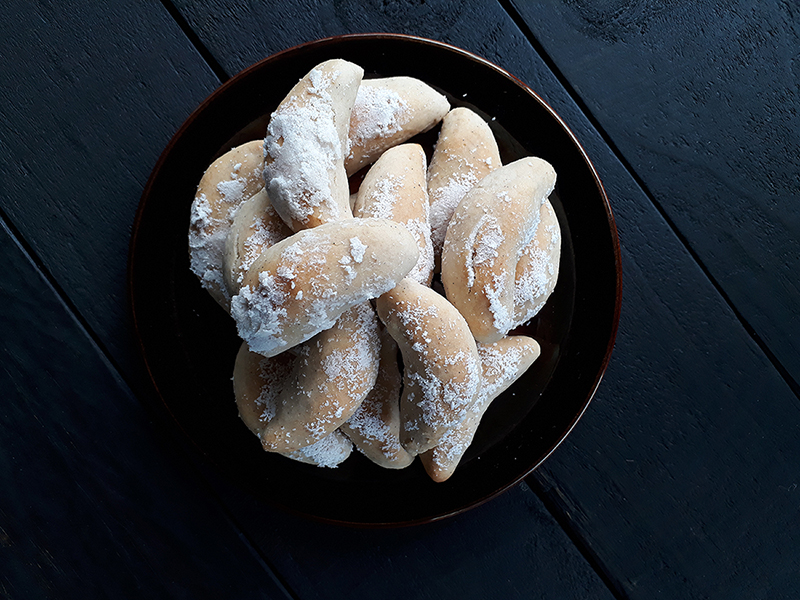 I already have a recipe for vegan and gluten-free vanilla crescent cookies on my blog. But I felt like trying a new version. Because over the years my baking style and choice of ingredients has changed a little bit, new ideas and solutions have been found. And sometimes I just got to give it another go and see what other ingredients I can use, while keeping it vegan, gluten-free, without refined sugar and oil-free.


Admittedly, I don't know if you can call the sweetener of my choice in this recipe "refined sugar free". Rice syrup is still a sweetener after all. So, as with everything in life, I recommend balance 😉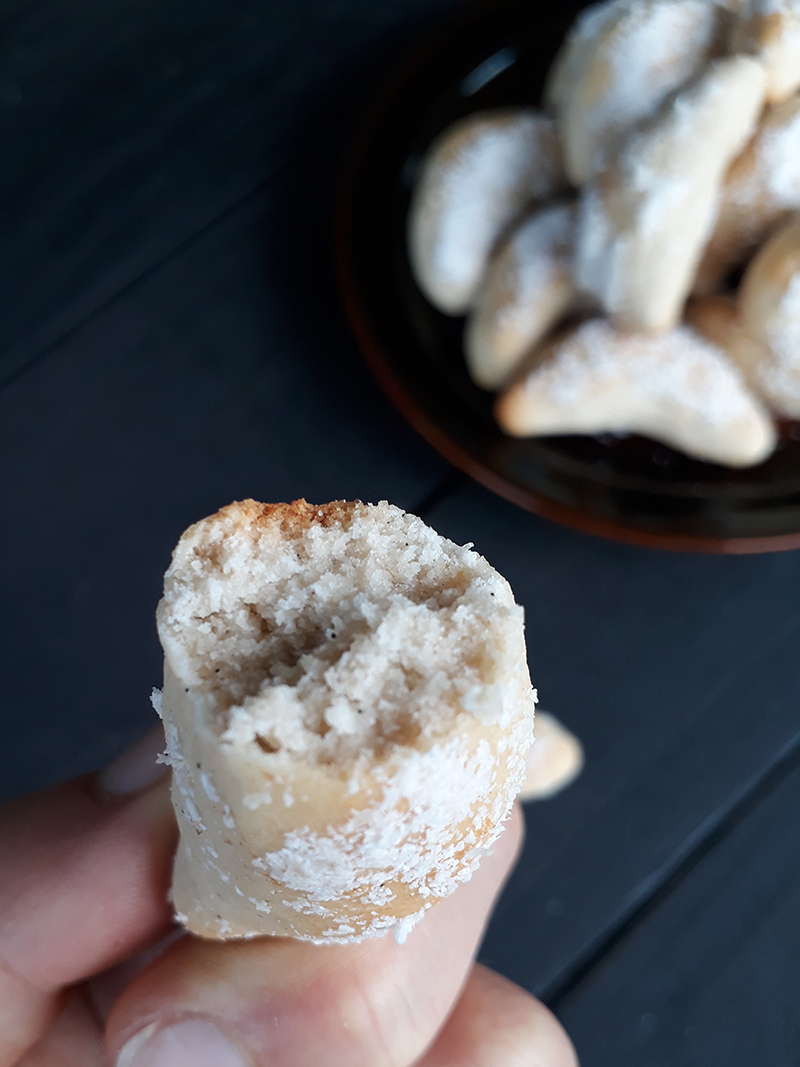 Makes approx. 22 cookies:
100g rice flour
70g tapioca flour
60g buckwheat flour
1 tablespoon ground psyllium fiber husk
1 teaspoon ground vanilla
1 teaspoon baking powder
2 pinches salt
70g white almond butter (or normal almond butter, or cashew butter)
70g rice syrup (or other liquid sweetener)
50ml water (use less if you're using other liquid sweetener and add as much as needed)
A few tablespoons of ground desiccated coconut for "dusting" if desired
Instructions:
1. Mix all the dry ingredients in a bowl.
2. Combine the wet ingredients, ideally blending them in a small bullet blender or whisking them.
3. Add wet ingredients to the bowl with the dry ingredients and stir to combine. It should result in a soft dough that is still easy to form.
4. Form the dough into a ball, place in a small bowl, cover and let rest in the fridge for approx. 30 minutes.
5. When the dough resting time is almost up, preheat the oven to 170°C (top-/bottom heat) and line a baking tray with baking paper.
6. Take the dough out of the fridge and start forming little crescent shaped cookies, with wet, cold hands. To make it easier, you can form the dough into a roll first and then cut even portions that are just big enough to form one cookie each.
7. Place cookies on oven tray and bake them for approx. 10 to 12 minutes or until they turn slightly golden. If you wish to add the coconut dusting, give them a brush of water one at a time (while they are still hot) and roll them in the ground desiccated coconut. Please be aware that this dusting will fall off relatively easy.
Enjoy and Happy Holidays! 🙂
Please let me know what you think about this recipe, I'd love to hear from you! And if you remake this recipe, please share the picture with me on Pinterest, Instagram or Facebook.