After I came up with this easy as berry gelly with chia seeds, I had to try some variations with it. This is what I created this time: raw coconut berry slices.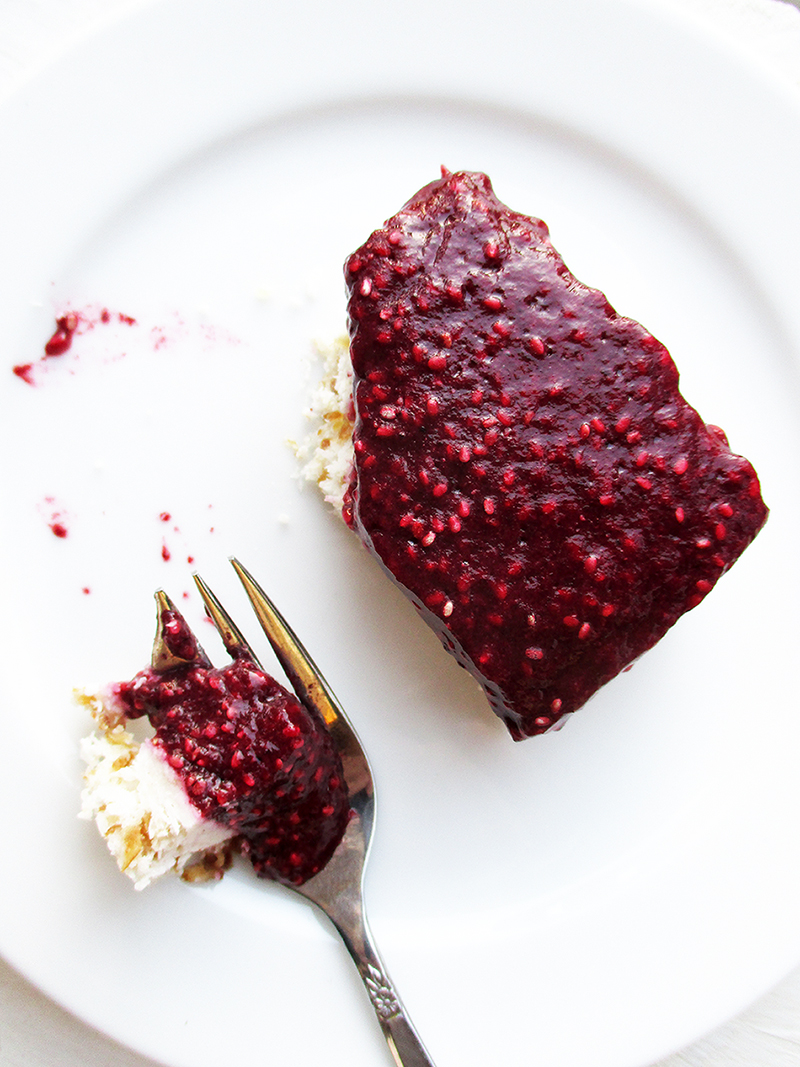 Free from gluten, tree-nuts, oil, refined sugar but full of flavour and healthy deliciousness! 🙂
I have used mixed berries but you can use all sorts of berries. If they are quite tart berries, it might pay to add a little extra sweetener in the jelly layer.
Depending on how long you place the slices in the fridge, the more the berry jelly will set. The slices you can see on the photos have been in the fridge for about 3 hours. After about 8 hours they set completely and are not that soft anymore. But still yummy! 🙂
I recommend to leave the slices out of the fridge for half an hour so before serving. This way the base will be nice and soft.
For a 27 x 18cm tray you'll need:
For the coconut layer:
1 1/2 cups (200g) dates, pitted and diced
2 1/2 cups (250g) desiccated coconut
1/3 cup (100g) coconut butter (creamed coconut, alternatively coconut oil)
1/3 cup water
For the berry layer:
4 cups berries (approx. 500g)
1/3 cup water
1/3 cup (65g) chia seeds
Preparation:
1. For the coconut layer, pulse the dates to fine crumbles. It may help to chop them into fine cubes first, then place them in the fridge for a while and blend them then. This way they are harder and easier to turn into crumbles. If they are quite dry and hardish you probably wont need to do those steps.
2. Place crumbly dates in a medium sized bowl, add desiccated coconut and water. Mix well.
3. Melt the coconut butter in a small container in a hot water bath. Drizzle into the bowl with the coconut and mix well.
4. Line the baking tray with some baking paper. Pour the coconut mix into the tray and spread it evenly. Press it with your (clean) hands. Place in the freezer while preparing the berry layer.
5. For the berry layer, blend the berries to a fine cream. Pour into a bowl. Rinse the blender with 1/3 cup water and add to the bowl. Pour in the chia seeds and mix well.
6. Get the baking tray out of the freezer and pour the berry mixture on top, spread it evenly. Let set in the fridge until it has reached the desired firmness. Let sit at room temperature for half and hour or so before serving.
Enjoy! 🙂
Please let me know what you think about this recipe, I'd love to hear from you! And if you remake this recipe, please share the picture with me on Pinterest, Instagram or Facebook.