Yes, yes, it it is the season of blueberries here in New Zealand! I just love them! And so I've been trying a few more different ideas. This is one of them: a raw, vegan and gluten-free version that is also oil-free. But don't be afraid, they are not flavour-free! 😉
If you love blueberries as much as I do, check out this recipe for another no-bake blueberry cake.
Note: Due to the high water content of the berries, the cakes should be stored in the freezer and only taken out about 1 hour before serving up. Otherwise they might turn a little watery. Best results with a high-speed blender.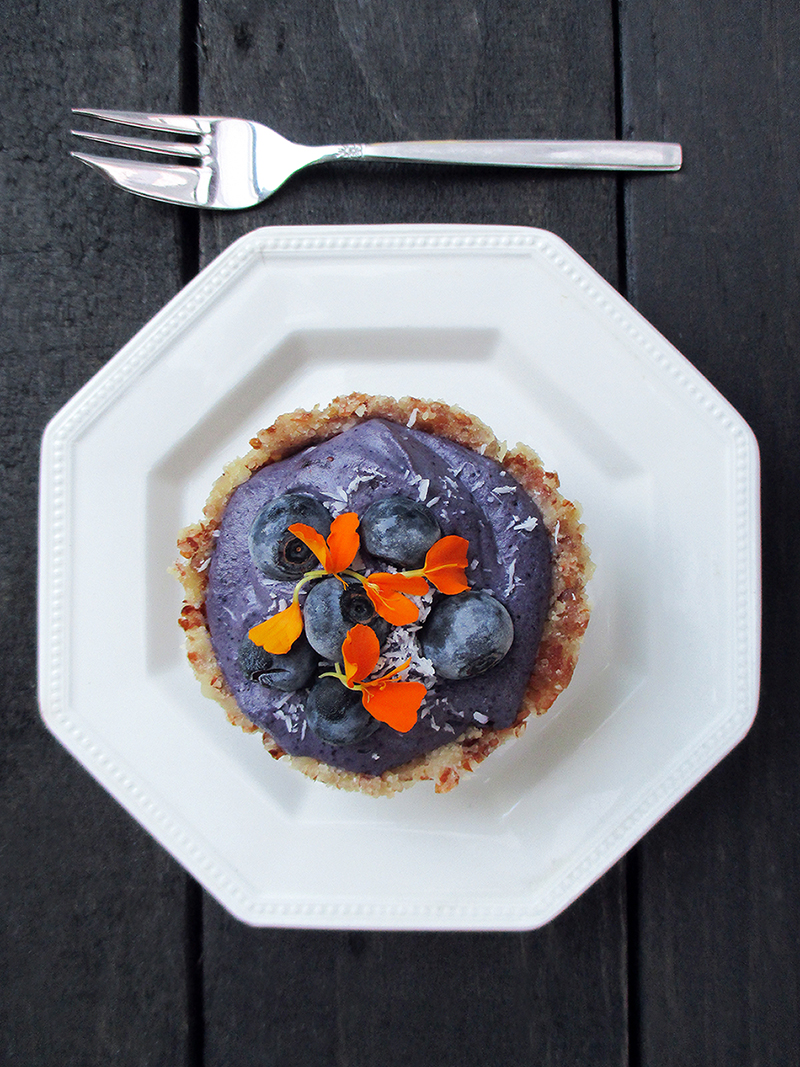 For 6 mini cakes you'll need:
For the crust:
1 cup (150g) almonds (soaked in filtered water for at least 8 hours and then drained)
1/2 cup (70g) dates, pitted and diced
For the filling:
1 cup (140g) cashews (soaked in filtered water for at least 4 hours and then drained)
2 cups (300g) blueberries
1/2 cup (70g) dates, pitted and diced
1/8 cup water (only if too try)
For decoration: a few extra blueberries, some desiccated coconut and marigold pedals is what I've used, but there is not limit for your creativity here 😉
Preparation:
1. For the crust, pulse the almonds and dates to fine crumbles. Line a muffin tray with a strip of paper for each cake. I find they are easier to remove this way.
2. Scoop the dough for the crust into the molds and spread evenly with your (clean) hands. It might be a little finicky, but it'll be worth it! 😉 Place the muffin tray in the fridge while preparing the filling.
3. For the filling, blend the blueberries with the dates to a fine cream. If your blender isn't very strong, I recommend to blend the blueberries first, then let the dates soak in the blueberry juice and then blend it a little later. Then add cashews and blend to a fine cream.
4. Take the muffin tray out of the fridge and scoop the filling into the prepared molds. Sprinkle with decoration of your choice and place in the freezer until set (approx. 2hours). Take out of the freezer approx. 1 hour before serving.
Enjoy! 🙂
Please let me know what you think about this recipe, I'd love to hear from you! And if you remake this recipe, please share the picture with me on Pinterest, Instagram or Facebook.