It's time for burgers again! Especially for you guys in the Northern hemisphere. I mean, what is summer without a nice vegan burger with heaps of fresh salad, tomatoes, cucumbers and more? 🙂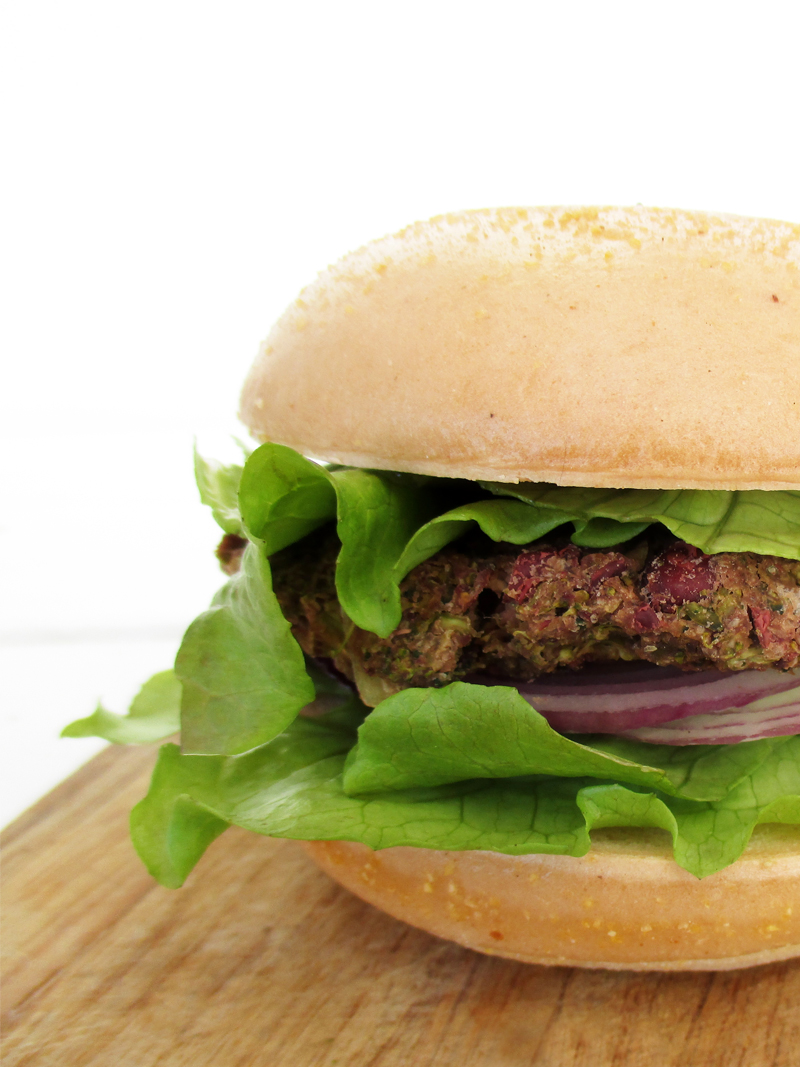 This burger recipe is as always vegan and gluten-free but can also be made without using any oil. The secret is the super quality non-stick frying pan. And patience. Because you need to cook these burgers slowly on low-heat from both sides. And if you let them cool down and heat them up the next day or so, they will be even better. Because they will hardly squish or fall apart 🙂
This recipes makes a good batch of about 10 burger patties, ideal to be frozen and whipped out when needed. And as I said above, they will then have an even better texture, eg not falling apart or squishing out of your burger bun 😉
The burgers taste amazing with this raw radish dip. You gotta try it 🙂
Makes approx. 10 burger patties:
1 broccoli
1/2 teaspoon salt
1 can kidney beans (or other beans)
1/2 red onion, finely chopped
2 tablespoon tahini or nut-butter
1 tablespoon mushroom powder (alternatively any flour)
1 tablespoon psyllium fiber husk
1/2 teaspoon ground cumin seeds
1/2 teaspoon ground chilli (optional)
approx. 10 drops liquid smoke (alternatively 1 teaspoon smoked paprika)
1 tablespoon water, only if needed
Preparation:
1. Chop the broccoli very, very fine. Transfer to a bowl, sprinkle with salt and let sit for at least one hour (or in the fridge overnight).
2. Add the beans and mash them with a potato masher. Add remaining ingredients and mix well.
3. It should become a thick mixture that is easily shaped into patties. If it should be too dry, add a tiny bit of water.
4. Preheat the frying pan. Form and place patties into the frying pan, pressing them lightly. Cook on low heat for approx. 30 minutes before flipping them over. Press them lightly into the frying pan again and cook for another 30 minutes or until golden brown.
Please note: To do this without any oil you will need a very good non-stick frying pan.
Enjoy! 🙂
Please let me know what you think about this recipe, I'd love to hear from you! And if you remake this recipe, please share the picture with me on Pinterest, Instagram or Facebook.