Capsicums are one of my favourite veges, or better, fruits. They make an amazing raw snack on the go and they are so versatile in cooked dishes! I also love them dried and ground for seasoning of various dishes. They are full of anti-oxidants and other good things. Now it is capsicum season here in New Zealand and I'm in heaven 😉
Over the years I have tried quite a few dishes with capsicums. But I did not make soup with them. How can that be, I thought and created a new dish 😉
I call this recipe roasted capsicum soup, but they are actually fried. Of course you can roast them in the oven (this would be the oil-free option also). Frying them in the pan simply is faster 😉 I have added some fresh chili to give it a hot kick. But it surely works just as well without it.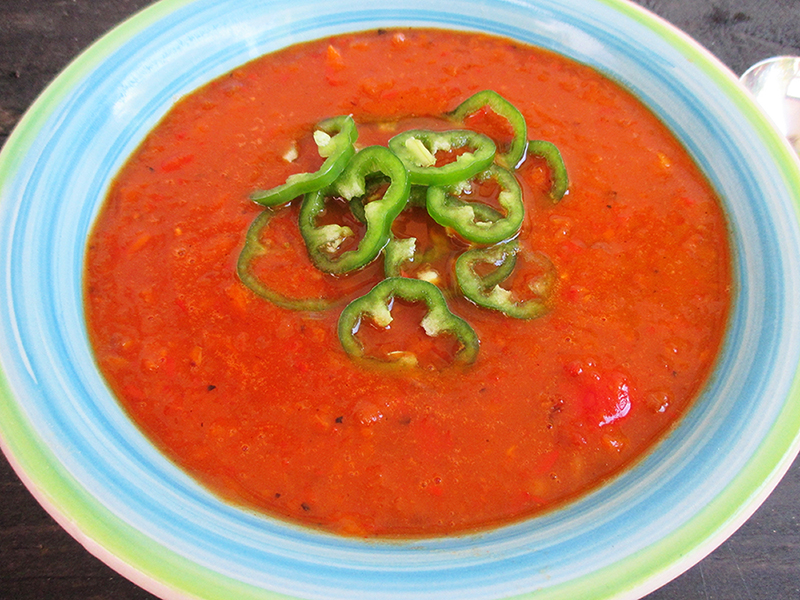 For 4 portions you'll need:
250g potato (1 medium sized)
3 capsicums
1 small onion
some fresh chili (optional)
1 tablespoon ground paprika
salt & pepper to taste
1/2 tablespoon coconut oil
3 cups water
Preparation:
1. Peel and chop the potatoes into small cubes. Pour the 3 cups water into a medium-sized pot and add the potato cubes. Bring to boil.
2. In the meantime, halve the capsicums, remove the seeds and cut them into chunks. Peel and cut the onion into fine slices. Chop the chilli into fine pieces.
3. Heat the coconut oil in a large sized pan (I love to use my wok for it) and fry the onion until they are slightly brown.
4. Add the capsicum chunks and let cook, stirring occasionally, until some of them have browned, even a little bit burned. I know it's naughty, but it adds flavour 😉
5. The potatoes should be soft by now. Sprinkle the ground paprika over the capsicums and stir well. Pour the potatoes with the water into the frying pan or wok. If it is too small, pour the capsicums into the pot with the potatoes instead. Stir well.
6. Take of the stove and blend with a stick blender until smooth. I like to leave a few chunks. Heat up again if needed. Serve with some raw capsicum strips.
Enjoy! 🙂
Please let me know what you think about this recipe, I'd love to hear from you! And if you remake this recipe, please share the picture with me on Pinterest, Instagram or Facebook.