This recipe could have come to live yeeeaaars ago. That is the amount of time that I've had these doughnut molds in my possession for. Back then I rescued them from being thrown away – and they were in such a mint condition.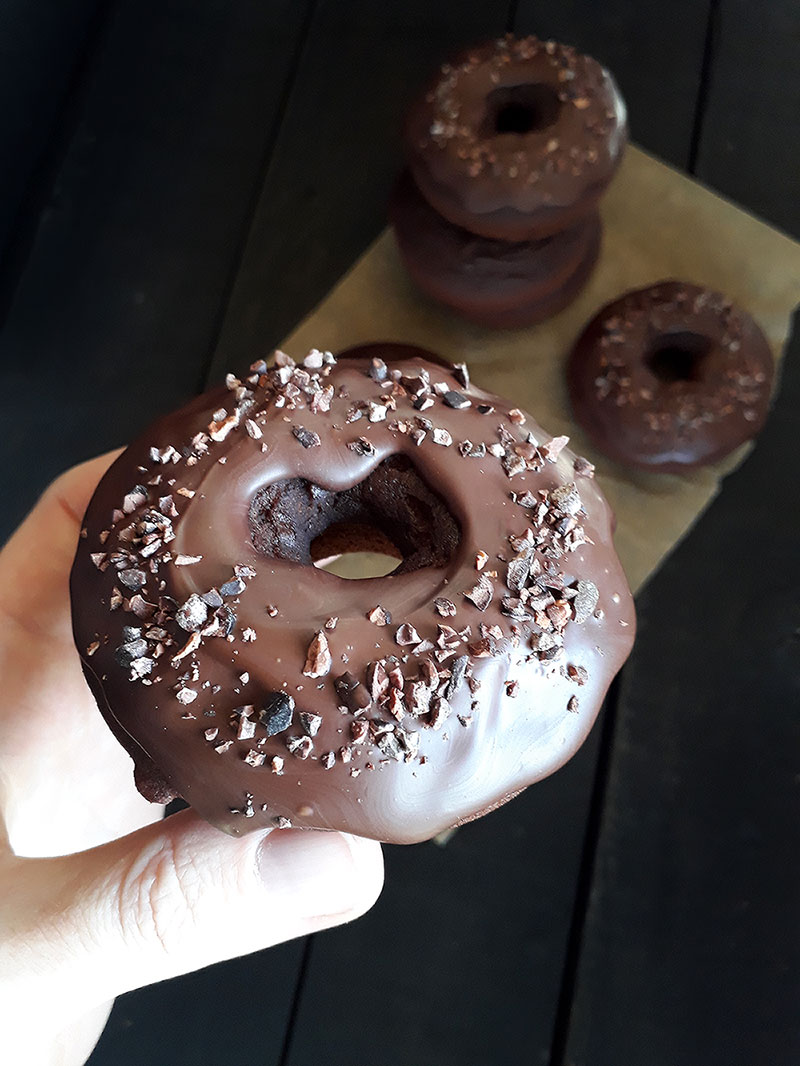 Somehow I was a little afraid that this might turn into one of those projects that will need several trials and errors until it would result in a shareable recipe.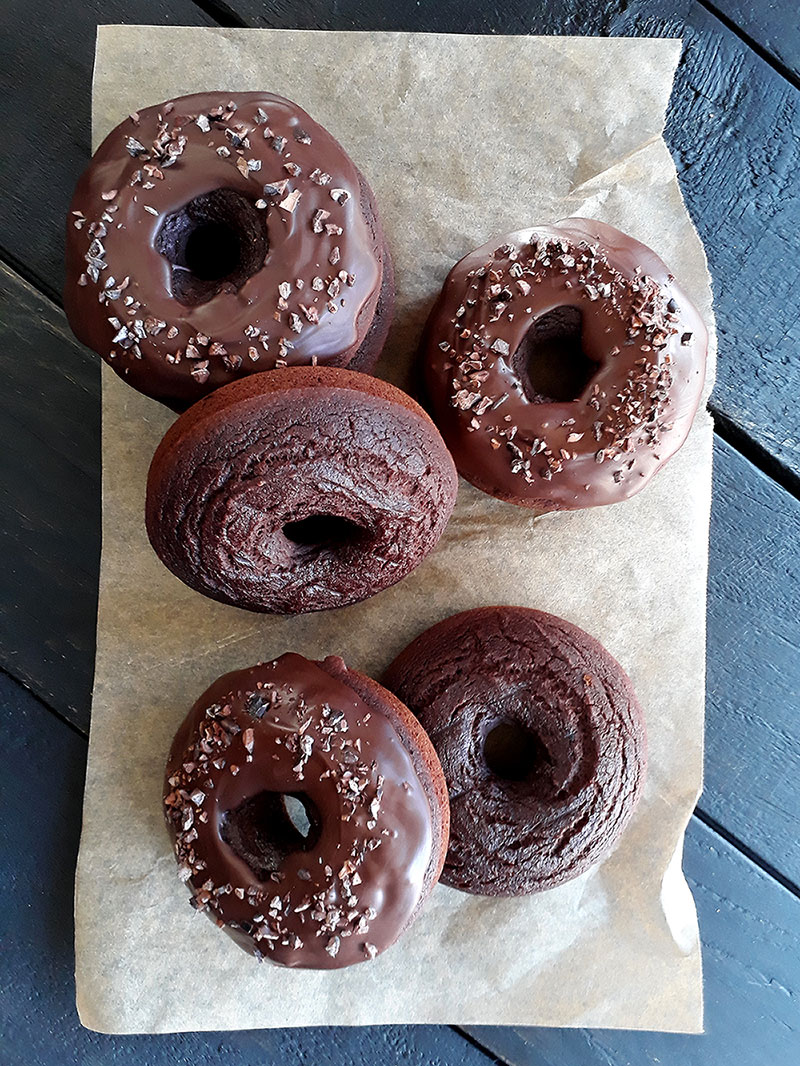 It isn't really a new recipe either. Because it is based on my favourite chocolate cake recipe. I have altered it slightly to achieve a suitable dough consistency. And the result was so good, I just had to share the recipe with you 🙂
The important ingredient? Nut-milk pulp from making your own nut-milk. It allows for a super fluffy and soft dough. Vegan, gluten-free and without oil.
I have tried two different glazing ideas. Melted chocolate is the fastest and easiest one. The other one is based on coconut cream and cashews. I will share it soon.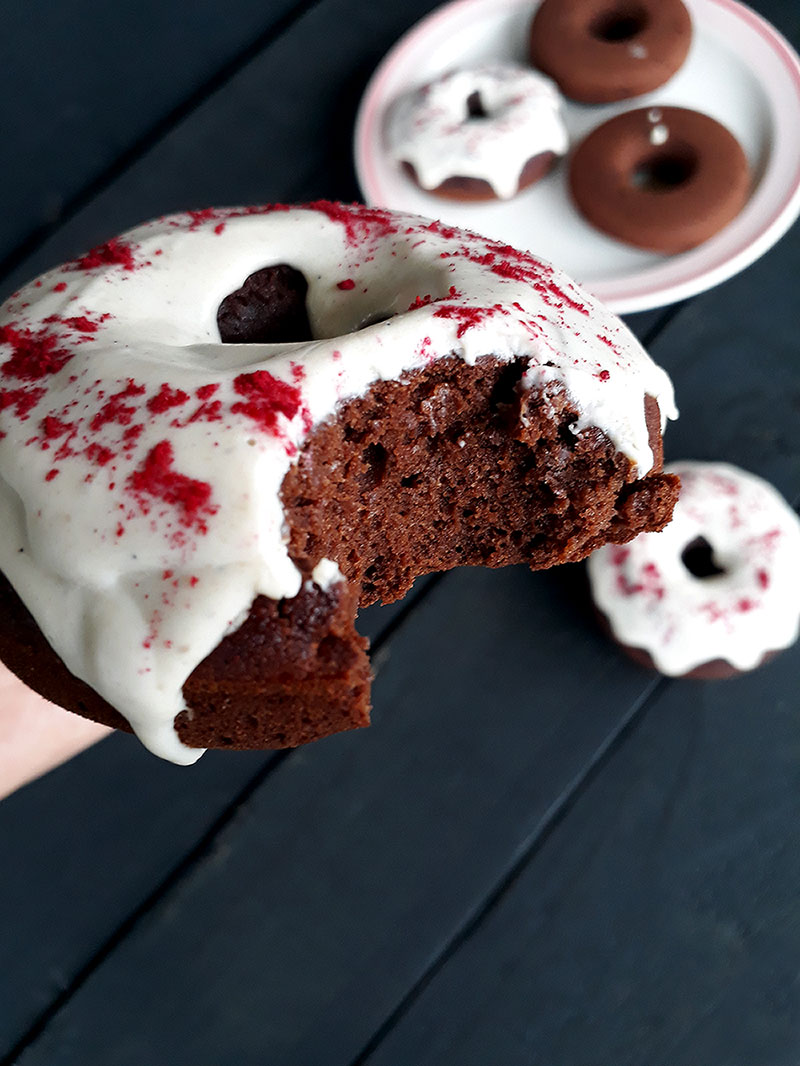 Ingredients for 6 donuts:
• 75g nut-mylk pulp
• 120g coconut sugar
• 1 tbsp psyllium fiber
• 400ml water
• 60g rice flour
• 55g buckwheat flour
• 3 tbsp FAIR-TRADE cocoa powder
• 2 tsp baking powder
Instructions:
1. Preheat oven to 190°C (top-/ bottom heat). Mix rice flour, buckwheat flour, cocoa powder and baking powder in a bowl.
2. In a blender, blend nut-mylk pulp, coconut sugar, psyllium fiber and water until smooth. Pour the mixture into the bowl with the dry ingredients and stir to combine.
3. Scoop the dough into the doughnut mold and spread it evenly. Bake for approx. 15 to 20 minutes or until a wooden skewer comes out clean.
4. Let the donuts cool down a little before taking them out of the form. Let cool down completely before glazing them.
Enjoy! 🙂
Please let me know what you think about this recipe, I'd love to hear from you! And if you remake this recipe, please share the picture with me on Pinterest, Instagram or Facebook.