The other day I managed to burn a whole batch of muffins…but I refused to throw them all away. Instead I cut off the burnt tops and added some coconut frosting. And suddenly I had a batch of mini chocolate cakes! Yay! 🙂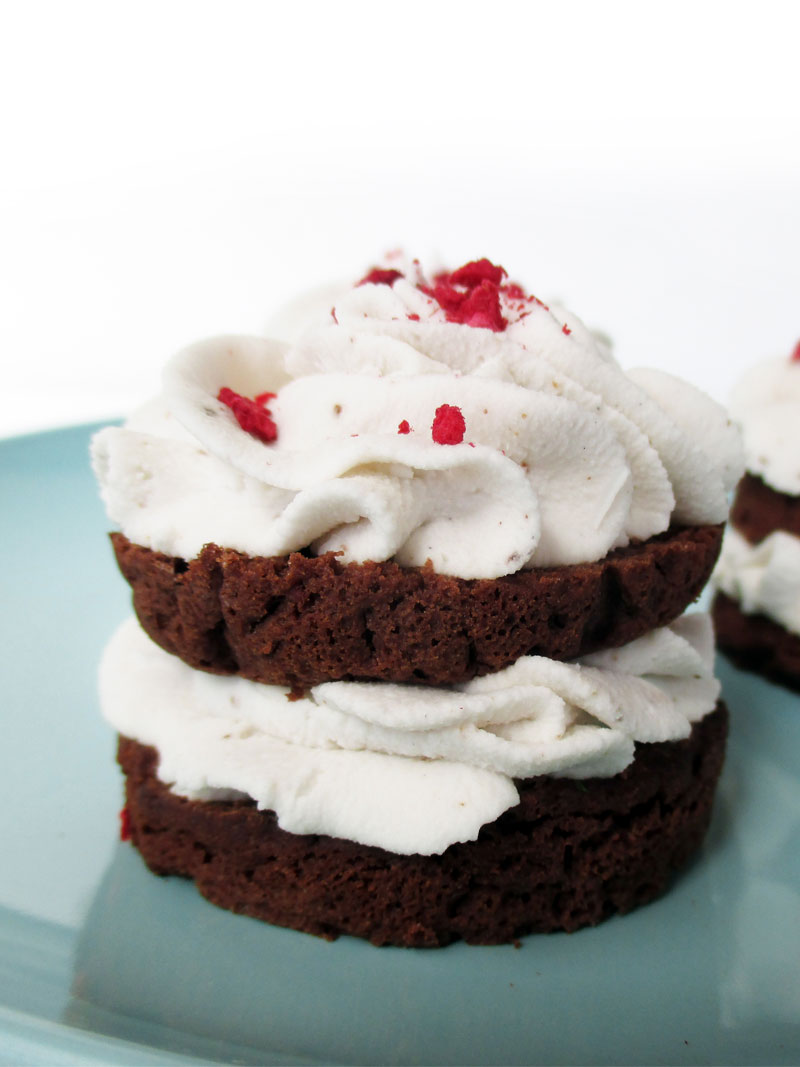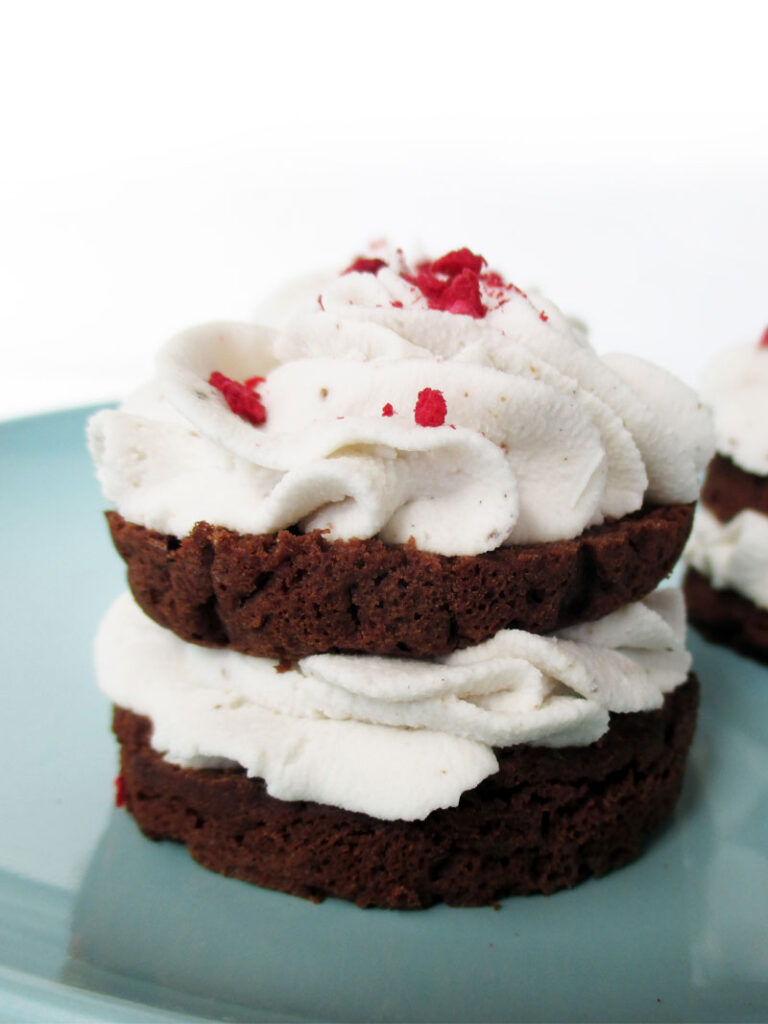 Those little cakes were so yummy that I decided to share the recipe. But don't worry, no burning is needed this time 😉
As always these mini chocolate cakes are vegan, gluten-free, without refined sugar and oil-free. The are also rather low in sugar. So if you have a sweet tooth, you might want to add some more sweetener of your choice.
In this recipe I used nut-milk pulp again. It isn't only a nice way to make use of it, but it also adds moisture to the cake.
And one thing about the coconut cream: I used to recommend the coconut cream from TradeAid, but it turns out that monkeys are being (ab)used to harvest the coconuts. Sadly I don't have an alternative suggestion yet.
The coconut frosting's texture can be a little tricky, make sure it has a high coconut content. I don't add anything but a pinch of ground vanilla. I find that if you add liquid sweetener it might not set anymore. And I find it tastes very good as it is without any extra sugar 🙂
Makes approx. 6 mini-cakes:
For the cakes:
1/2 cup (70g) buckwheat flour
1/3 cup (35g) FAIR-TRADE cocoa powder
1/3 cup (60g) coconut sugar (or more if you like it sweet)
1/3 cup nut-milk pulp (60g) (alternatively nut or seed flour)
1/2 tablespoon ground flax seed
1 teaspoon baking powder
1 cup (250ml) water
For the coconut frosting:
firm part from one can (400ml) coconut cream, it should be around 200g
1-2 pinches ground vanilla
Preparation:
1. Preheat oven to 170°C (top-/bottom heat). Mix all dry ingredients in a bowl.
2. Grease a muffin tin lightly. Add water to the bowl with the dry ingredients and stir to combine.
3. Scoop dough evenly into muffin tin, place in oven and bake covered for approx. 20 to 25 minutes. Test with a wooden skewer, if it comes out almost clean, the cakes are ready.
4. Let mini-cakes cool down before taking them out of the muffin tin.
5. For the coconut frosting, place the solid part of the coconut milk in a bowl, add ground vanilla and beat for minute or so. Should it seem quite soft, leave it in the fridge for a while until it is firm enough.
6. Should the cakes be too uneven on top, you can always cut off the top. Then cut them into two parts (slices).
7. Transfer coconut frosting into an icing bag and pipe one layer of cream onto the lower part of the cake. Then gently place the top part of the cake onto it. Add another swirl of coconut frosting, garnish if you like.
Enjoy! 🙂
Please let me know what you think about this recipe, I'd love to hear from you! And if you remake this recipe, please share the picture with me on Pinterest, Instagram or Facebook.