You might remember that post about 5 Good Reasons To Make Your Own Nut-Milk (+How To Do It). So here is another good reason to do it: you can make super yummy chocolate muffins with it that are really moist without being 'fudgy'.
I have managed to keep one in the fridge for three (!) days and it was still nice and moist 🙂
I have added some chocolate chunks on top. My favourite chocolate is from tradeaid. They are not only organic and fair-trade, but the packaging is also compostable. How cool is that?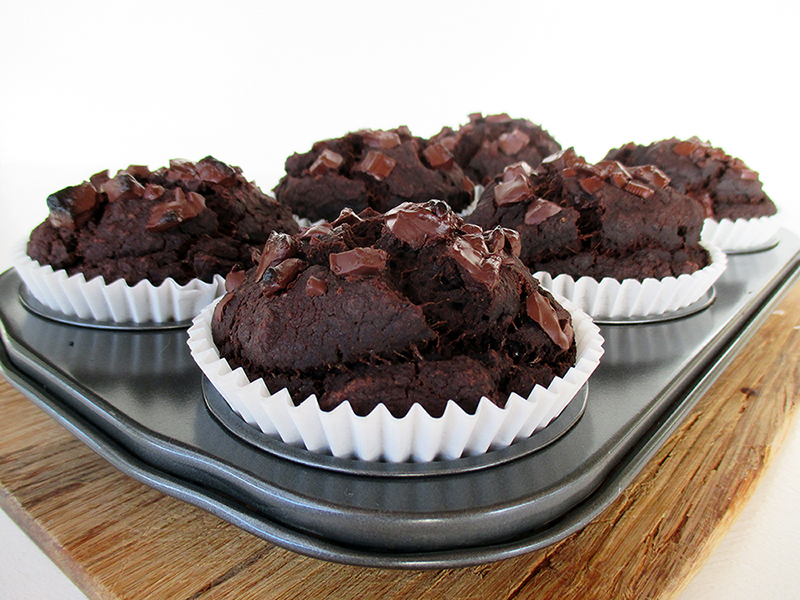 The nut-pulp that I use, has been used freshly from the nut-milk bag or has been stored in the fridge without dehydrating. It pays to place it in a separate bowl and crumble it up with a whisk or so.
Nut-Pulp Chocolate Muffins (Vegan, Gluten-free)
Here is another good reason to make nut-milk: you can make super yummy chocolate muffins with it that are really moist without being 'fudgy'.
Ingredients
200

g

nut-milk pulp

105

g

buckwheat flour

75

g

FAIR-TRADE cocoa powder

125

g

coconut sugar

1

hpd. tablespoo

psyllium fiber husk

1 1/2

teaspoon

baking powder

1

teaspoon

baking soda

1/3

teaspoon

salt

1 3/4

cup

water

40

g

chocolate drops or chocolate chunks
Instructions
Preheat the oven to 190°C. Mix the dry ingredients except the chocolate in a medium sized bowl. Make sure the nut pulp is quite crumbly before adding it to the mix.

Line the muffin tray with paper cups. Add the water to the dry ingredients and mix well.

Scoop the dough into the muffin form and fill each cup evenly. Place chocolate drops or chunks on top and gently press them into the dough.

Place in the oven and bake for approx.5 minutes before covering the muffins with a loosely placed sheet of aluminum foil. This way the chocolate won't burn. Then bake the muffins for approx. another 20 minutes. Make sure to test with a skewer.

When the inserted skewer comes out of the muffins clean, take them out of the oven. Let cool down a little before transferring to a cooling rack.
Please let me know what you think about this recipe, I'd love to hear from you! And if you remake this recipe, please share the picture with me on Pinterest, Instagram or Facebook.