This is one of those recipes that came to be because another recipe idea didn't exactly turn out the way that I expected. I was working on some aquafaba chocolate ice-cream as well as mousse. But it suddenly seemed a much better idea to actually try some ice-pops with it. A very good idea! 🙂
These ice-pops are actually more chocolate than ice-cream. Because they come with a thick, crunchy chocolate coating. With a super light and creamy, melt on the tongue chocolate filling. If you prefer the chocolate coating to be thinner, just add 2-3 teaspoon of coconut oil or cacao butter to the chocolate. Or make your own chocolate (you can use this recipe for example)
Please note: to get a relatively even chocolate coating, I actually fill a whole 300ml jar with chocolate drops and melt them by placing the jar into a bowl with warm water. Once the first batch of drops is melted, I keep refilling until the jar is full. This way it is easy to dunk the whole ice-pop into the chocolate at once. When finished you can close the jar with a lid and store it for next time you need a chocolate coating or drizzle 🙂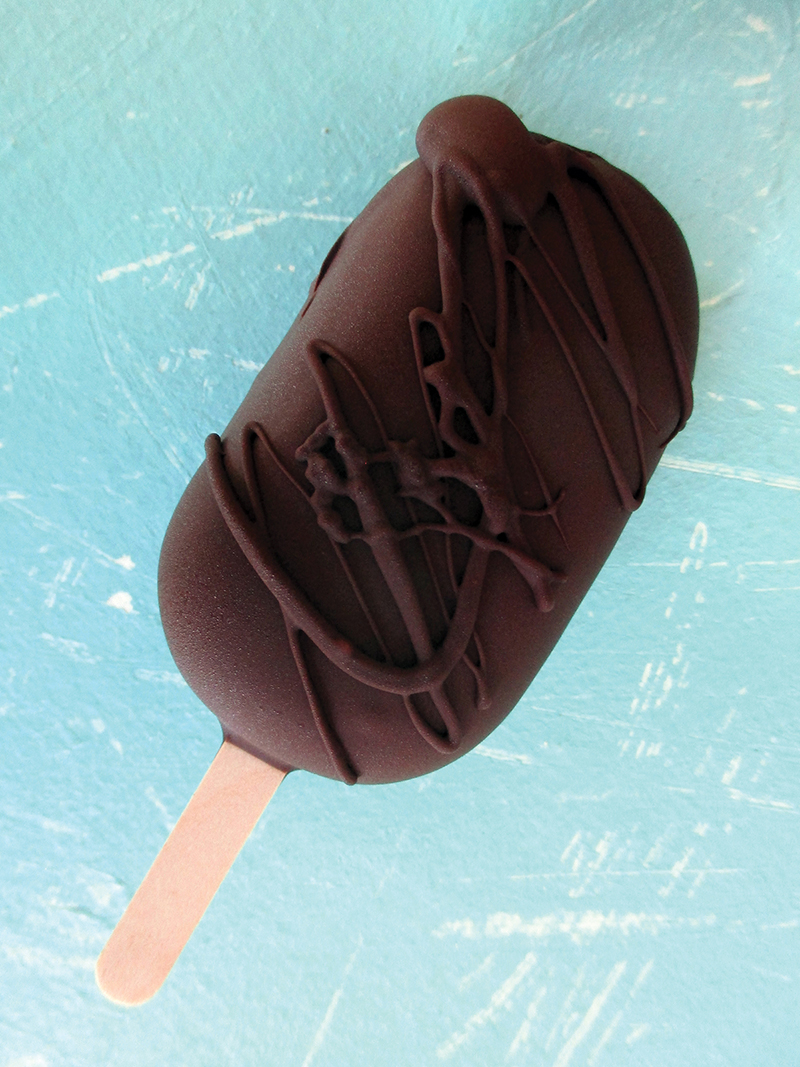 Makes 4 mini-ice-pops:
1/3 cup (80ml) aquafaba
1 teaspoon coconut sugar, finely ground
2-3 tablespoon chocolate drops or roughly chopped chocolate, melted
For the chocolate coating, please see note above
Preparation:
1. In a clean bowl, whisk the aquafaba and coconut sugar until foamy with semi-stiff peaks. I use an electric hand-mixer for this step.
2. Gently fold in the melted chocolate. Make sure it has cooled down enough.
3. Fill the mixture into ice-pop moulds and place in freezer until firm (approx. 2-3 hours).
4. Prepare the chocolate dip (please see note above the ingredients list). Make sure the chocolate isn't to warm. Otherwise your ice-pop might melt a little underneath the chocolate coating.
5. Dip the ice-pops one after another into the chocolate dip. Hold for a few seconds until the chocolate looks almost firm. Then place in freezer. If you have leftover chocolate, you can drizzle it over the coated ice-pops.
Enjoy! 🙂
Please let me know what you think about this recipe, I'd love to hear from you! And if you remake this recipe, please share the picture with me on Pinterest, Instagram or Facebook.