Have you tried combing blueberries and chocolate yet? It might sound a little weird, but it makes for an exquisite flavour combination.
A sweet sour tingle, followed by the aroma of fine chocolate is simply heavenly 🙂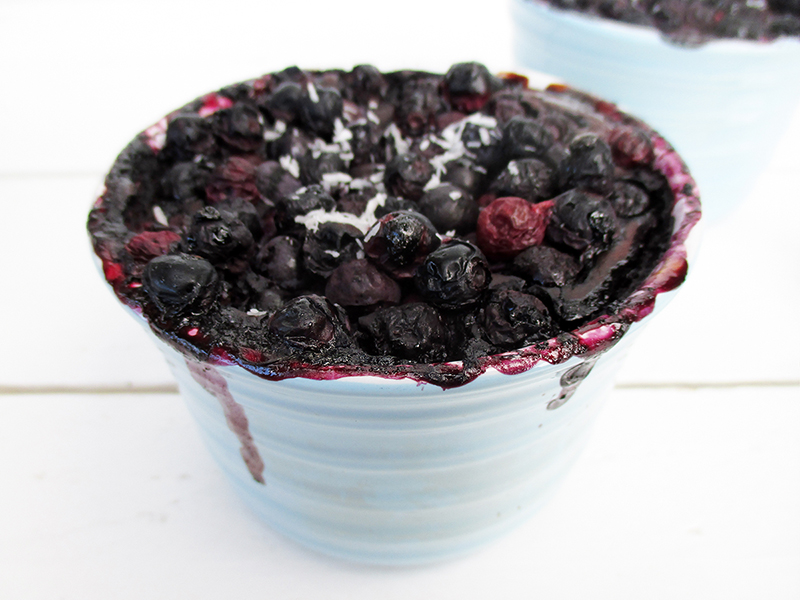 This Dark Chocolate Pudding recipe is as always vegan, gluten-free and without refined sugar. It is fairly easy to make and it only needs 6 ingredients!
And should you like the idea of this flavour combination, you might also want to have a peak at this recipe for Blueberry Chocolate Cake.
Please note that it makes quite a rich dessert. You can actually split it into four portions, especially if it is intended to be enjoyed after a meal 🙂
For 2 large or 4 small portions you'll need:
1 1/4 cup (310 ml) filtered water or plant-based milk
1/2 cup (70 g) dates, pitted and diced
1/2 cup (70 g) cashews
1/2 cup (50 g) FAIR-TRADE cocoa powder
2 tablespoon (20 g) corn starch (or other starch)
1 cup (approx. 130g) blueberries
Preparation:
1. Preheat oven to 190°C.
2. Blend all ingredients, but the blueberries, until smooth.
3. Fill the mixture into oven-proof ramekins. Gently place blueberries on top.
4. Place onto a baking tray and bake in the oven for approx. 20 minutes. Enjoy warm or cold 🙂
Please let me know what you think about this recipe, I'd love to hear from you! And if you remake this recipe, please share the picture with me on Pinterest, Instagram or Facebook.