Do you sometimes find something in your pantry that you haven't used in a long time. So you just keep pushing it around until it is out of sight again? Well, this kind of thing happens to me every now and then. In the worst case, this ingredient could go off and end up in rubbish. Not a desirable outcome, that's why I challenge myself to try a new recipe with those.

This time it was desiccated coconut that I hadn't touched in a while, except for the occasional bliss ball treat. How about baking with it, I thought. And it turned out to be a very good idea! It adds flavour and moisture and that unique hint of coconut flavour.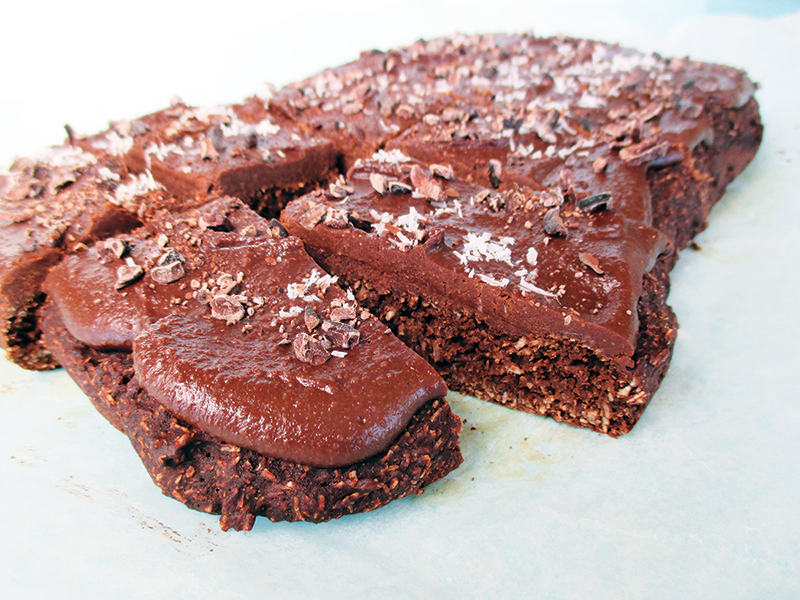 With a delicious, dreamy chocolate frosting on top, it turned into this delish, vegan, gluten-free chocolate coconut cake slice recipe. And it even works without refined sugar, without dates, without nuts and added oil. Yay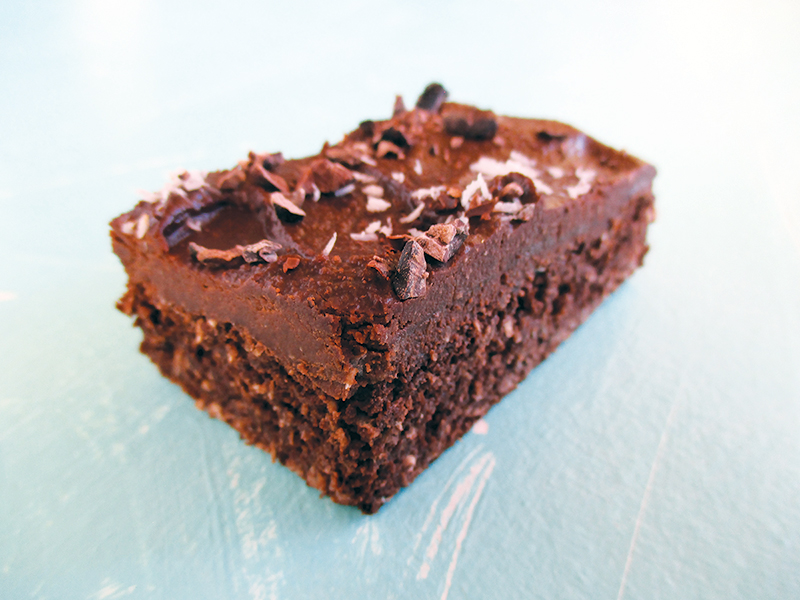 Coconut Chocolate Cake Slices (Vegan, Gluten-free, No Refined Sugar, No Nuts, No Dates)
This recipe for vegan and gluten-free coconut chocolate cake works without refined sugar, without dates, without nuts and added oil. Yay 🙂
Ingredients
For the dough:
100

g

desiccated coconut

110

g

buckwheat flour

50

g

FAIR-TRADE cocoa powder

1

teaspoon

baking powder

90

g

coconut sugar

1

tablespoon

psyllium fiber husk

250

ml

water
For the frosting:
100

g

creamed coconut

40

g

rice syrup

25

g

FAIR-TRADE cocoa powder

60

ml

60ml water
Instructions
Preheat oven to 200°C (top-/bottom heat). Line a baking tray with baking paper.

Add desiccated coconut, buckwheat flour, cocoa powder and baking powder into a bowl and mix well.

In a blender, blend coconut sugar, psyllium fiber husk with the water. Add to the bowl with the dry ingredients and quickly stir to combine. Don't over stir.

Spread the dough on the baking tray until it is about 2cm thick. The dough will be quite thick so you can spread it "free-style".

Place in oven and bake covered (I use an empty, un-coated baking tray that I place in the rack above) for approx. 20 minutes. Let cool down on a rack before preparing the frosting.

For the frosting, melt creamed coconut cream using the double boiler method. Then add remaining ingredients and mix well. Keep it warm until it well mixed.

Spread frosting onto the cooled down cake. Garnish if you wish. I used chopped cacao nibs and desiccated coconut. Chill until the frosting has set (if you are in a hurry, place in freezer for half an hour or so).
Please let me know what you think about this recipe, I'd love to hear from you! And if you remake this recipe, please share the picture with me on Pinterest, Instagram or Facebook.