The other day I made another batch of my beloved macadamia cashew 'cream cheese'. This 'cheese' tastes amazing on freshly baked, home-made bread. While I already have a few bread recipes on the blog, I decided to try a new one 🙂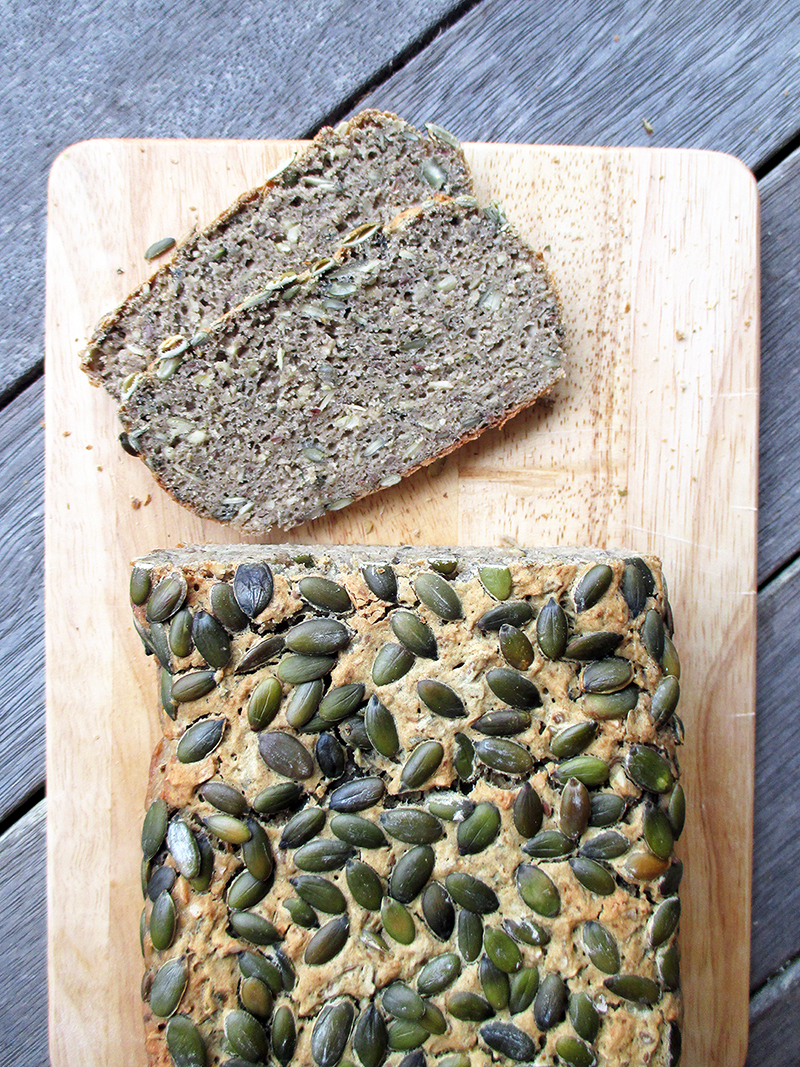 This time I wanted it to include pumpkin seeds and be as simple as possible without too many ingredients. It turned out to be completely whole-grain with only one flour. The slightly roasted pumpkin seeds taste amazing!
As always this recipe for pumpkin bread is vegan and gluten-free. You can also make it with sunflower seeds.
Make a 23cm loaf tin:
1 1/2 cups ( 225g) pumpkin seeds, soak in water for at least 12 hours, then rinse and drain
1 1/2 cup (310ml) warm water
2 teaspoon active dried yeast
1 heaped teaspoon molasses or sugar
3 cups (420g) buckwheat flour
1 tablespoon flax seed
1 tablespoon psyllium fiber husk
1 1/4 teaspoon salt
Preparation:
1. Soak the pumpkin seeds in water for at least 12 hours, then rinse an drain.
2. Mix the yeast with the molasses in the warm water. Let sit for approx. 10 minutes, the mixture should become foamy on top.
3. In the meantime mix all dry ingredients in a bowl.
4. Place approx. 3/4 cup of soaked pumpkin seeds aside, blitz the rest in a blender or food processor to smaller chunks.
5. When the yeast mixture has turned foamy, pour it into the bowl with the dry ingredients. Also add the pumpkin seed chunks and stir to combine. It should become a fairly thick dough.
6. Line the loaf tin with baking paper. Sprinkle half of the whole pumpkin seeds that you placed aside earlier onto the baking paper.
7. Scoop and spread the dough into the loaf tin. Sprinkle with remaining pumpkin seeds and press those gently onto the dough.
8. Cover with a clean, damp dish cloth and place in a warm spot for approx. 45 to 60 minutes. The dough should rise to almost twice its size.
9. Preheat oven to 200°C (top-/bottom heat). Place loaf tin in oven and bake covered for approx. 40 minutes, then another 5-10 minutes uncovered or until the pumpkin seeds on top are slightly roasted.
Enjoy! 🙂
Please let me know what you think about this recipe, I'd love to hear from you! And if you remake this recipe, please share the picture with me on Pinterest, Instagram or Facebook.