An easy gluten-free bread without a crazy mix of flours was missing in my bread recipe collection. But here it is! I've been baking it a lot of times lately and I love it's simplicity and great flavour.
This buckwheat bread has a beautiful rustic flavour with a crispy crust and a soft interior. And as always, this recipe for buckwheat bread is vegan and gluten-free and also completely oil-free 🙂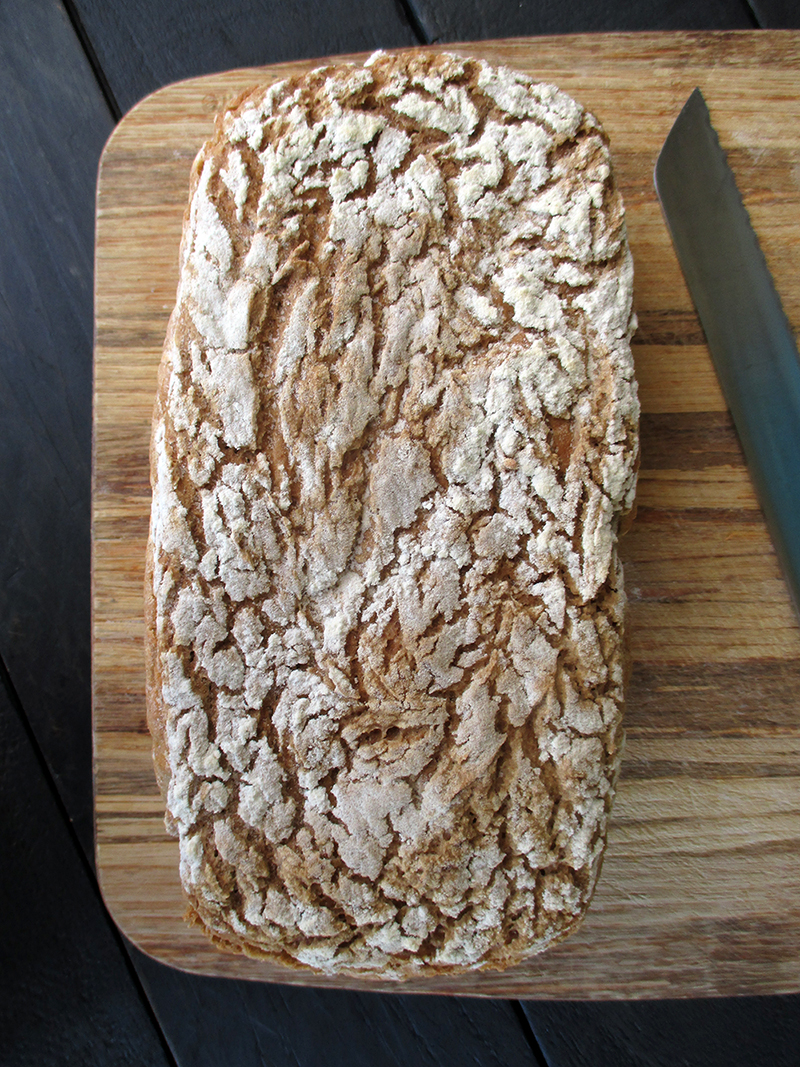 For a 23cm loaf tin:
1 cup (250ml) warm water
1 teaspoon coconut sugar
2 teaspoon active dried yeast
4 cups (550g) buckwheat flour
1 tablespoon (heaped) psyllium fiber husk
1 teaspoon guar gum
2 teaspoon salt (or less if desired)
1 1/4 cup (310ml) warm water
some flour for dusting ( I used rice flour but buckwheat flour works as well)
Instructions:
1. Stir the coconut sugar into one cup of warm water. Add the yeast and let sit until until it builds foam on top (approx. 10 minutes).
2. In the meantime, mix the remaining dry ingredients in a bowl.
3. Once the yeast mixture is foamy on top, pour it into the bowl with the dry ingredients. Add the remaining 1 1/4 cup warm water and stir to combine.
4. Cover with a warm, damp, clean tea towel and place in warm, draft-free place to let rise (approx. 45 to 60 minutes).
5. Preheat the oven to 220°C (top-/bottom heat).
6. Line the loaf tin with baking paper or grease it lightly. When the dough has risen to almost twice its size, stir it shortly and spread it evenly in the loaf tin.
7. Sprinkle with some rice or buckwheat flour. Let rise for another 20 to 30 minutes.
8. Place in oven and bake covered* for approx. 55 minutes. Take the finished bread out of loaf tin and let cool down on cooling rack.
Enjoy! 🙂
* I place an empty tray into the rack above the bread to protect it from direct heat.
Please let me know what you think about this recipe, I'd love to hear from you! And if you remake this recipe, please share the picture with me on Pinterest, Instagram or Facebook.