It's been quite a while since I last made a pizza, especially a pizza that is based on a more or less traditional yeast dough. Never would I have thought that I could get that close to the kind of pizza that I used to enjoy before I went gluten-free!
Really, this pizza dough is AMAZING! Slightly crispy, with a soft interior and a crunchy crust. Just like you can get them at the Italian restaurant! Or, at least the Italian restaurant that i used to visit 🙂
I had to use some ingredients that I usually try to avoid: yeast, starches and guar gum. But an experienced baker recently told me that it will work much better with starches and gums. I'm glad that I tried it, because it really does seem to do the trick 🙂
Also, I have tried a new way of substituting cheese. I came up with the idea after the inside of the potato spinach fritter that I recently made, had a close resemblance to melted cheese. Of course, it doesn't taste just like cheese, but I think it gets close to a similar effect.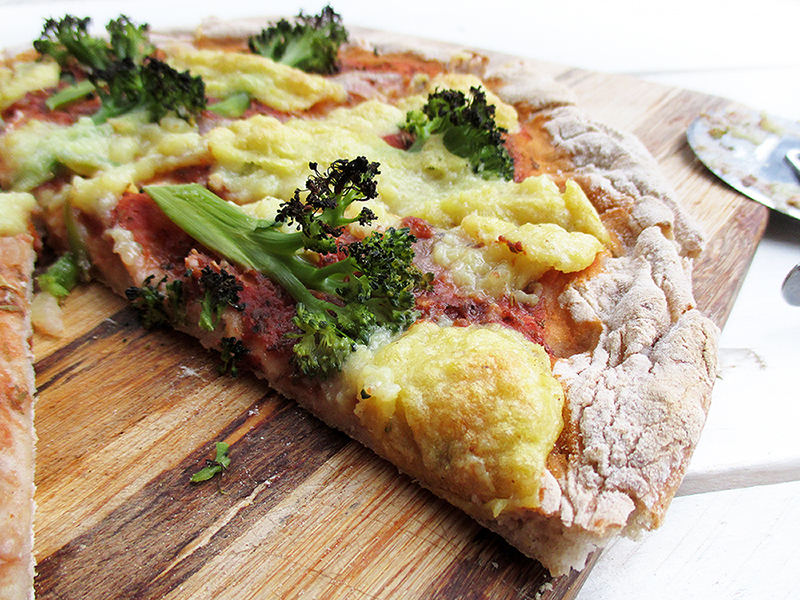 For 2 pizza with 30cm diameter you'll need:
1 1/2 teaspoon active dried yeast
1 teaspoon sugar
1 cup lurk warm water
1 1/4 cup (175g) rice flour
1 cup (135g) buckwheat flour
1/2 cup (60g) tapioca starch
1/4 cup (35g) potato starch
1 heaped tablespoon psyllium fiber husk
1 teaspoon guar gum
1 teaspoon salt
1/2 lurk warm water
1 tablespoon apple cider vinegar
some extra rice flour for dusting
For the pizza sauce:
1/2 cup passata
1/4 cup water
2-3 garlic cloves, crushed
1 teaspoon dried thyme
1 teaspoon dried oregano
some freshly ground pepper
For the 'cheese':
220g potato (1-2 small potatoes)
1/3 cup of potato cooking water
2 heaped tablespoon nutritional yeast
1 heaped tablespoon corn (maize) flour
1/2 teaspoon salt
a few pinches ground nutmeg
Preparation:
1. For the pizza dough, mix the yeast and sugar in one cup of lurk warm water. Stir well until dissolved. Once you can see some foam rising on the surface, the yeast mixture is ready to go.
2. In the meantime, sift all dry ingredients into a medium sized bowl.
3. When the yeast is ready to go, pour it into the bowl with the dry ingredients. Add 1/2 cup lurk warm water and 1 tablespoon apple cider vinegar and stir well until combined.
4. Cover with a damp, clean dish towel and let sit in warm place until the dough has risen to twice it's size. I find this works best when the temperatures are above 23°C. If your home is colder, you can also place the bowl in the oven, after you have had it on for just a few moments until it was warm (NOT HOT). Now is a good time top prepare the 'cheese'. Please see below for instructions.
5. When the dough has risen to twice it's size, give it another good stir until it is quite soft. Dust the work area and the top of the dough with rice flour. Let it drop onto the work area and sprinkle generously with more rice flour until it is dry enough to touch without getting sticky fingers. Then knead the dough on the bench for a few minutes, adding some more rice flour if gets too sticky.
6. Halve the dough and spread each portion onto the pizza trays that have been lined with baking paper. Again, if it gets too sticky, sprinkle some extra rice flour onto it. Once you have spread the dough evenly to the borders of the pizza tray, cover it with a warm and damp dish cloth and let rise in a warm spot. With my old oven, it works well to have them sitting on top while I'm preheating the oven for the pizza baking.
7. In the meantime, mix all ingredients for the pizza sauce in a small bowl. Also preheat the oven to 220-230°C.
8. When the dough is puffy and has increased in size, take a fork and prick it all over the area that will be covered with pizza sauce. Then scoop the pizza sauce onto it and spread evenly. Add toppings of your choice (I used onion rings, blanched broccoli and the nut-free 'cheese').
9. Place pizza in oven and bake until the crust and the 'cheese' turns golden brown (approx. 10 to 15 minutes).
For the nut-free 'cheese'
1. Peel and chop the potatoes into small cubes.
2. Place in small pot and cover with water. With the lid on, bring to boil and let simmer until soft.
3. Drain, but take 1/3 cup cooking water aside.
4. Mash the potatoes as fine as possible, adding 1/3 cup cooking water. Then stir in nutritional yeast, corn flour, salt and nutmeg. Spread the 'cheese' on the pizza before it is baked.
Enjoy! 🙂
Please let me know what you think about this recipe, I'd love to hear from you! And if you remake this recipe, please share the picture with me on Pinterest, Instagram or Facebook.